Prev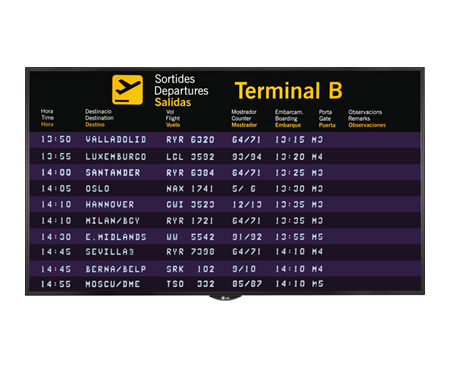 49SH7DB-M
SH7DB Series
Global
Share
Key Feature
Brightness : 700 cd/m²
Bezel : Top/Left/Right/Bottom 7.4mm
Depth : 31.7mm
Special : Wi-Fi Dongle Ready, SuperSign W/C/M
Local Time Auto Setting
DP/HDMI/DVI/RGB/RS232C/RJ45/IR (DP1.2 daisy-chain)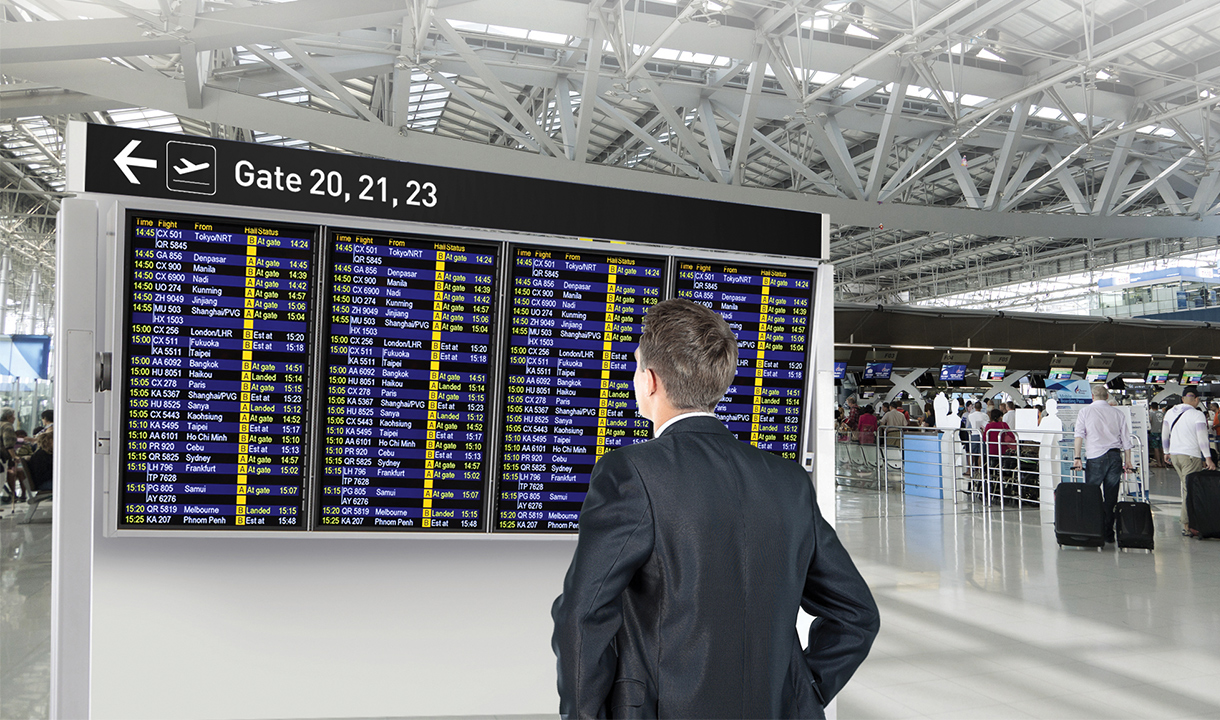 Simplified Installation and Convenient Maintenance
With its narrow even bezel, LG SH7DB enables you to create landscape or portrait walls in multiple installation scenes. It is enhanced in reliability and maintenance by protecting the circuit board from dust, iron fillings and humidity, and by detecting screen failures with SuperSign Software.
Supporting convenient content management, this series are suitable for installation environments such as airport, retail and multiplex etc.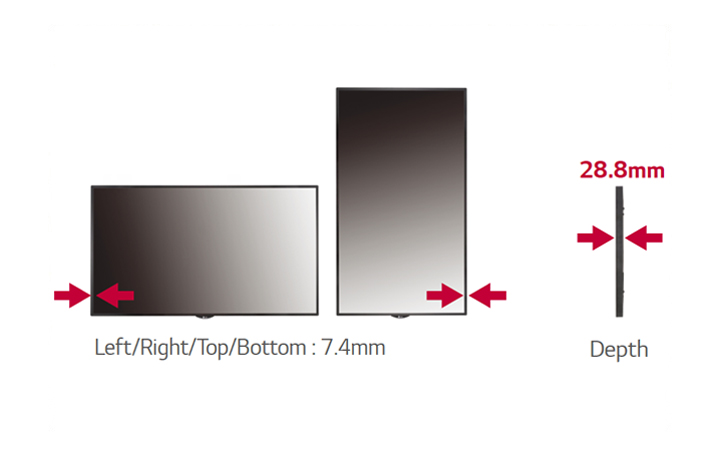 Simplified Installation
Narrow Even Bezel
Slim, sleek and stylish design, SH7DB has advantages for portrait and video wall scene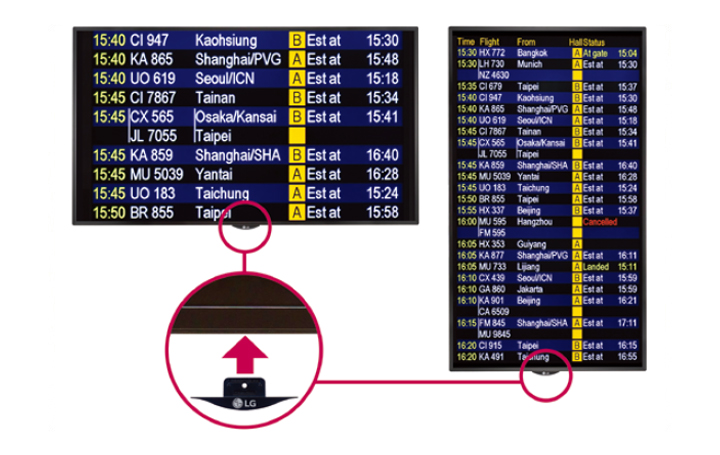 Simplified Installation
Detachable Logo
Portrait mode allows the logo to be positioned in the desired setting.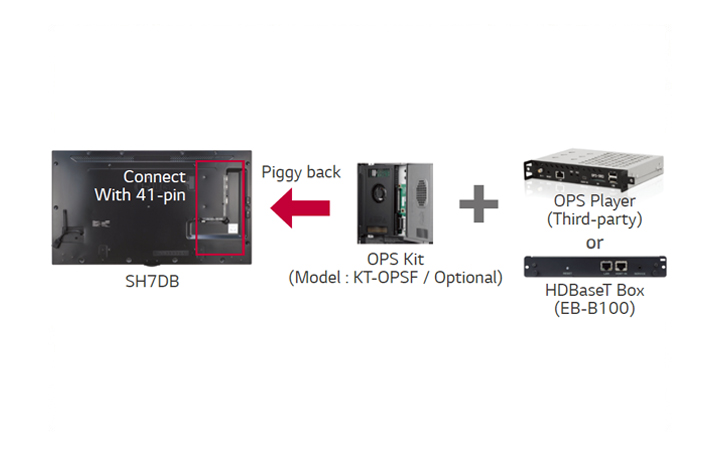 Supportive Convenience
OPS & HDBaseT Compatibility
The SH7DB provides an OPS* Kit to connect a third-party OPS player or HDBaseT box. Users have the flexibility to choose any media player as long as it complies with the OPS.

*OPS : Open Pluggable Specification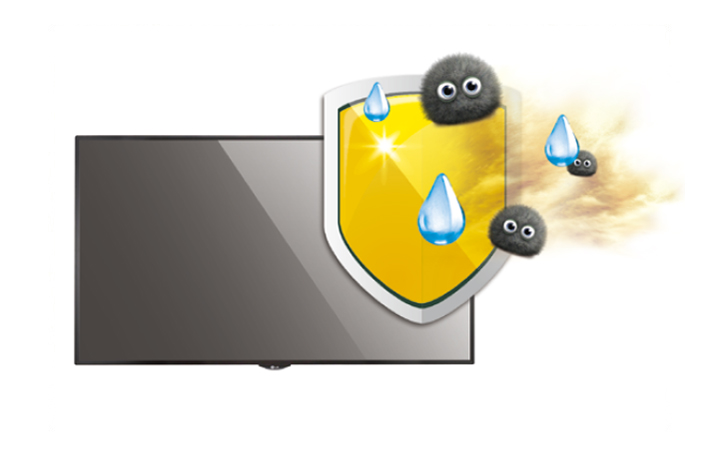 Dust & Humidity Protection
Conformal Coating
Power board reliability is enhanced with conformal coating that protects against dust, iron powder, humidity and other harsh conditions.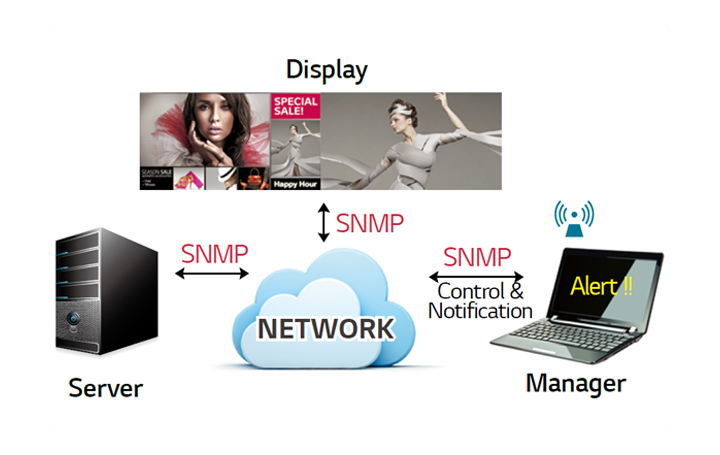 Convenient Connectivity Support
Simple Network Management Protocol
SNMP support ensures convenient network management.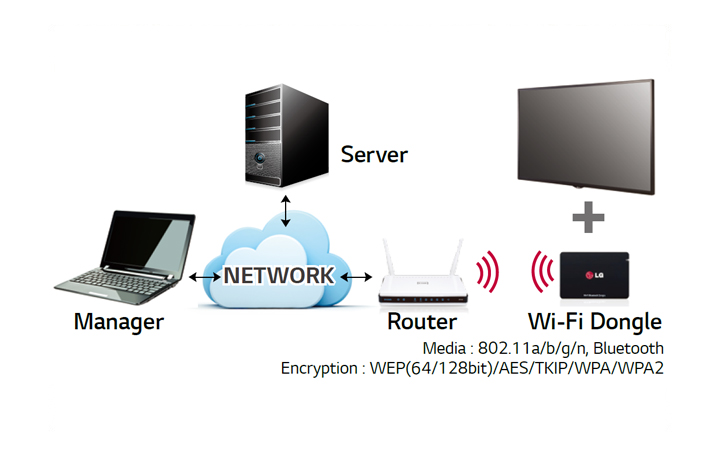 Convenient Connectivity Support
Wi-Fi Support
SH7DB Series support Wi-Fi USB dongle connection for convenient content distribution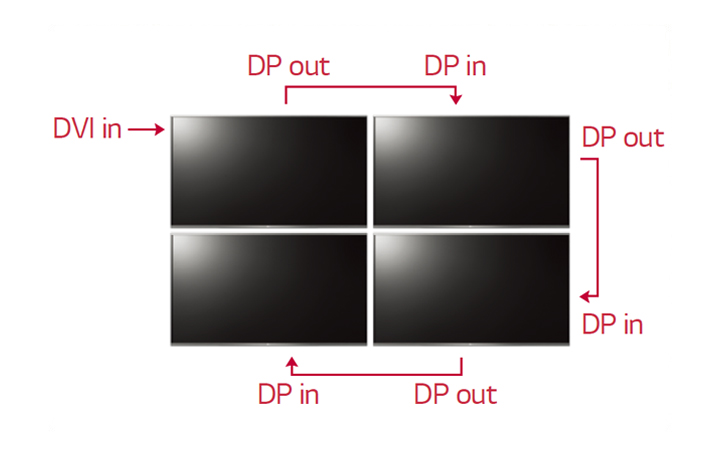 Convenient Connectivity Support
Digital input to Daisy Chain
Support DVI/HDMI digital signal turns to DP out.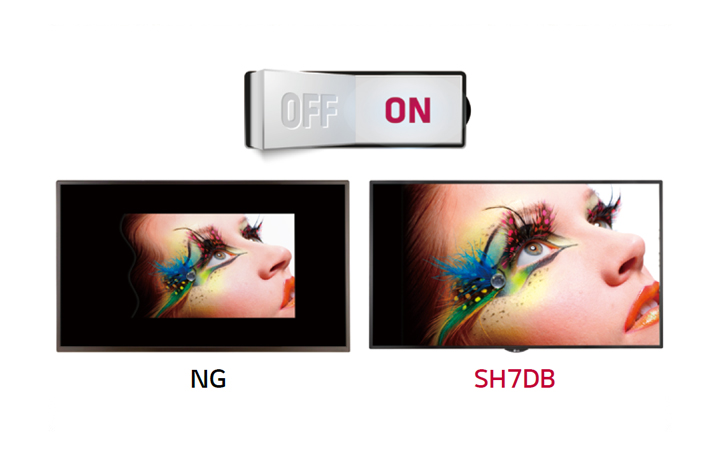 Screen Management Mode
Aspect Ratio Sustainability*
Sustain the same resolution and picture quality while powering on/off by receiving EDID1) through switch IC.

1) Extended Display Identification Data
* Installation Menu > LG Digital Signage > PM Mode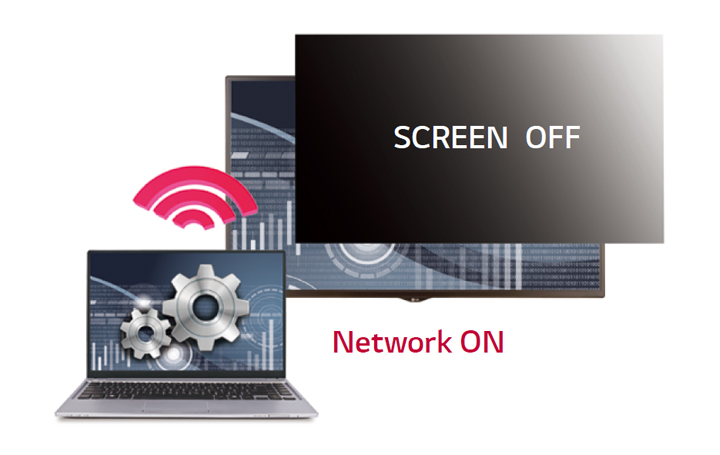 Screen Management Mode
Stand-by Screen*
Even without signal from the media player, the network does not turn off completely, so remote control is possible, which prevents unnecessary power usage and enables efficient management.

* Installation Menu > LG Digital Signage > PM Mode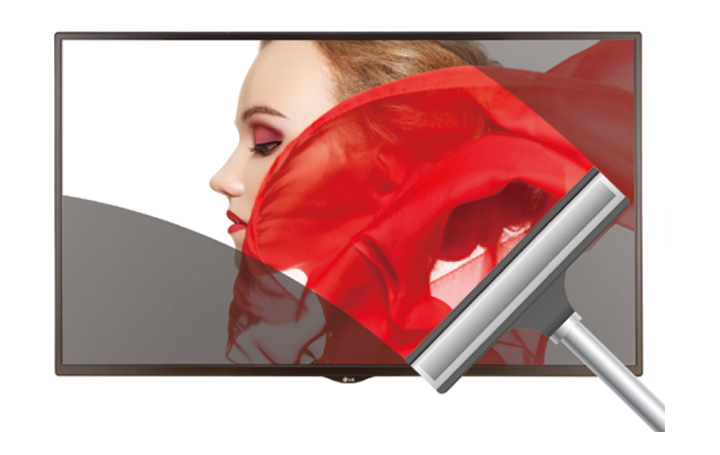 Screen Management Mode
Scheduled Screen Wash*
Prevent residual images with the screen transition feature.

* Installation Menu > ISM Method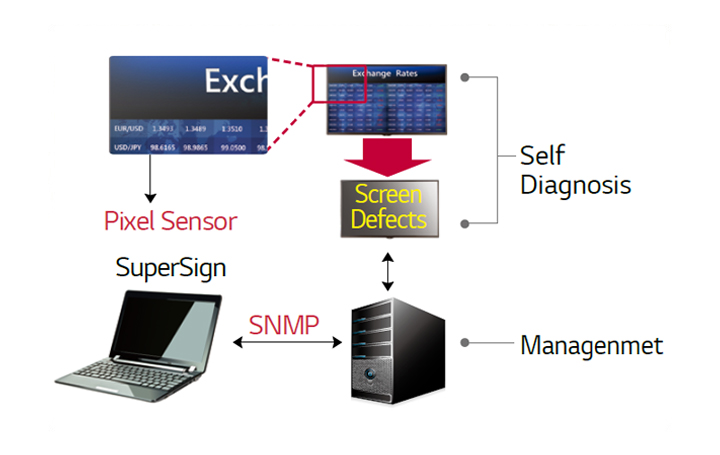 Content Management
Screen Fault Detection
Detects screen failure and sends an alert log by email.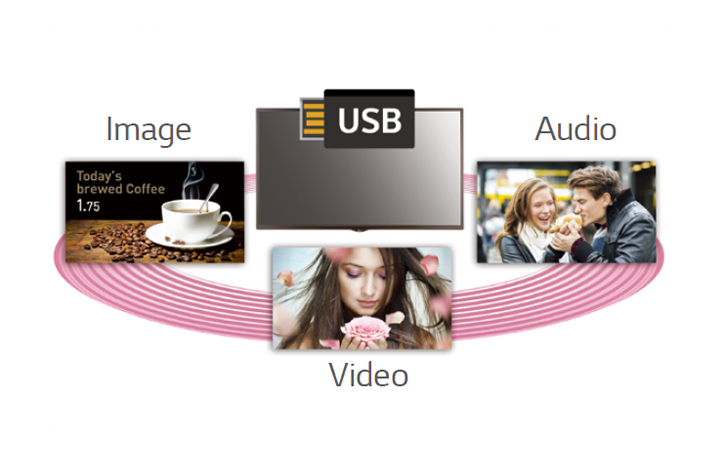 Content Management
USB Content Scheduling
Play and schedule contents with a USB connection-no server connection required.

* Supported Content Type : Video (MPEG1/2/4, H.264), Audio (MP3, AC3, MPEG, AAC, HEAAC, LPCM), Image (JPEG, PNG, BMP)

Content Management
Advanced Failover
Enables content to be displayed without dead spots when none of the external inputs is working.
The monitor performs the signal switching automatically.
Tech Spec
Panel

Panel spec

| | |
| --- | --- |
| Screen Size | 49" |
| Resolution | 1,920 x 1,080 (FHD) |
| Brightness (Typ.,Module) | 700 |

Physical Specification

Physical Specification spec

| | |
| --- | --- |
| Bezel Width | 7.4mm (T/L/R/U even) |
| Monitor Dimension (W x H x D) | 109.5cm X 63.7cm X 3.2cm |
| Weight (Head) | 15.6kg |
| VESA™ Standard Mount Interface | 400mm x 400mm |

Standard (Certification)

Standard (Certification) spec

| | |
| --- | --- |
| ErP | Yes (EU Only) |

Media Player Compatibility

Media Player Compatibility spec

| | |
| --- | --- |
| OPS type compatible | Yes |

Software Compatibility

Software Compatibility spec

| | |
| --- | --- |
| SuperSign CMS | Yes |
| SuperSign Control | Yes |

Accessory

Accessory spec

| | |
| --- | --- |
| Basic | Remote Controller, Power Cord, QSG, RGB Cable, Regulation Book, Phone to RS232C Gender, IR Receiver |
| Optional | External Speaker (SP-2100), Stand (ST-200T), Wall Mount (LSW440S), WiFi USB Dongle (AN-WF500), OPS Kit (KT-OPSF) |

Connectivity - Output

Connectivity - Output spec

| | |
| --- | --- |
| External Control (RS232C OUT) | Yes (1) |
| Externel Speaker Out | Yes (1, L/R) |
| Audio Out | Yes |
| DP Out | Yes |

General Features

General Features spec

| | |
| --- | --- |
| Region | Global |

Connectivity - Intput

Connectivity - Intput spec

| | |
| --- | --- |
| USB | Yes (1) |
| External Control (RJ45) | Yes (1) |
| DP | Yes (1) |
| External Control (IR receiver) | Yes (1) |
| Analog (RGB) | Yes (1) |
| HDMI | Yes (1) |
| Audio | Yes (1) |
| DVI | Yes (1) |
| External Control (RS232C(Phone Jack Type)) | Yes (1) |
| External Control (Pixel Sensor(Optional)) | Yes |
Recently Viewed