Prev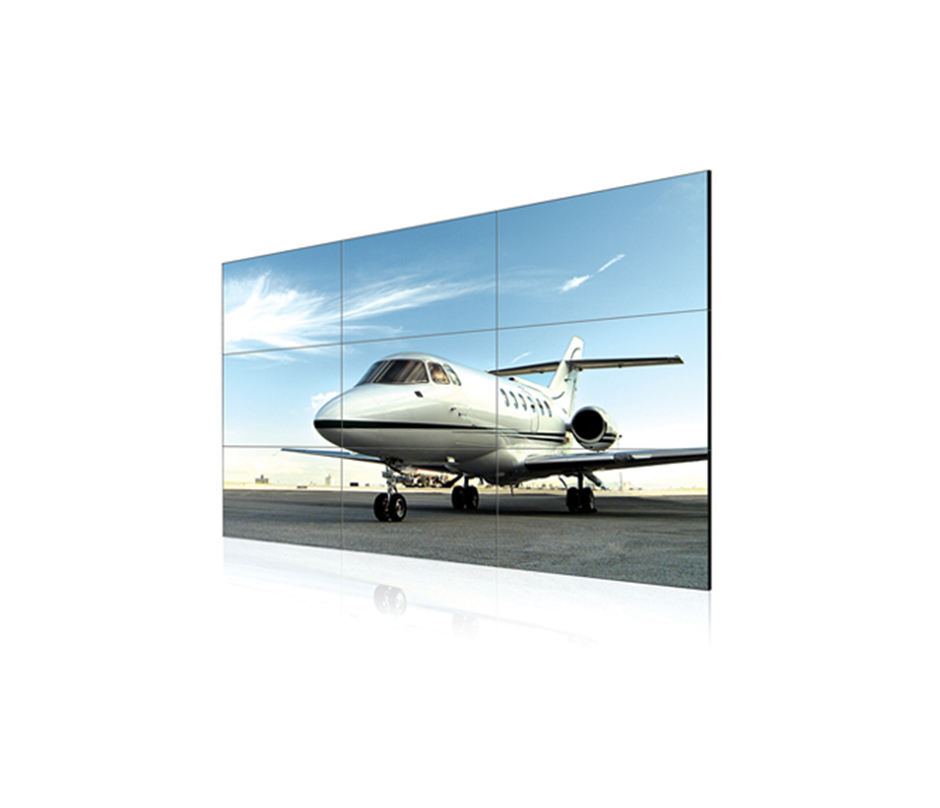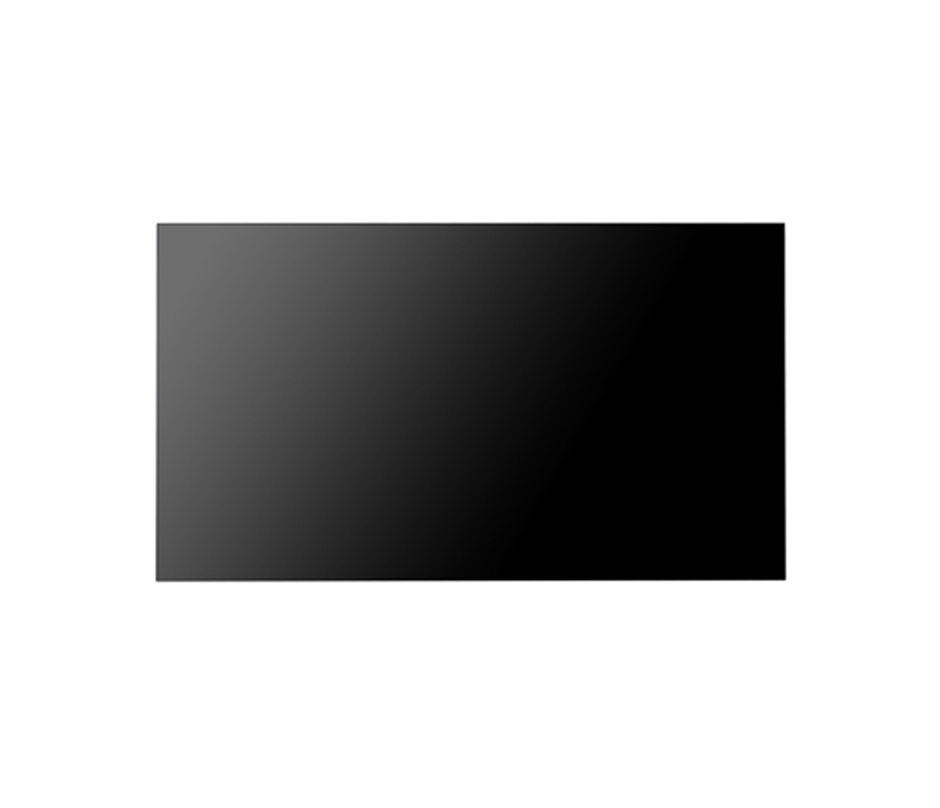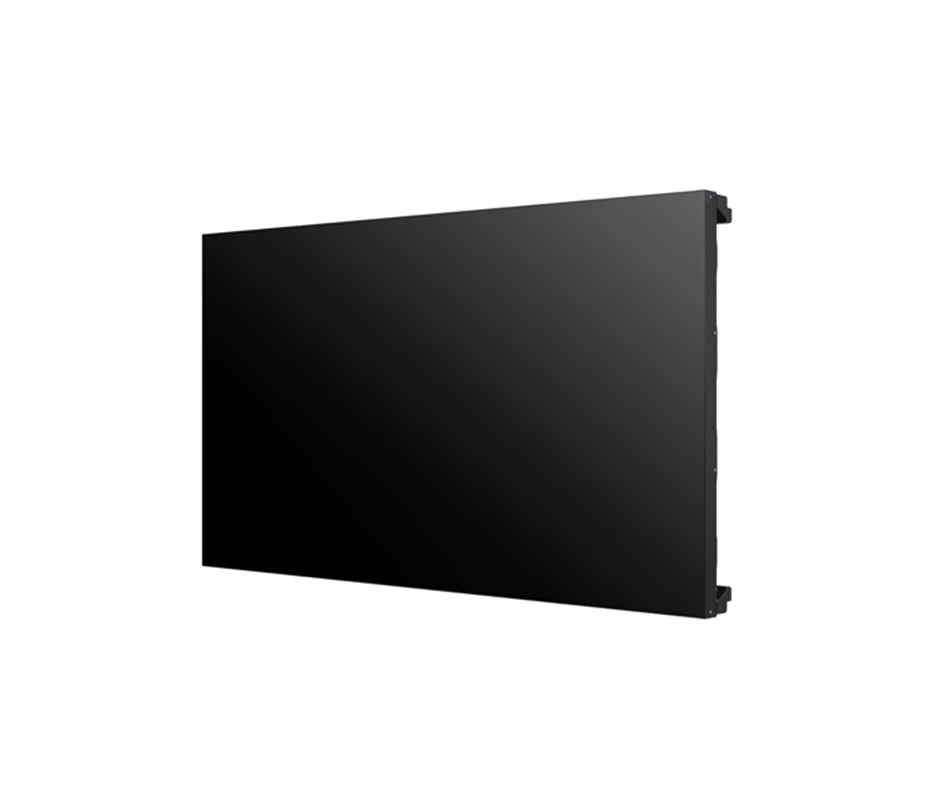 55LV35A
LV35A Series
Global
Share
Key Feature
Super Narrow Bezel
3.5mm
Lighter & Thinner Cabinet
Weight 23kg, Depth 88.5mm
Higher Brightness Uniformity 80%
24/7 Operation

Super Narrow Bezel
47" super narrow bezel 4.9mm and 55" super narrow bezel 3.5mm video wall displays create visually stunning digital wall that is easily installed, maintained and managed.

Higher Brightness Uniformity
Brightness uniformity 80 ensures high-quality image delivered across displays.

Wide Viewing Angle
IPS panels have the better control of liquid crystal and in consequence, it
allows you to watch the screen virtually at any angle.

Temperature Resistent Panel Temperature
IPS panel has an excellent temperature resistency against its panel temperature.

SuperSign V for Dynamic Layout
- Use given templates to configure video wall layout easily
- Rotate, cut and edit content according to a defined layout
- Flexible content editing in various layouts is viable
- Scheduled-based content playback based on time and day
- Distribute content to media players as well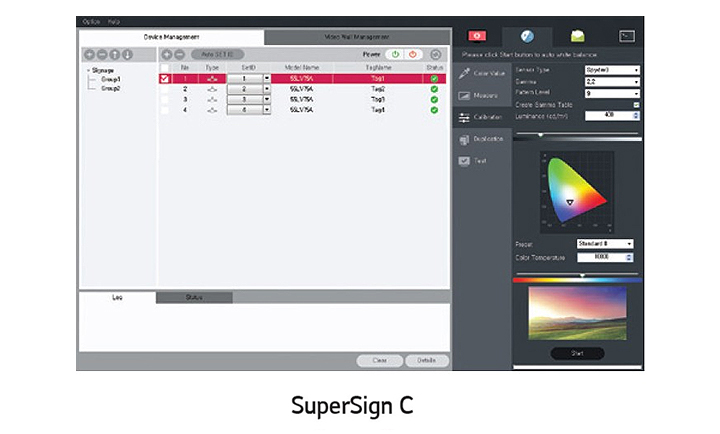 FREE SuperSign C for Advanced Color
- Intuitive GUI in SuperSign C S/W allows to measure and adjust color and brightness instantly on display
- Automatic white balancing of a video-wall display using a sensor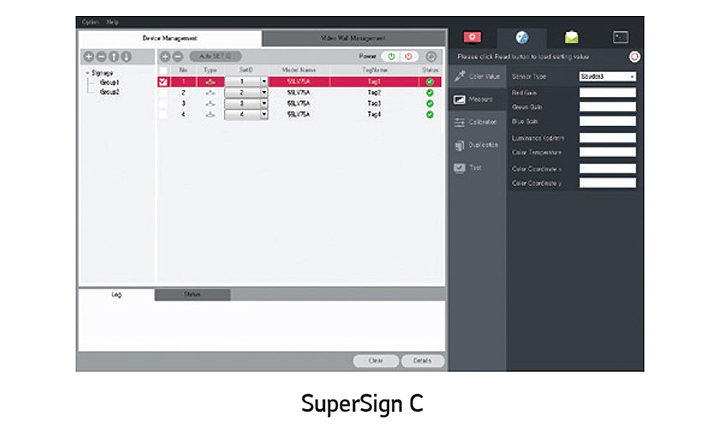 FREE SuperSign C for Remote Monitor and
Intuitive GUI-based Remote Monitoring & Control via the networks and RS232 connection feature in SuperSign C S/W.
Tech Spec
Panel

Panel spec

| | |
| --- | --- |
| Screen Size | 55 |
| Resolution | 1,920 x 1,080 (FHD) |
| Brightness (Typ.,Module) | 500 |

Physical Specification

Physical Specification spec

| | |
| --- | --- |
| Bezel Width | 2.25mm (L/T) / 1.25mm (R/B) |
| Monitor Dimension (W x H x D) | 1,213.4mm X 684.2mm X 88.5mm |
| Weight (Head) | 23.0kg |
| VESA™ Standard Mount Interface | 600mm x 400mm |

Standard (Certification)

Standard (Certification) spec

| | |
| --- | --- |
| ErP | Yes (EU Only) |

Media Player Compatibility

Media Player Compatibility spec

| | |
| --- | --- |
| External Media player Attachable | Yes |

Software Compatibility

Software Compatibility spec

| | |
| --- | --- |
| SuperSign-c | Yes |
| SuperSign-w lite | Yes |

Accessory

Accessory spec

| | |
| --- | --- |
| Basic | Remote Controller, Power cable, DVI Cable, Manual, IR Receiver, RS-232C Cable, Guide Bracket, Screw |
| Optional | WM-L640V (Landscape), WM-P640V (Portrait) |

Connectivity - Output

Connectivity - Output spec

| | |
| --- | --- |
| External Control (RS232C OUT) | Yes (1) |
| Externel Speaker Out | No |
| Audio | No |
| DVI-D | Yes (1) |

General Features

General Features spec

| | |
| --- | --- |
| Region | Global |

Connectivity - Intput

Connectivity - Intput spec

| | |
| --- | --- |
| USB | Yes (1) |
| External Control (RJ45) | Yes (1) |
| DP | No |
| External Control (RS232C IN) | Yes (1) |
| DVI-D | Yes (1) |
| External Control (IR receiver) | Yes (1) |
| Analog (RGB) | Yes (1), Shared component/AV |
| External Control (Pixel Sensor) | No |
| HDMI | Yes (1) |
| Audio | No |
Recently Viewed