Prev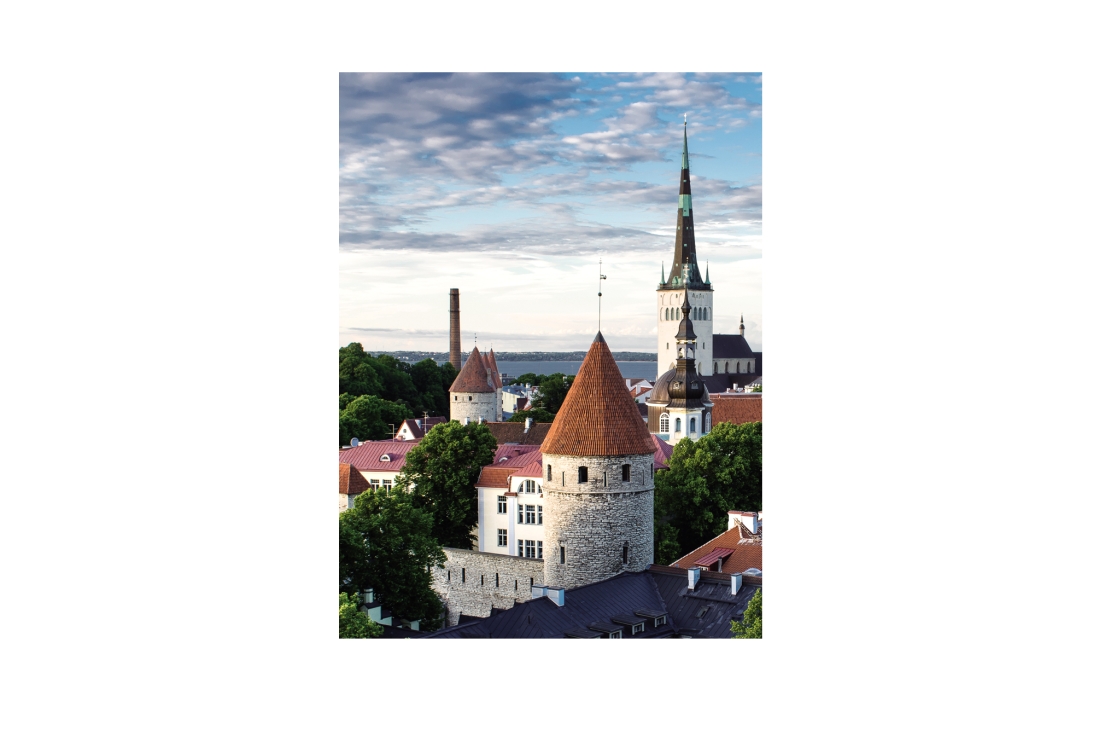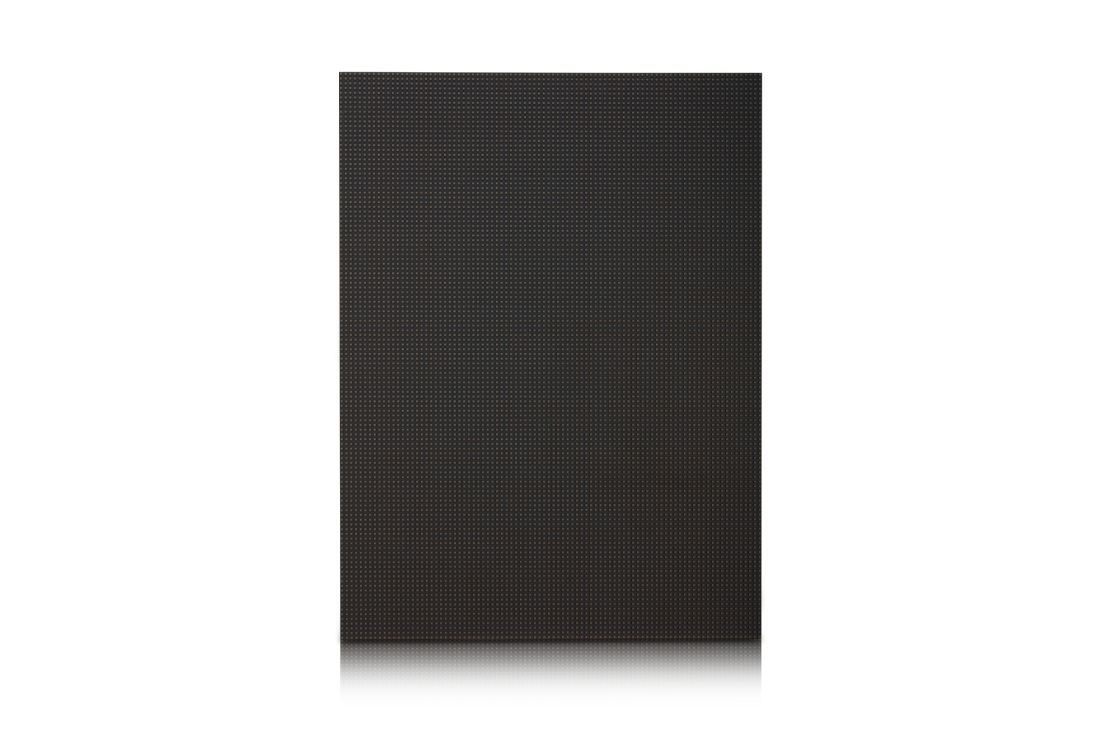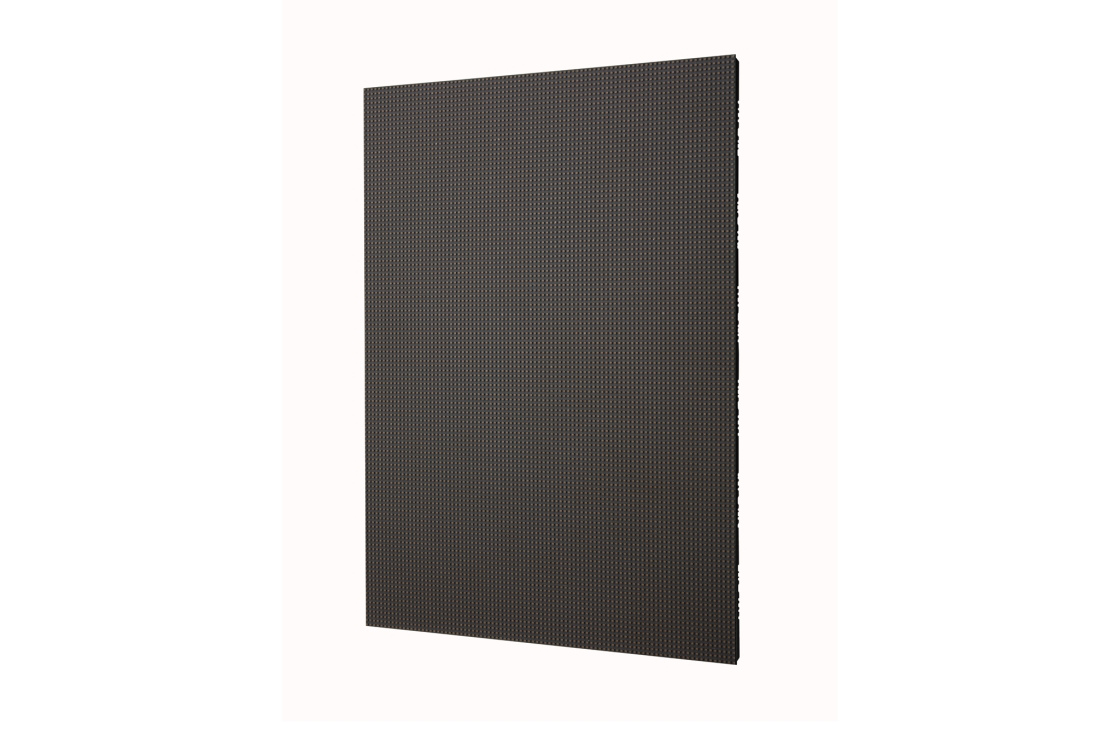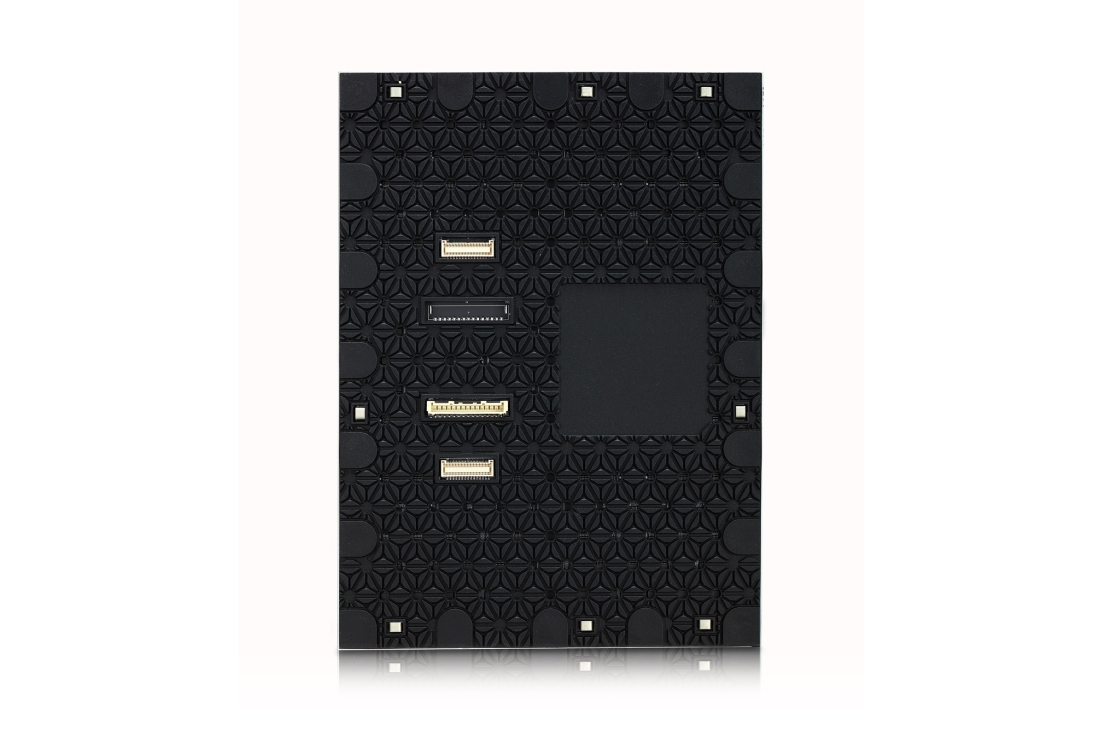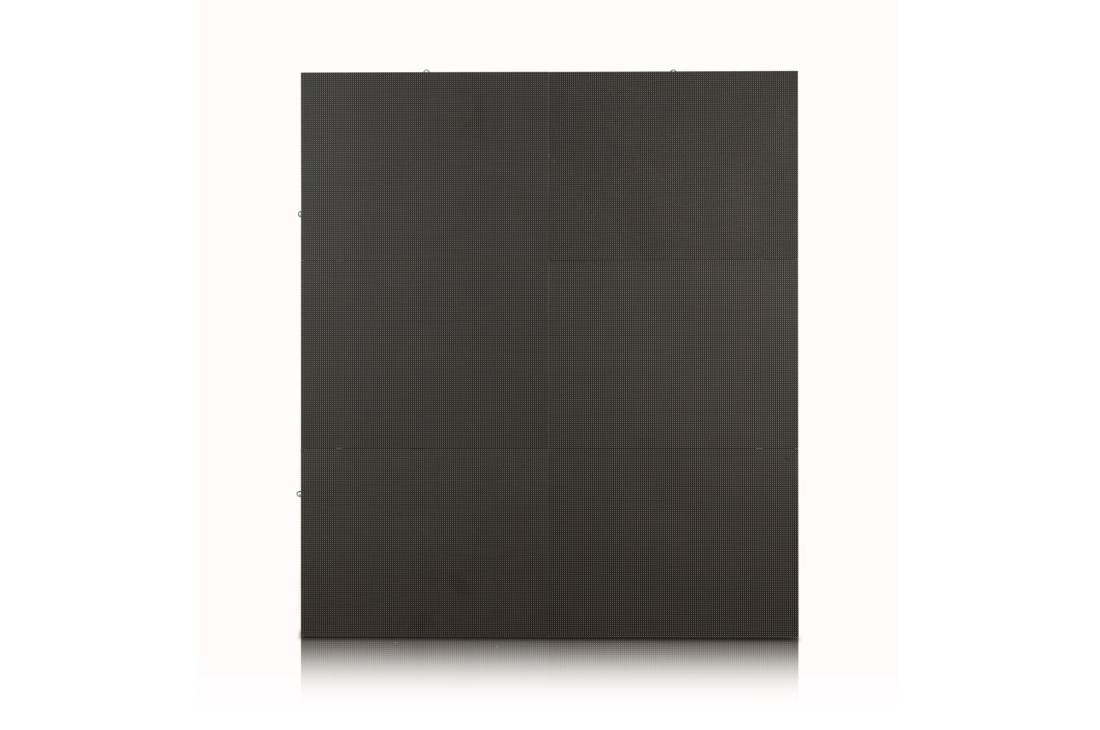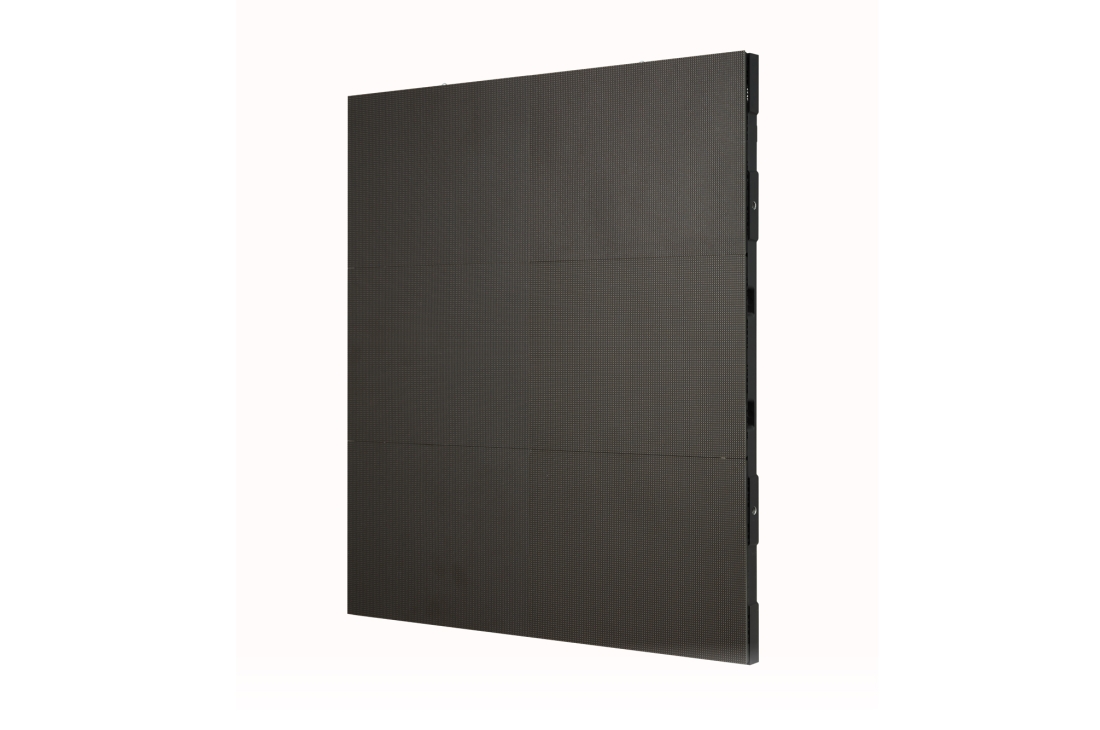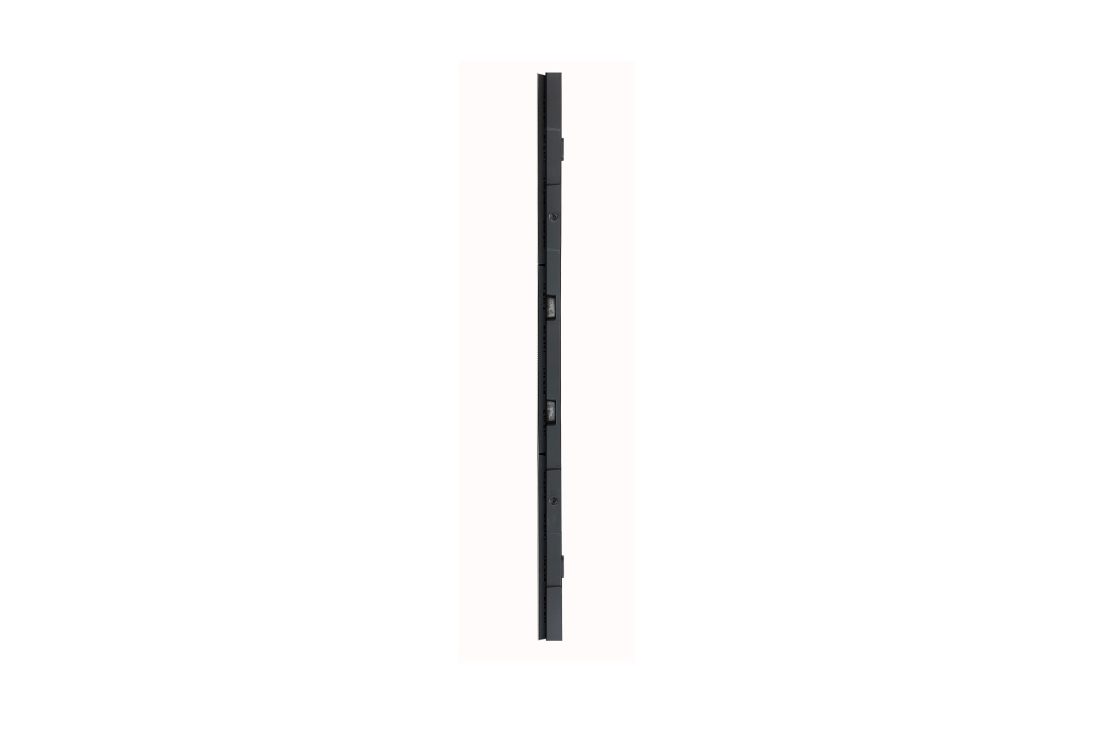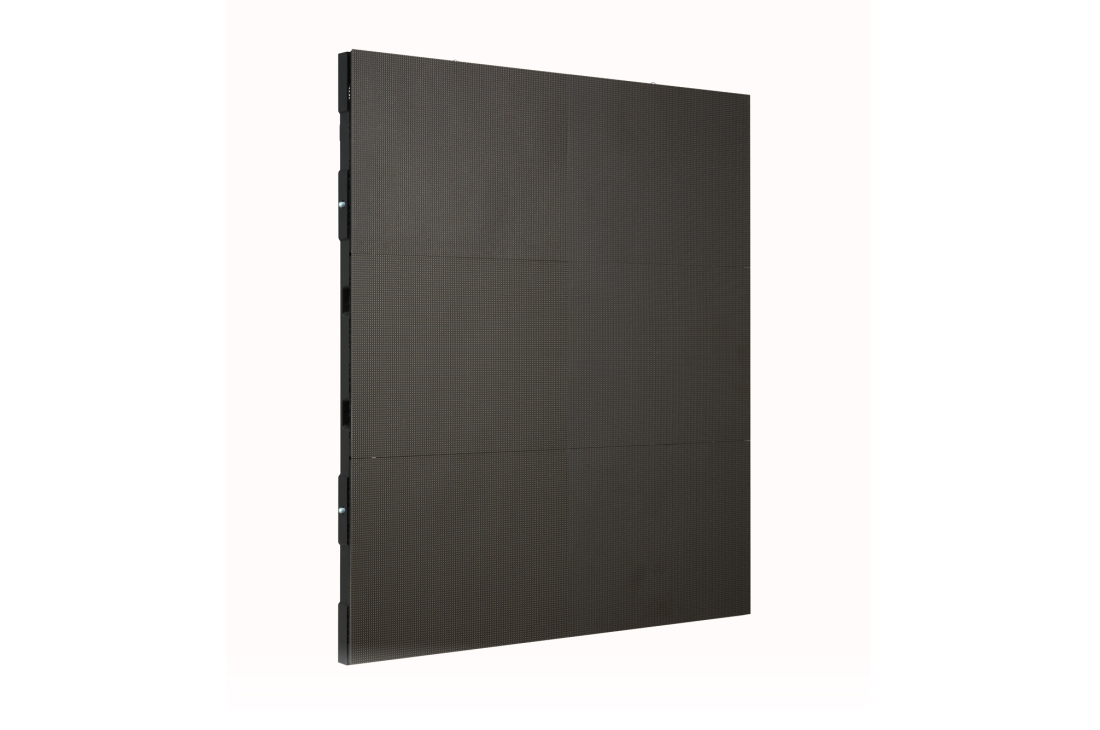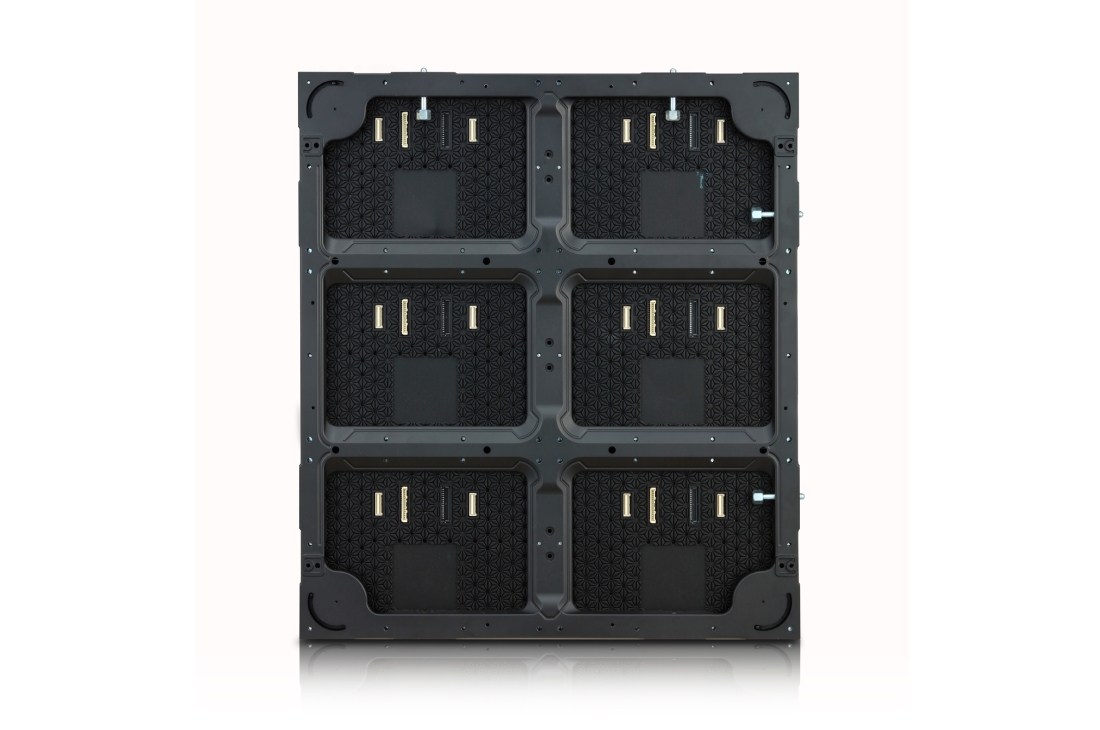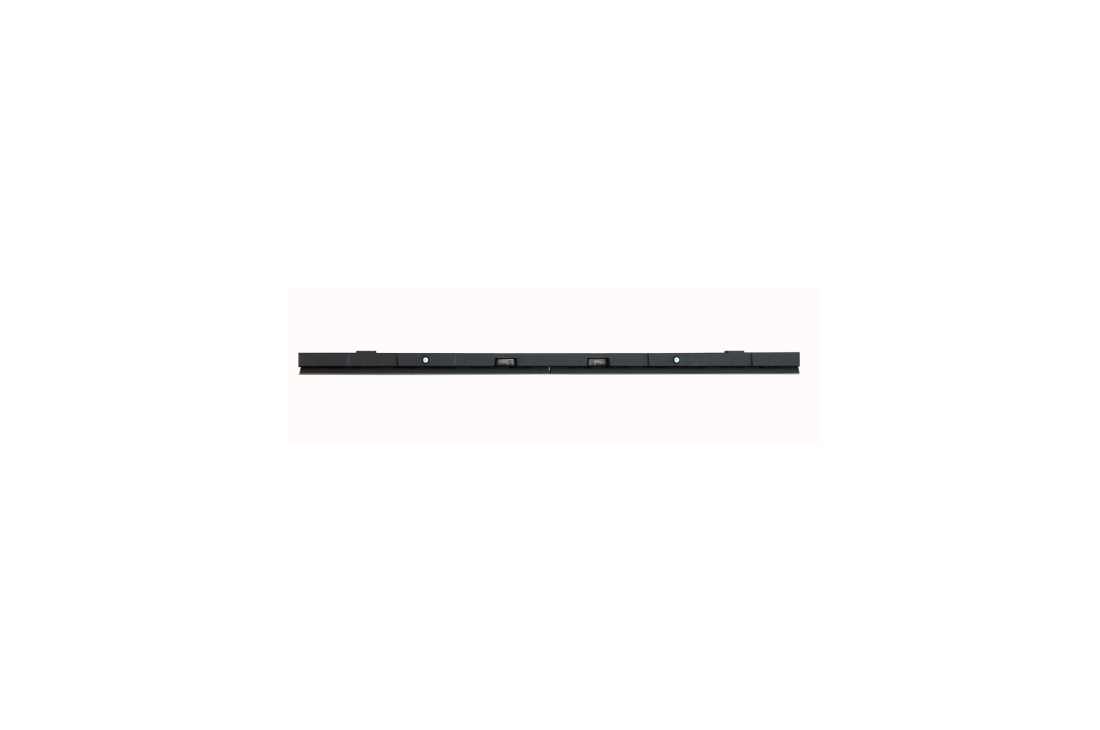 LAP015EL6B
LAPE Series
Global
Share
Key Feature
Pixel Pitch: 1.5mm
Brightness: 1,000 cd/m²
Modular design
Curvature(Concave/convex): Up to 1,000R
Signal/power redundancy supported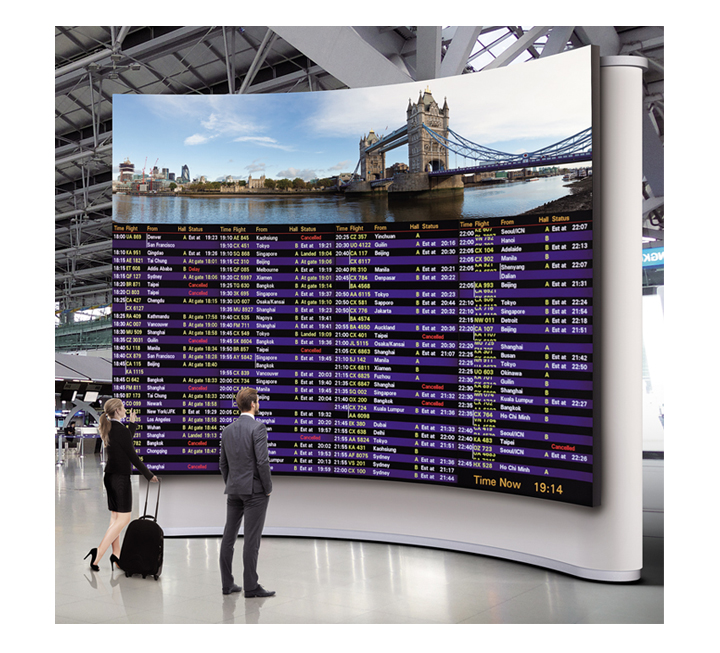 PREMIUM FINE-PITCH LED DISPLAY
The LAPE series brings technological innovation and artistic values together, with a world-class slim LED screen and flexible design concepts.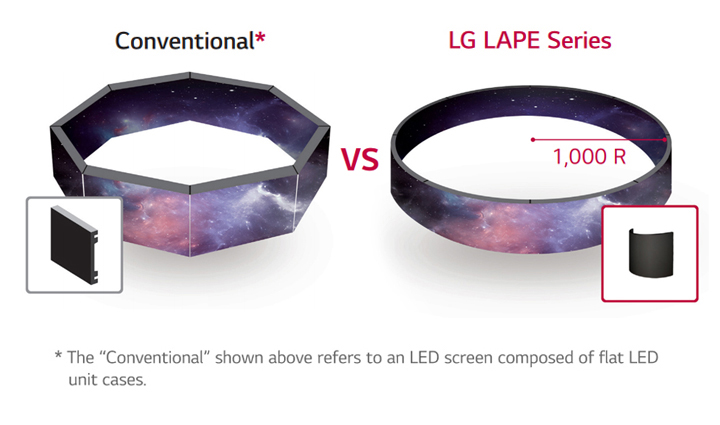 REAL CURVE AND SLIM DESIGN
FLEXIBLE LDM
With a specially designed flexible LDM(LED Display Module), the LAPE series supports true concave and convex curvature up to 1,000R. This greatly amplifies design flexibility, providing users with the ability to create true curved screens for use in interior design or as an immersive screen experience.
REAL CURVE AND SLIM DESIGN
SLEEK DESIGN
The power module is separate from the screen, resulting in ultra-thin screen depth, which dramatically reduces the rear space required to mount the screen onto a wall. With its sleek design, the LAPE series satisfies ADA(American with Disabilities Act) regulations.

SUPERIOR PICTURE QUALITY
REALISM THROUGH LIFELIKE COLORS
The LAPE series delivers vivid and distinctive picture quality through a wide range of color details with deep contrast thanks to LG's exclusive 'Dynamic Contrast Algorithm'.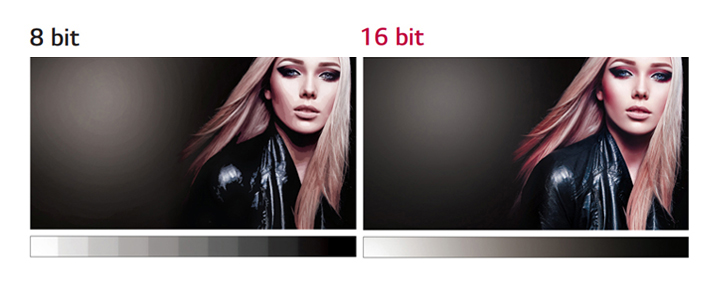 SUPERIOR PICTURE QUALITY
DETAILED EXPRESSION OF COLOR DEPTH
16-bit color processing provides a higher greyscale level, which seamlessly displays different depths and densities of colors without distortion, thereby giving a more realistic and sophisticated content.

SUPERIOR PICTURE QUALITY
SMOOTH PLAYBACK IN DYNAMIC MOTION
Powered by LG's display technology, a high refresh rate of 3,840Hz assures the smooth playback of content. The flicker-free image prevents the black bars that occur from video shooting, as well as eye strain and blurred vision in viewers.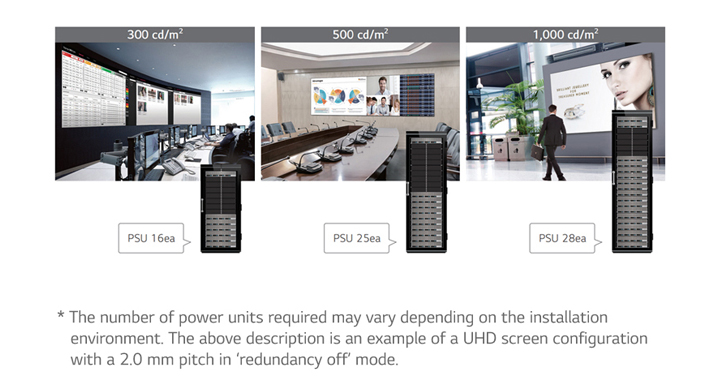 OPERATIONAL EFFICIENCY
FLEXIBLE POWER MANAGEMENT
The power supply units (PSU) are separated from the screen, dramatically improving the latter's internal thermal condition. Thanks to the modular power concept design, users can choose the desired brightness of the screen by customizing the number of PSUs* based on the electrical capacity of the user environment.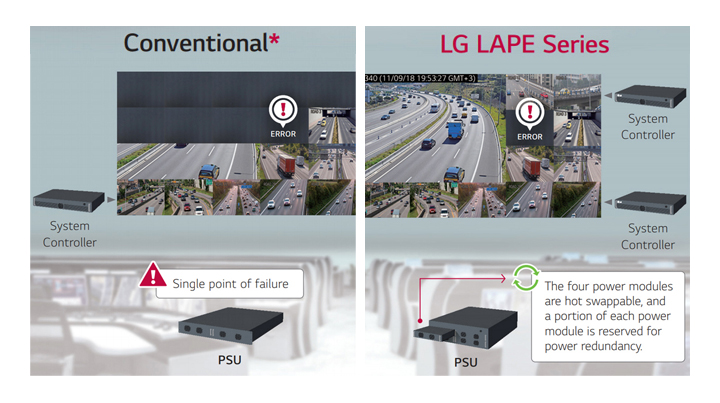 OPERATIONAL EFFICIENCY
POWER/SIGNAL REDUNDANCY SUPPORT
The LAPE series is designed to support power / signal redundancy (optional), providing users with peace of mind. The power supply units (PSU) support power redundancy, assuring the continuous operation of the screen without power failure, while the dual controllers minimize screen failure with a bi-directional signal input.

OPERATIONAL EFFICIENCY
PRECISE FHD/UHD SCEEN CONFIGURATION
It has often been difficult to configure a perfect FHD/UHD resolution screen prohibiting native resolution image display. With the LAPE series, this is possible for all model options.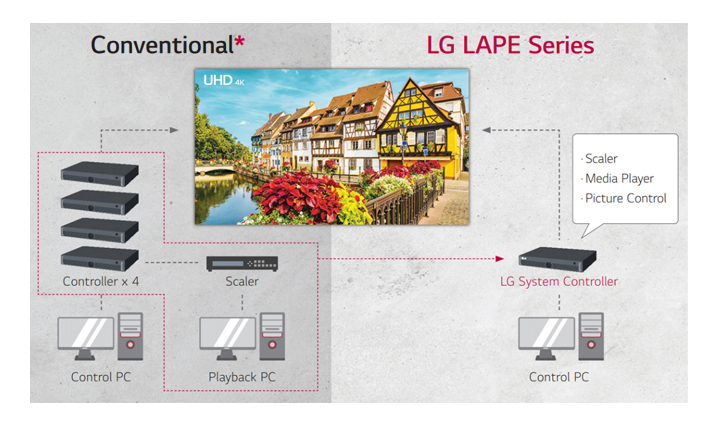 OPERATIONAL EFFICIENCY
SMART HIGH PERFORMANCE SYSTEM CONTROLLER
The LAPE series comes with a versatile 4K system controller, providing simplified system configuration in a high-resolution canvas platform. The controller also has a built-in high performance media player as well as scaler. Additionally, it has LG's exclusive picture control features such as Dynamic Contrast and Power Saving Mode options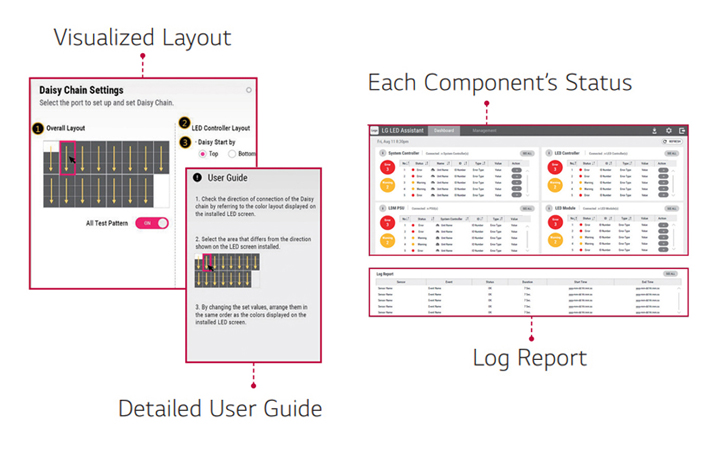 OPERATIONAL EFFICIENCY
INTUITIVE MANAGEMENT SOFTWARE
LG's new management control software platform 'LED Assistant' provides easy screen management. Screen setting is made simple with a visual guide and all-in-one dashboard that shows the overall status of screen components at a glance.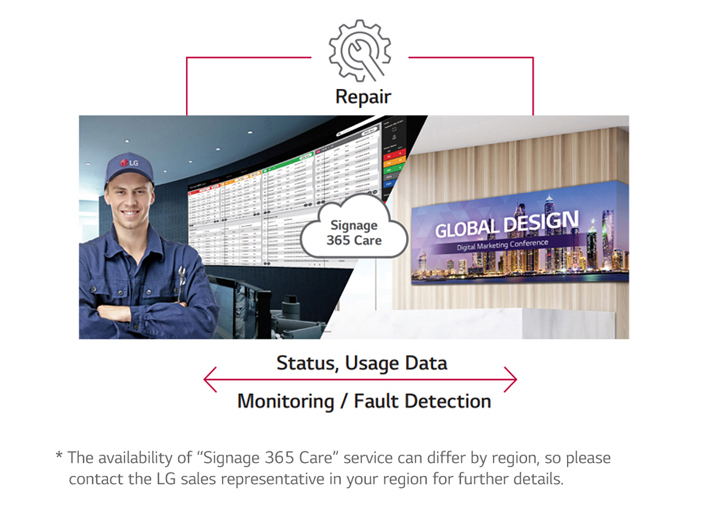 OPERATIONAL EFFICIENCY
REAL-TIME 365 CARE SERVICE
The maintenance gets easier and faster with an optional service Signage 365 Care*, a cloud service solution provided by LG service. It remotely manages status of LED displays in client workplaces for fault diagnosis and remote-control services, ensuring the stable operation of a client's business.
CONVENIENT SCREEN INSTALLATION
EASY TO HANDLE & INSTALL
Conventional large-sized and heavy cabinet-based installation often results in LED dot defects during installation. The LAPE series breaks free from conventional norms by introducing much smaller and light weight LDM(LED Display Module)-based installation, providing incomparable ease of handling.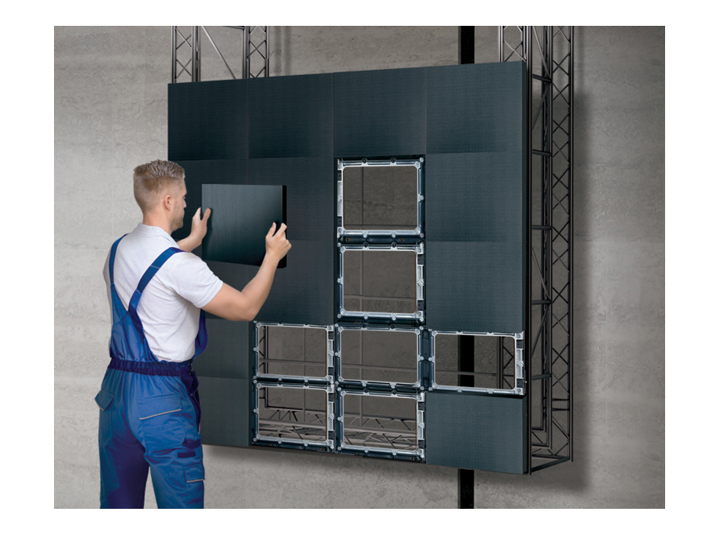 CONVENIENT SCREEN INSTALLATION
FRONT INSTALLATION & SERVICE
The LAPE series comes with front installation and front service access, freeing users from needing rear access space, as well as a sleek screen design for maximum space optimization.
Tech Spec
Physical Parameters

Physical Parameters spec

| | |
| --- | --- |
| Pitch Name | P1.5 |
| Pixel Configuration | 3 in 1 SMD |
| Pixel Pitch | 1.50 mm |
| Module Resolution (W x H) | 160 x 120 |
| Module Dimensions (W x H) | 240 x 180 mm |
| Weight per Module (kg) | 0.33 kg |
| No. of Modules per Unit Frame (W x H) | 2 x 3 |
| Unit Frame Resolution (W x H) | 320 x 360 |
| Unit Frame Dimensions (W x H x D) | 480 x 540 x 40 mm |
| Unit Frame Surface Area | 0.26 m² |
| Weight per Unit Frame | 5.12 kg/unit (Unit Frame 1ea, LDM 6ea, Power Gender 3ea) |
| Weight per Square Meter | 19.8 kg/m² |
| Physical Pixel Density | 444,444 pixels/m² |
| Flatness of Unit Frame | ±0.2 |
| Unit Frame Material | Die Casting Alluminum |
| Service Access | Front / Rear |

Optical Specifications

Optical Specifications spec

| | |
| --- | --- |
| Min. Brightness (After Calibration) | 1,000 cd/m² |
| Color Temperature | 3,200 - 9,300 |
| Visual Viewing Angle (Horizontal) | 160 |
| Visual Viewing Angle (Vertical) | 140 |
| Brightness Uniformity | ≥ 97% |
| Color Uniformity | ±0.015Cx, Cy |
| Contrast Ratio | 6,000 |
| Processing Depth (bit) | 16 |

Electrical Specifications

Electrical Specifications spec

| | |
| --- | --- |
| Power Consumption (Avg.) | 170 W/Unit |
| Power Consumption (Max.) | 330 W/Unit (@1,000 cd/m²) |
| Power Consumption (Max.) | 1,270 W/m² (@1,000 cd/m²) |
| Power Supply | 100 to 240 V |
| Frame Rate | 50 / 60 Hz |
| Refresh Rate | 3,840 Hz |

Operation Specifications

Operation Specifications spec

| | |
| --- | --- |
| Lifetime (Half Brightness) | 100,000 Hrs (It is subject to LED package spec.) |
| Operating Temperature | 0°C to 40°C |
| Operating Humidity | 10% to 80% RH |

Environment

Environment spec

| | |
| --- | --- |
| Environment | RoHS |
Recently Viewed