From manufacturers to consumers, present to the future generation, and technology to sustainable earth,
we create a better future for humanity through sustainable innovations for everyone.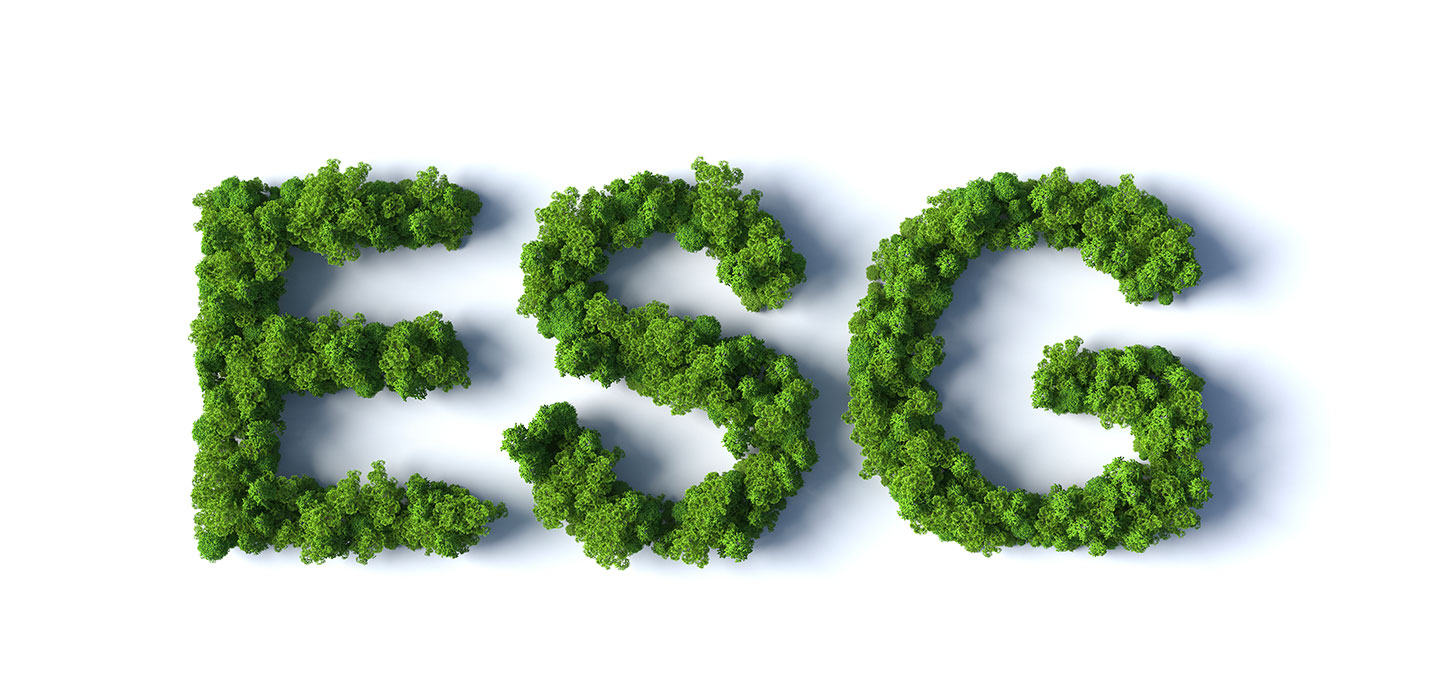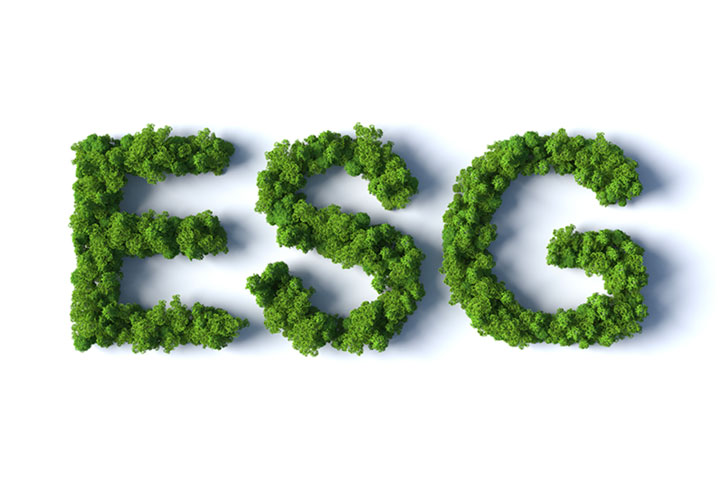 Reducing Environmental Pollutant
LG OLED
LG OLED products use self light-emitting panels, which eliminate the need for LCD backlights. Compared to previous LCD's, OLED technology decreases plastic usage by up to 90% in module production stage, reducing waste and greenhouse gas emissions.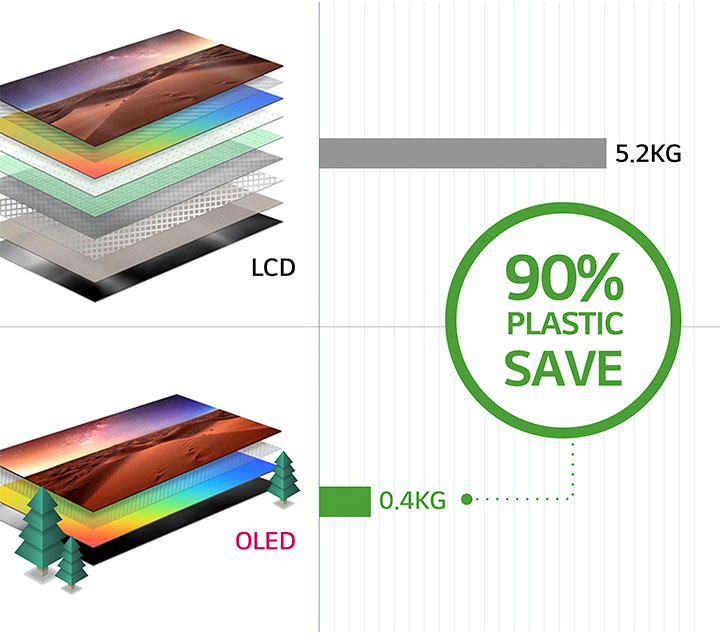 Lower Carbon Emissions
with LG Kiosks
in-Touch technology eliminates the process of adding touch panels to LCDs and reduces the use of indium. Moreover, by producing fewer parts, the process is shorter, which reduces carbon dioxide emissions.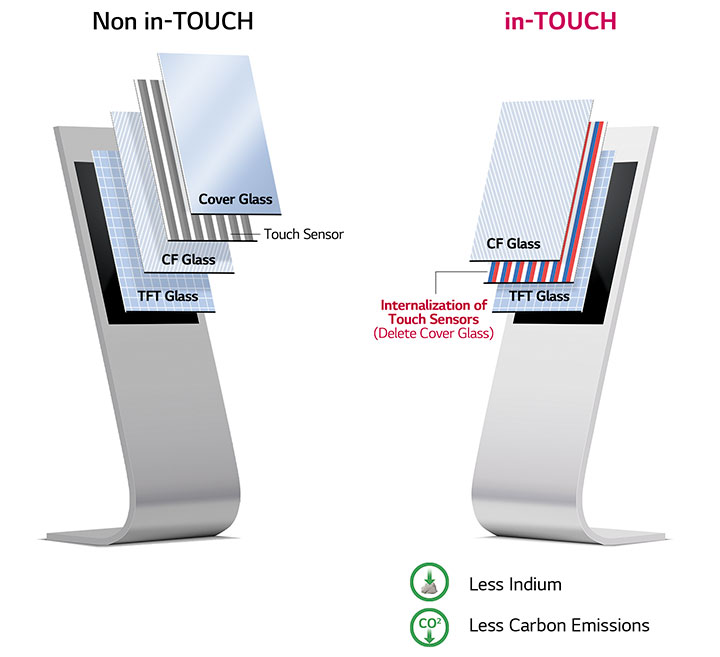 LG Digital Signage
Using Recycled Materials
Recycled resins are used to manufacture back covers for digital signage product* and LG plans to expand this practice to other models as well. In addition, recycled cardboard was partially used to produce packaging materials, and the printing information on the packaging materials was written by only black ink.
* Digital signage product refers "UL3J-E" model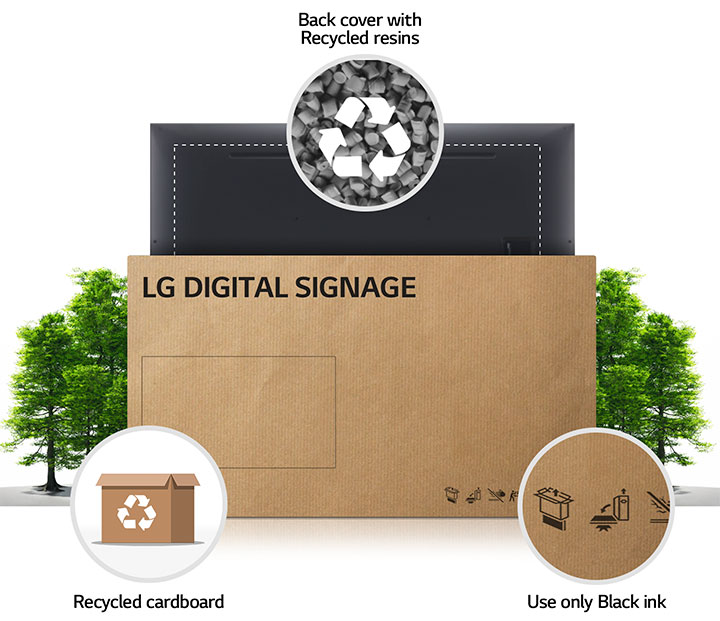 Energy Efficient
LG M+ Technology
LG high brightness products using the innovative M+ technology which provide a high penetration rate realize bright and clear images. LG M+ technology reduces power consumption compared to RGB in same brightness condition.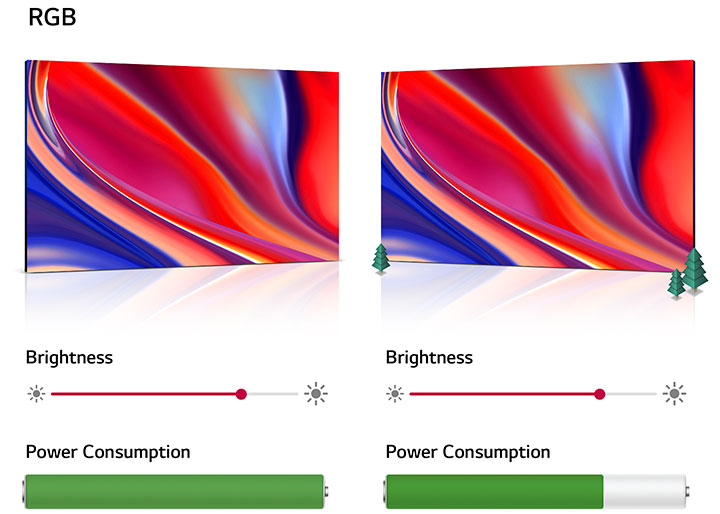 LG LED Signage
with High Efficiency Lighting Technology
LG's high efficiency LED signage uses less power, saving up to 42% of electricity thanks to the continuous improvement of light source efficiency and operating technology.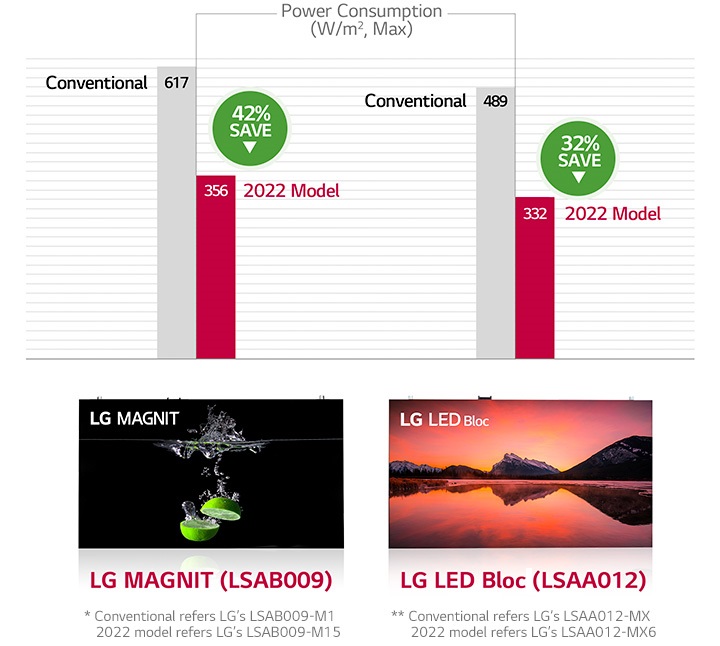 Smart Energy Management
LG ConnectedCare &
LG SuperSign
LG ConnectedCare, LG SuperSign CMS, and LG SuperSign Control+ automatically adjust screen brightness according to the surrounding environment and minimizes electricity consumption while not in use. By Brightness Scheduling* feature, users can manage energy consumption efficiently, and by using Multi-control feature multiple signages can be controlled simultaneously.
* Brightness scheduling is supported by SuperSign CMS and SuperSign Control+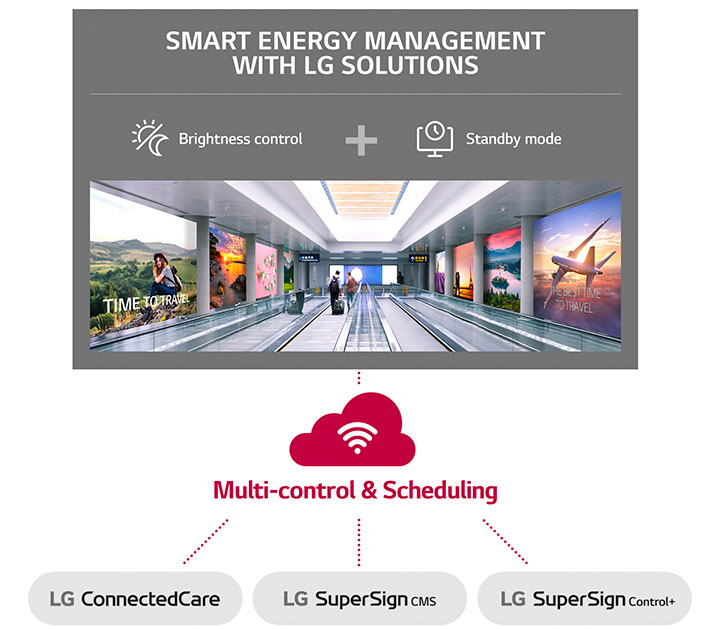 Accessibility Enhanced
LG Kiosk
User convenience was improved by adding touch labels (braille) to feature keys and providing audio navigation features for visually impaired users. The kiosk also offers a customized service feature for wheelchair users with a lower part displaying menus.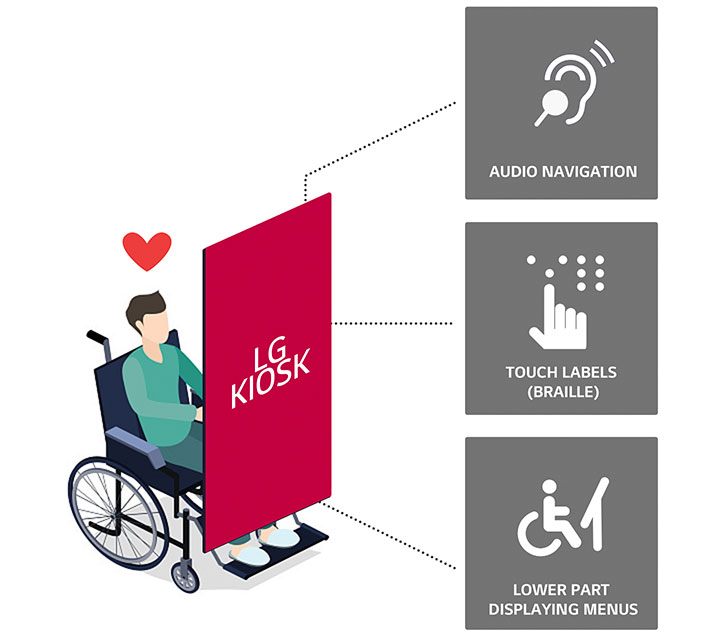 LG's Services and Solutions
that Meet WCAG Standards
Under WCAG 2.1* Standards, LG produced the webOS6.0 platform web service and product solutions.
LG's technology allows digital vulnerable groups to use web contents more easily.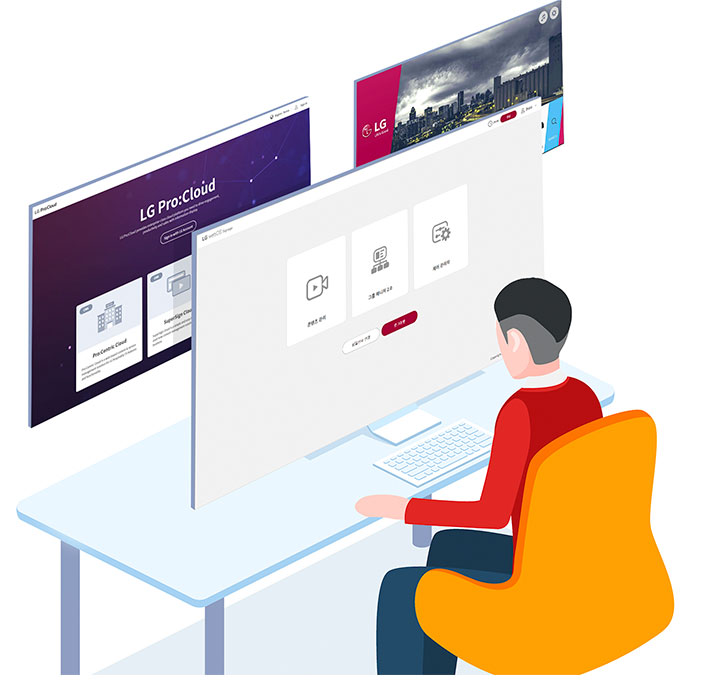 * WCAG(Web Content Accessibility Guidelines) 2.1
** Most of our company's web services and product solutions meet WCAG standards and that have not yet been applied are under review.
Board of Directors Structure & Operations
To ensure oversight efficiency, LG Electronics adheres strictly to the Board's operating regulations and promotes the protection of shareholders' rights and sustainable growth.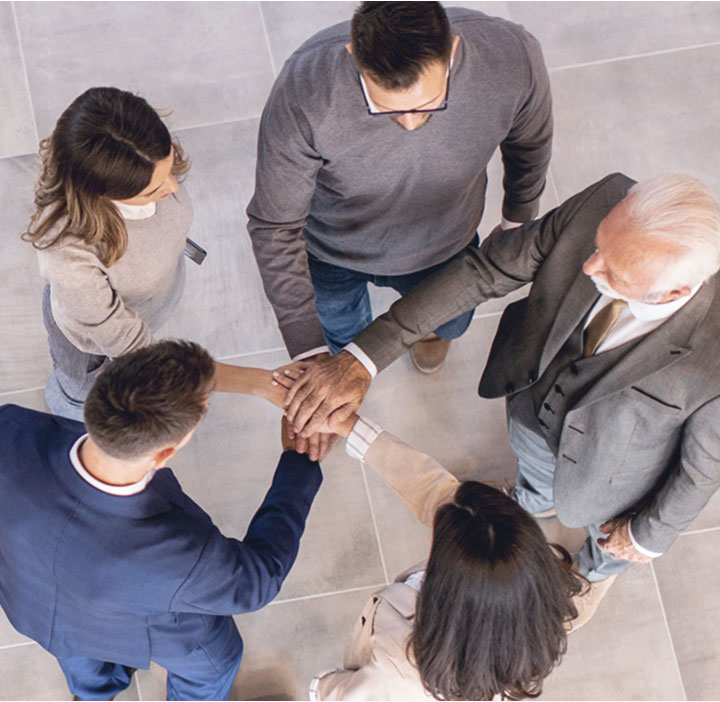 Transparent Governance –
Board of Directors
LG Electronics recognizes the needs and expectations of global stakeholders for transparent governance. To ensure this, LG Electronics upholds the Board's core values - expertise, independence, and transparency through the effective operation of Board committees and a transparent appointment process.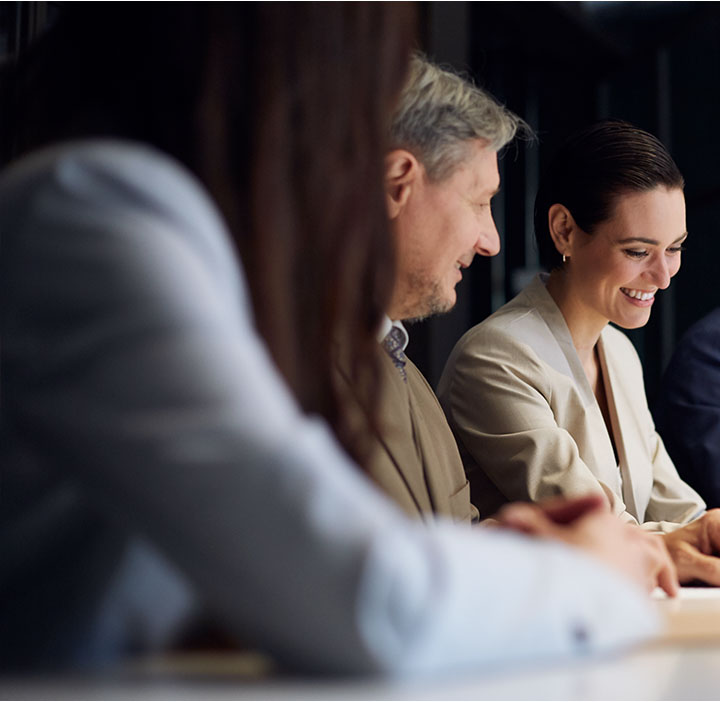 Sustainability Management Organizations
Each year, the ESG Committee, consisting of four outside directors and one in-house director (CEO), meets twice to discuss and decide on issues related to ESG management. Additionally, the expansion of the sustainability management group includes an ESG consultative group organized by the CFO and meets four times a year. For further discussion by the consultative group, the direction, progress, and critical issues of ESG management activities are reported to the ESG Committee.