Retail & QSR
Digital signage enhances in-store experience for both consumers and retail owners. As a marketing platform connecting the brand with consumers, LG's digital signage solution offers superior display with high picture quality, wide design flexibility and easy-to-use software, which lowers TCO and provides distinct experiences to customers.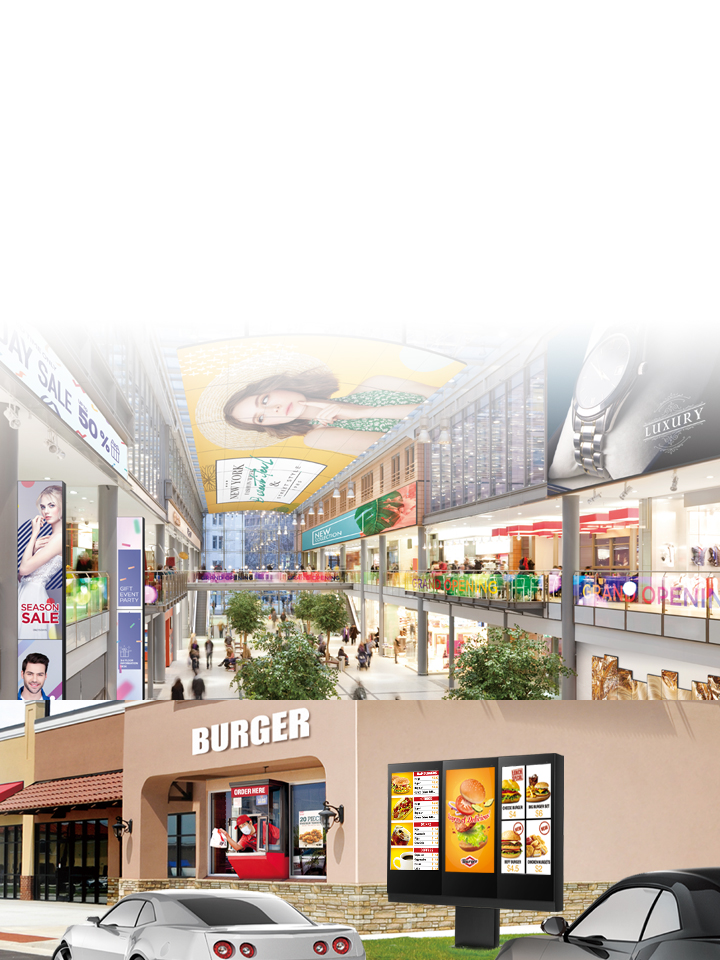 Consumers Said
We want an interactive shopping with easy access to the information while keeping social distance.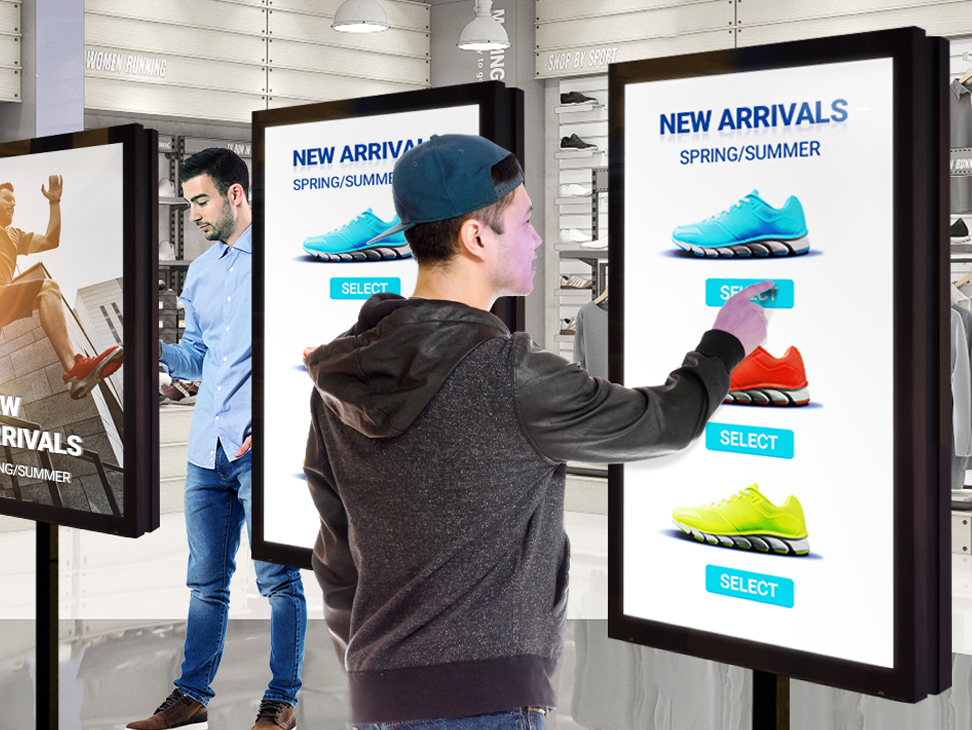 The interactive display products can help consumers get the information they want.
Consumers Said
We want a quick and easy service in our busy life.
Consumers can easily & quickly get the service we want, just like before, while minimizing face-to-face contact.
Retail Owners Said
It can enhance the brand image of the store through exquisite interior design and effective advertising.
Retail owners hope to increase advertising effect with clear content.
Retail Owners Said
We should provide customers with a comfortable and clear service.
The display products should be operated, managed, and monitored easily.
IT Directors Said
The products should be robust and highly compatible with the existing system.
Real-time product monitoring and repair should be available remotely. Also, content should be managed easily and conveniently through CMS solution without visiting the store.
Why LG Information Display
Retail and QSR markets widely range from small convenience stores to large shopping malls. They are linked with a variety of stakeholders including consumers, store owners and system integrators. It is very important to provide various displays and professional solutions that suit for different spaces and customer needs. LG helps our partners increase the revenue by delivering these solutions.
LG ensures superior display quality with high color reproduction, wide-viewing angle, and outstanding brightness. Also its flexible mounting options and slim design help you to install the display anywhere you need to catch customers' attention.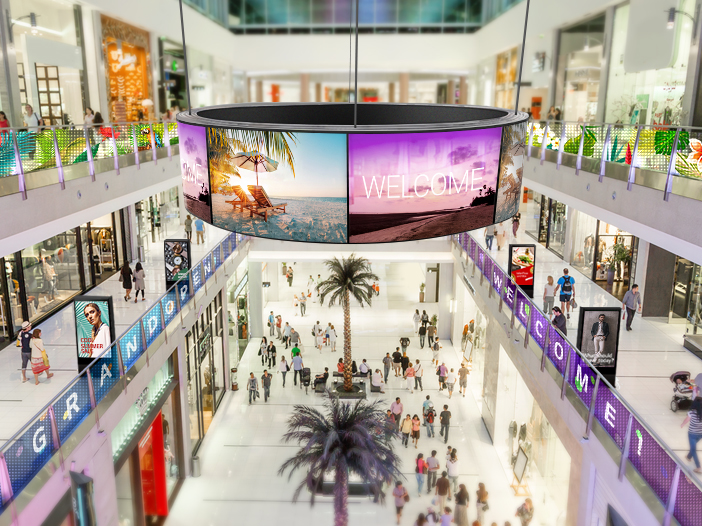 Large Shopping Malls
For branding, it is important to make the space aesthetically unique. LG LED and OLED signage have excellent picture quality and can be flexibly harmonized with the space design. They brighten the space and maximize the advertising effect.
High-fashion Stores
Luxury Brand Stores
Luxury brands must stand out even from the store's exterior. LG LED Signage's outstanding picture quality and bezel-less advertising content with an immersive view can catch the eyes of customers. Its transparent OLED screens add high-quality values to space while various UHD signage boosts the advertisement with lifelike color reproduction.
QSR, Drive Thru, Convenience Shop etc.
The digital signage in QSR and convenience stores is playing a more critical role as customers' needs for easy, quick and non-contact purchasing methods increase. Especially, the drive-thru systems with high luminance displays and smart platforms are essential. It ensures more convenient service by voice recognition and mobile app solution.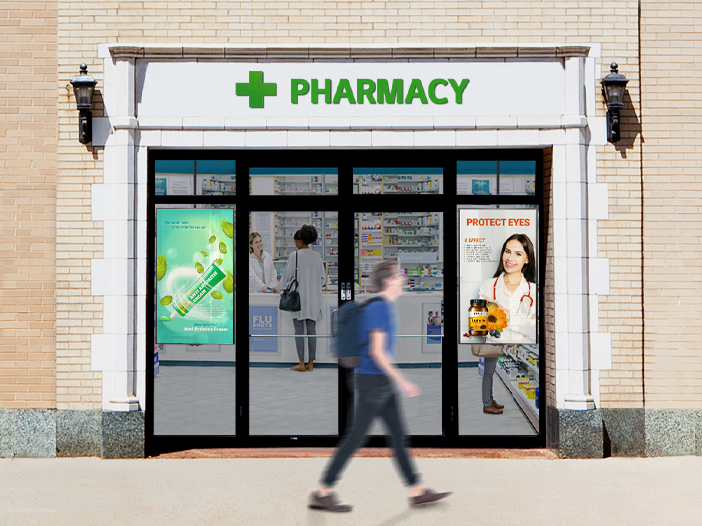 Pharmacies, Travel Agencies, Telecom Stores
Displays should have high visibility and have real-time content management features. LG webOS signage applies SuperSign CMS to offer easy advertising content management with its simple and intuitive menus.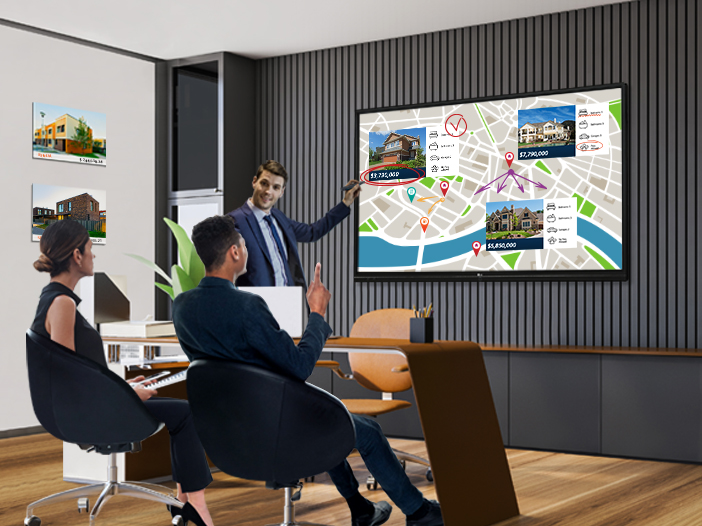 Real Estate Offices
To meet customer demands and offer a wide variety of properties at a glance, large sized displays should be installed. LG Interactive Digital Board enables customers to check details of local properties easily and quickly with its large screens and interactive features.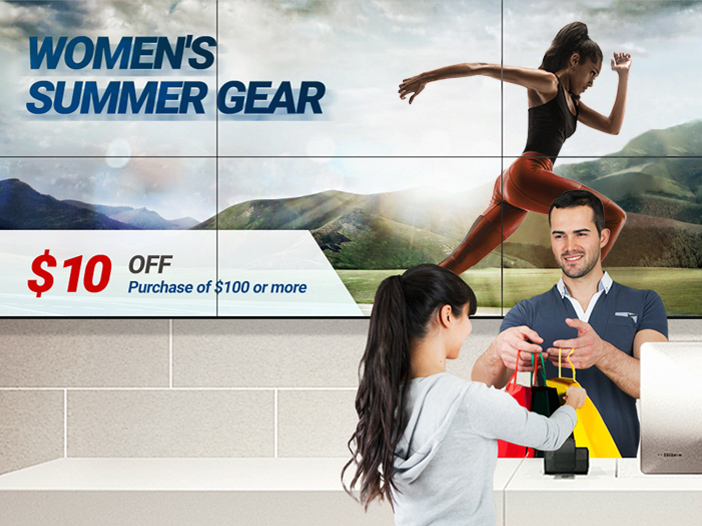 General Apparel Store
Video walls with high definition and thin bezels can present a variety of advertisement images with immersion, while signage of various sizes can help increase sales by offering customized promotions in real time through BLE and NFC.
Control Room
As retail business owners can't get prompt solution to the technical issues during business hours, it can result in negative impact on revenues. Signage365Care provides remote monitoring of signage displays with real-time fault diagnosis so employees can stay focused on attending to customers.