Prev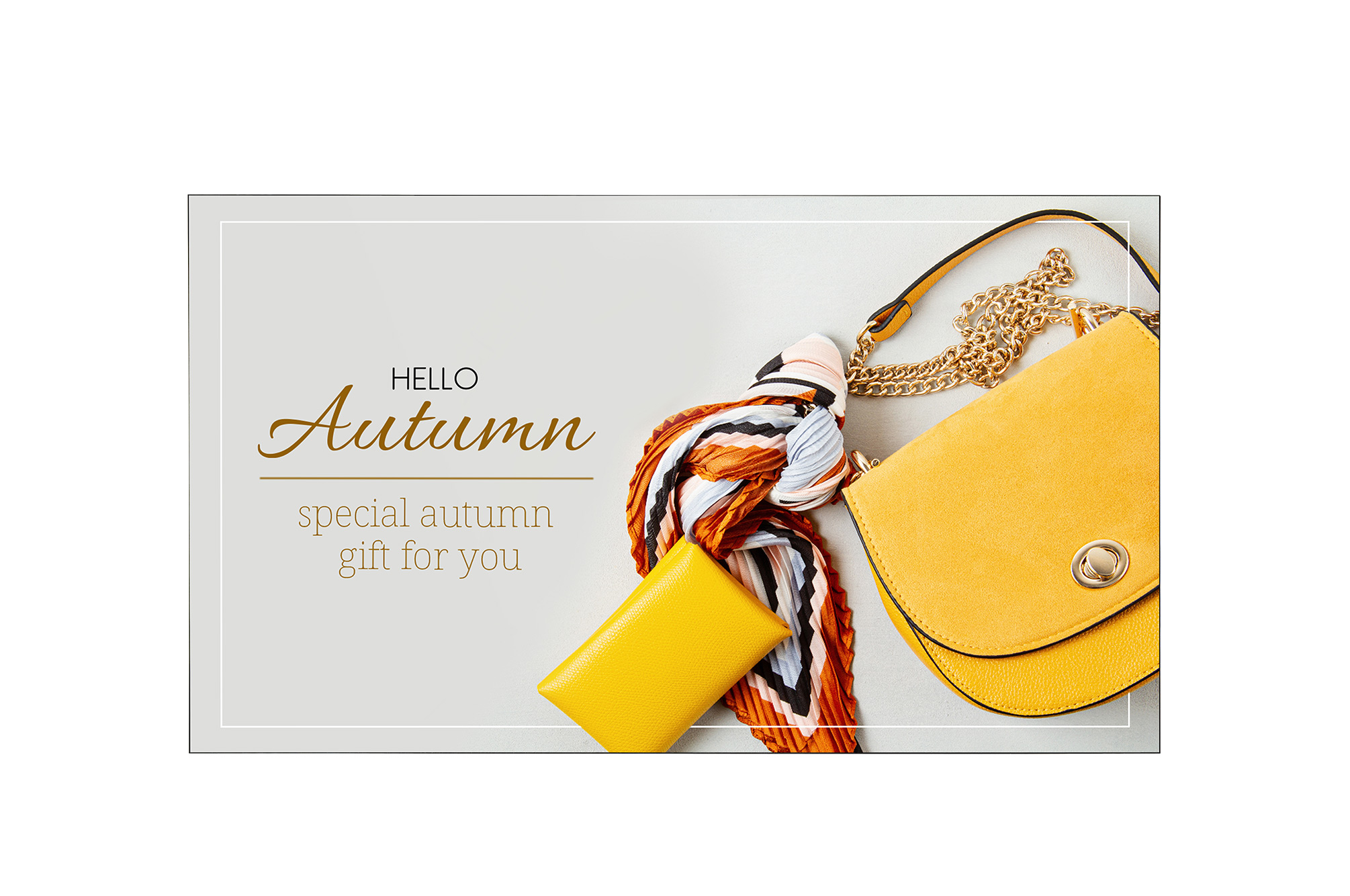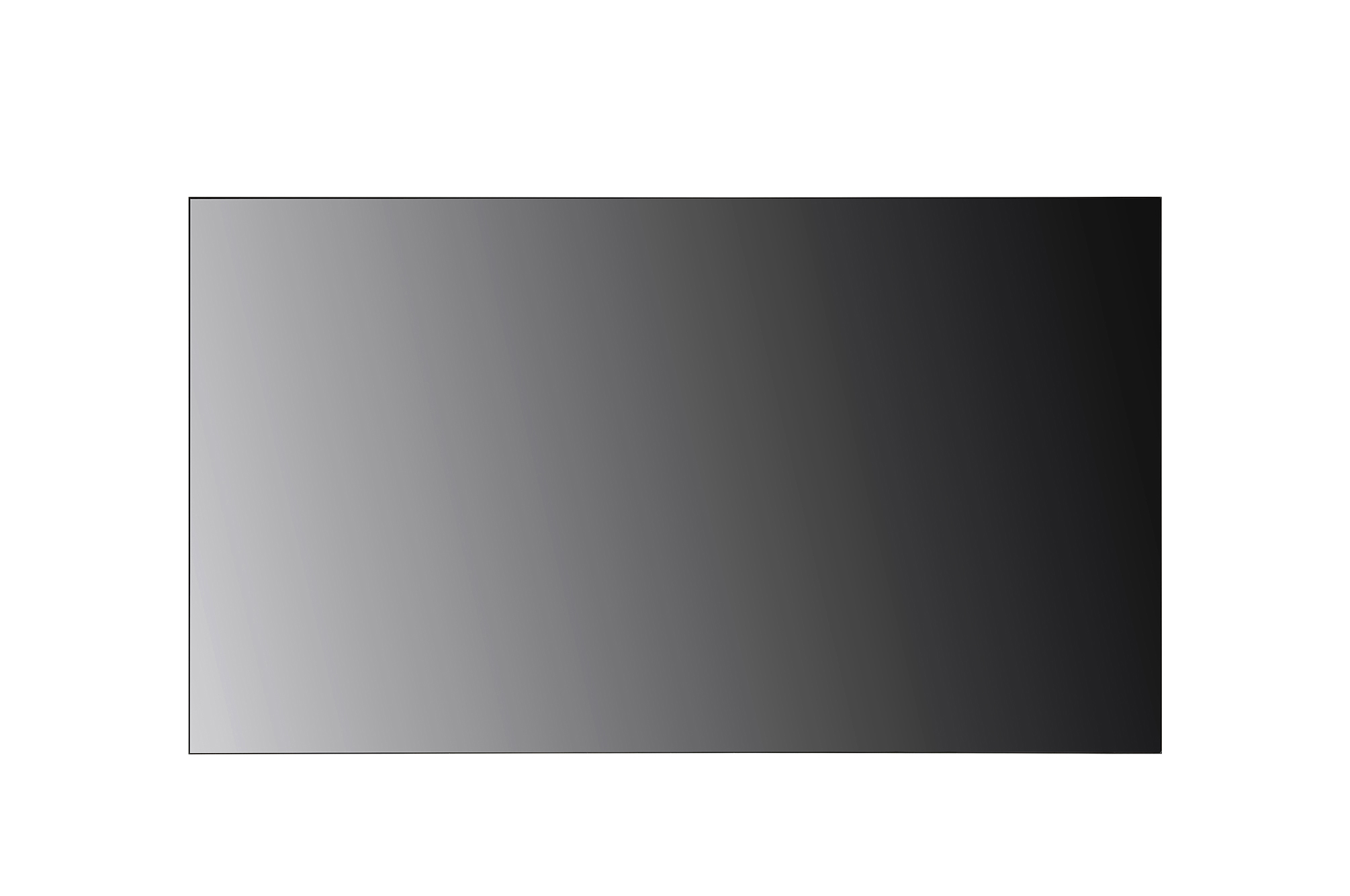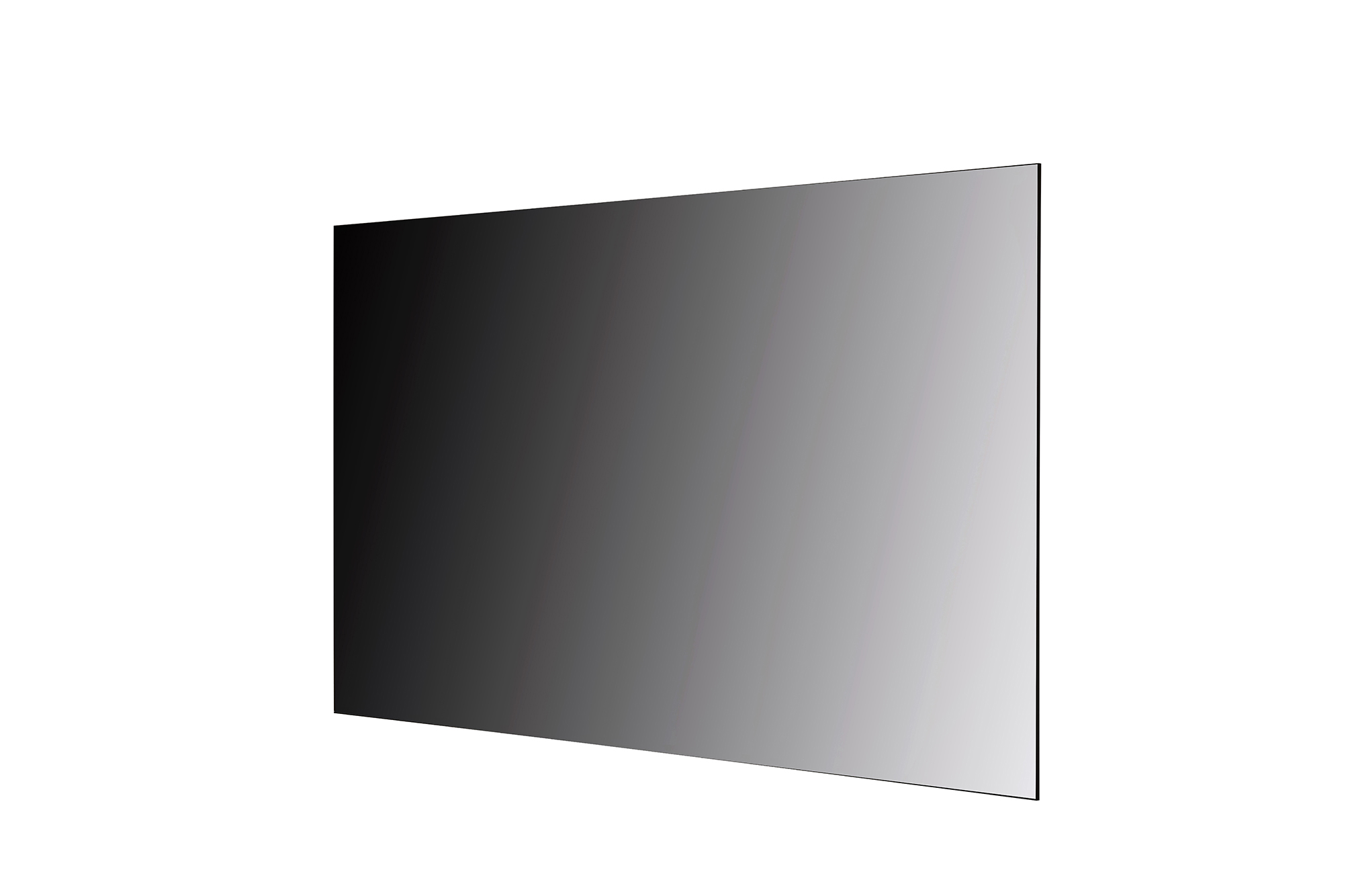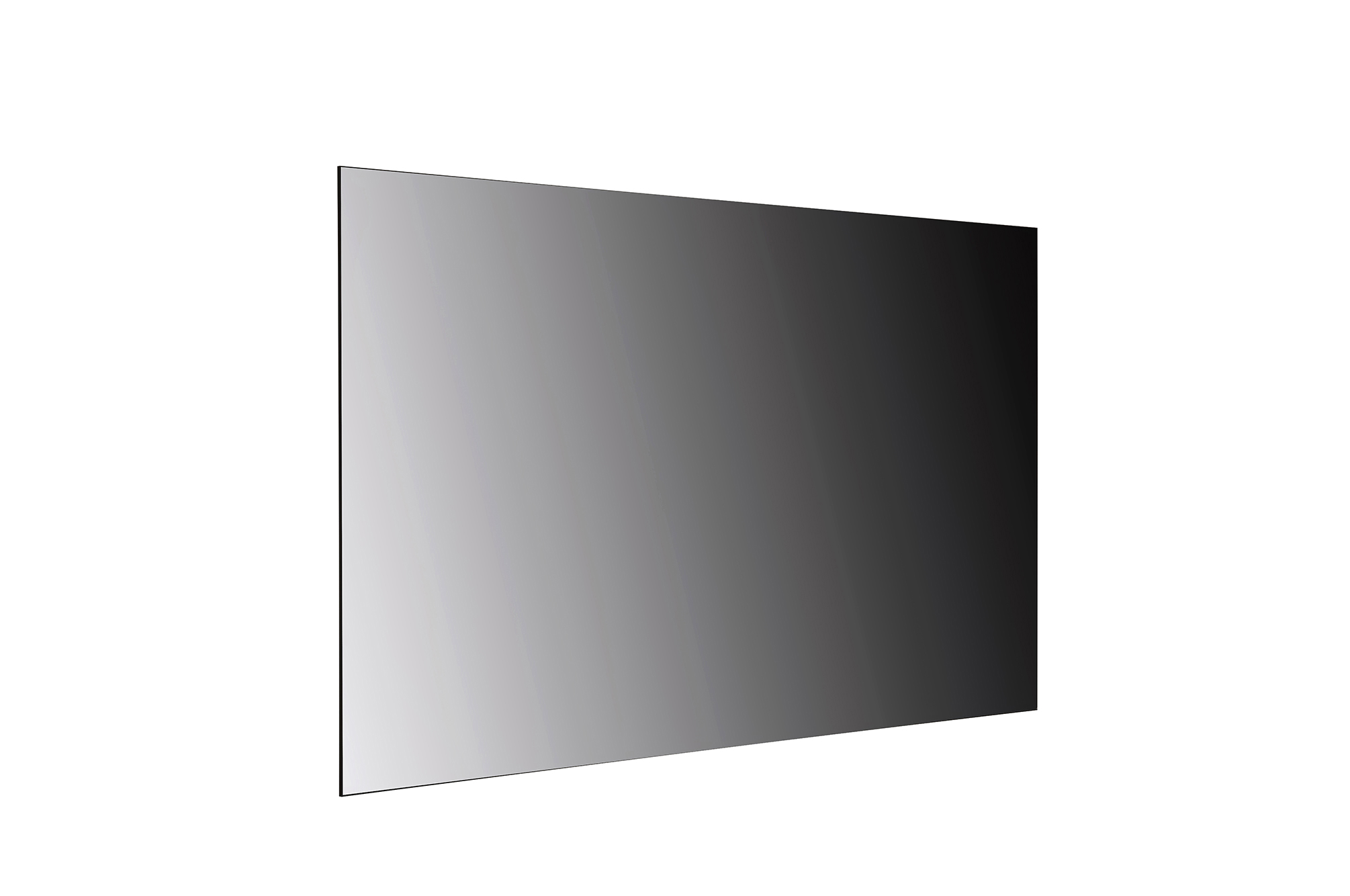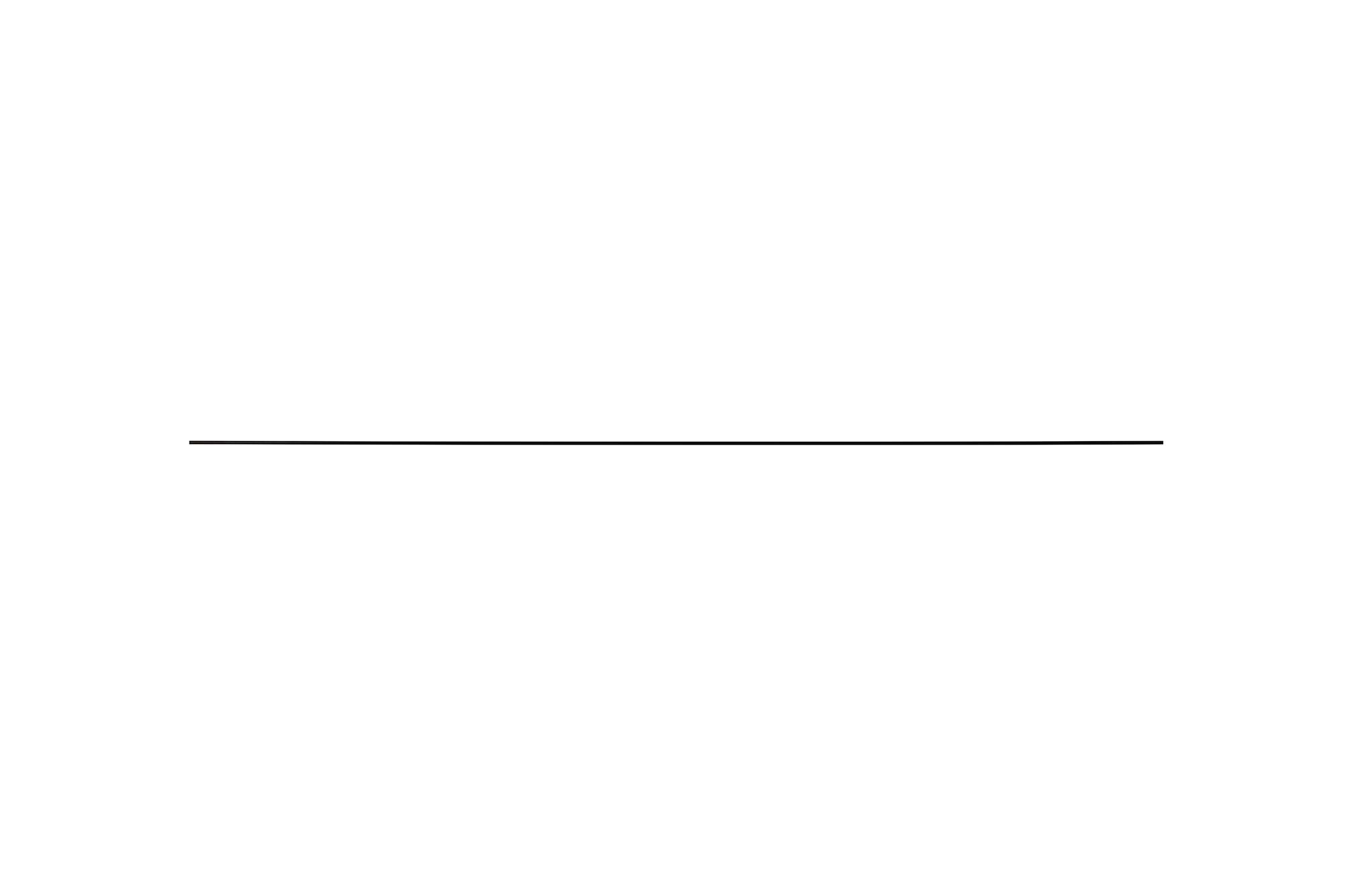 55EJ5K
Flat OLED Signage
Global
Share
Key Feature
Brightness(Typ.): 150/400 nit (APL 100% / 25%)
Bezel : 5.3 mm (T/B/L), 11.0 mm (B)
Interface : HDMI/DP/USB(2)/ RS232C/ RJ45/ Audio/ IR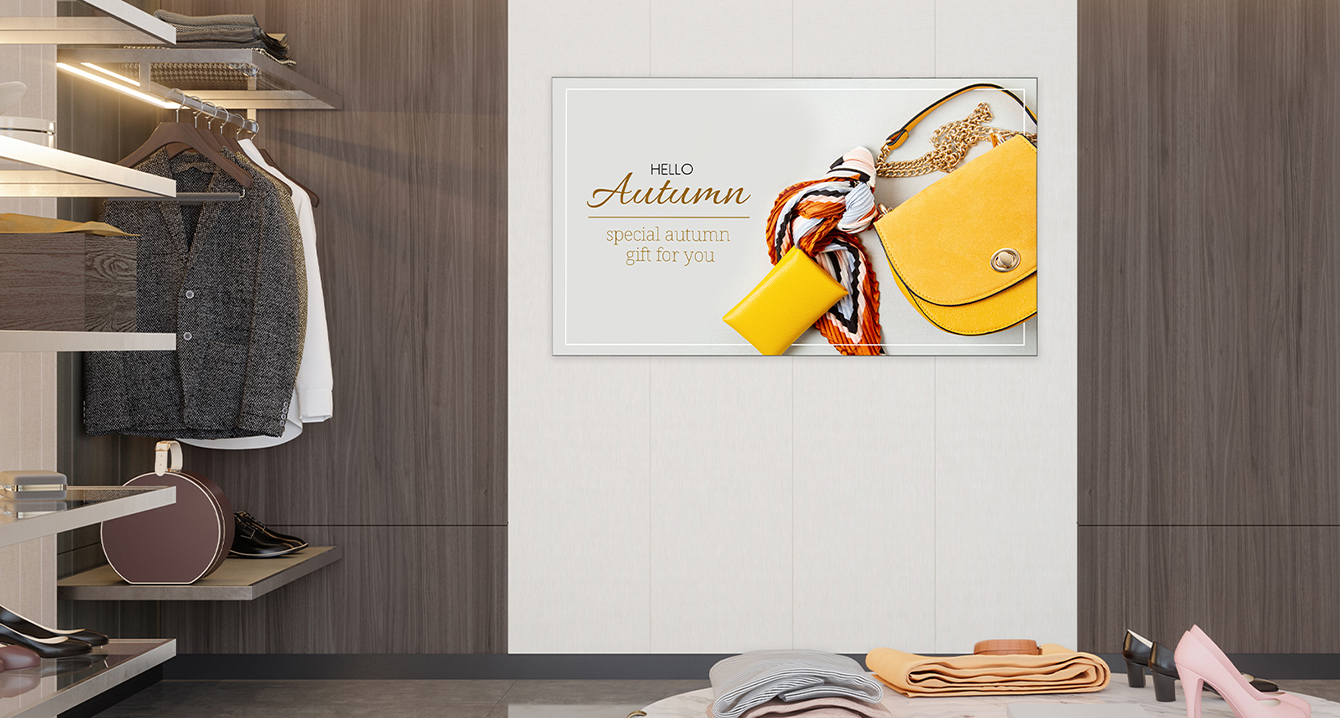 Artistic Space beyond Display,
LG Wallpaper OLED Signage
* All images in this web page are for illustrative purposes only.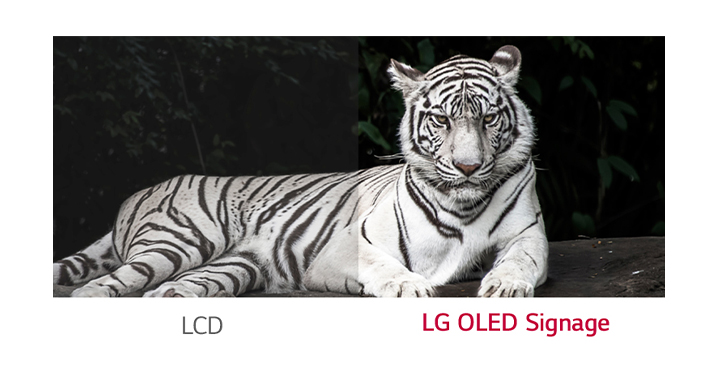 Absolute Black
Equipped with over 8 million self-lighting pixels operating individually, LG OLED Signage reproduces absolute blacks with no light bleed and offers infinite contrast.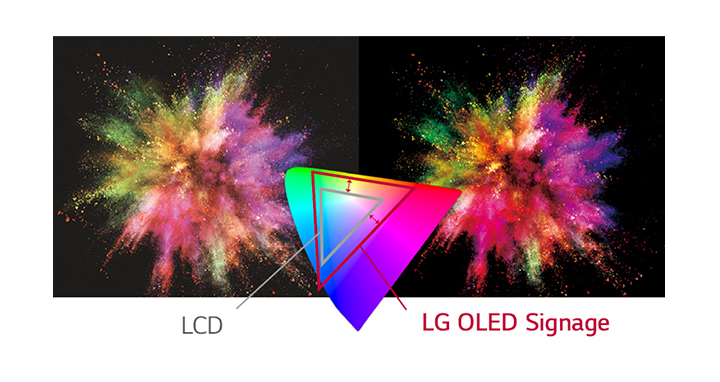 Rich Color
LG OLED Signage provides richness in all colors, bringing colors to life with great accuracy and vividness.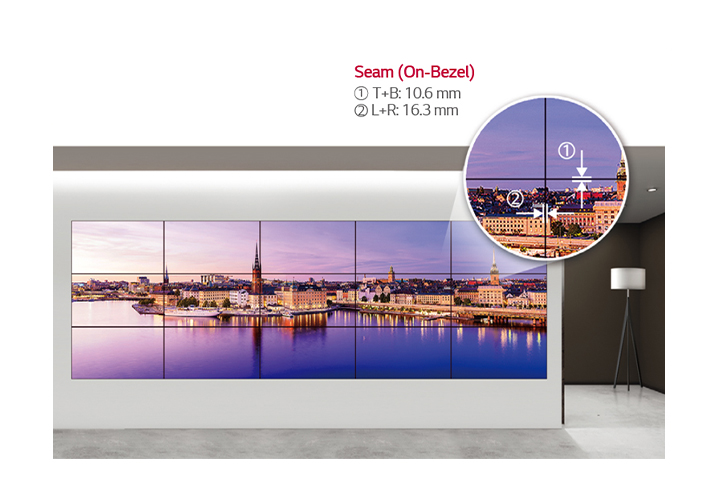 N×N Expandable Screen Size
By tiling up displays horizontally and vertically, the screen size can be as large as users want. Expansive, large screens are more effective at moving viewers by providing an incredibly immersive viewing experience.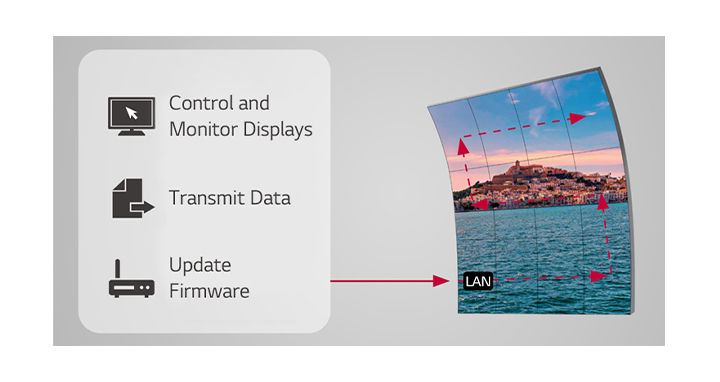 LAN Daisy Chain Management
A LAN daisy chain is supported, allowing you to execute commands to control and monitor the displays and even update their firmware.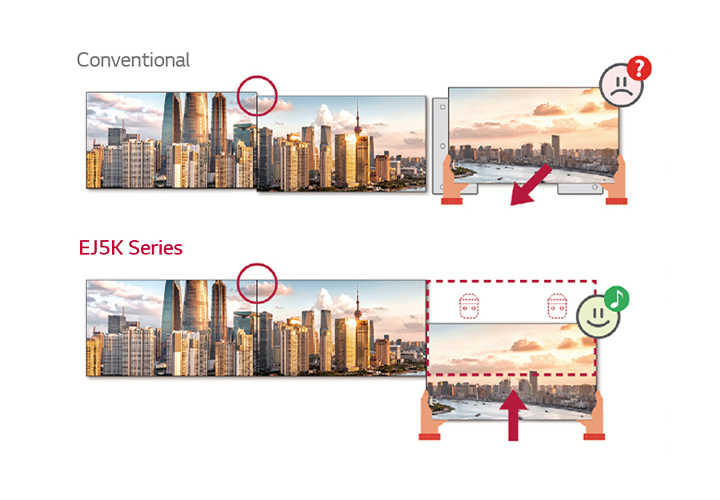 Wall Fixers Optimized for Simple Tiling
The overall installation process of the wallpaper OLED has gotten much easier. Once the dedicated wall fixers are driven into a wall, a display can be easily hung on them. Video wall tiling has become more convenient, thanks to its front installation feature, which departs from the conventional sidesliding method.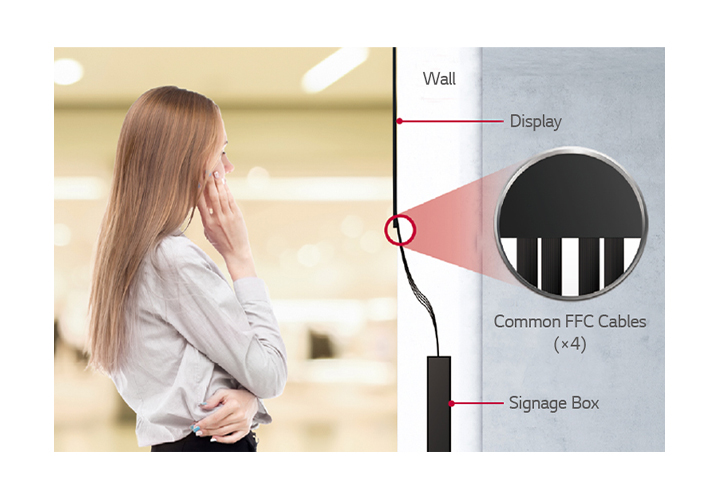 Enhanced Flexibility of Cables
As a result of in-depth consideration of usage scenarios, improvements have been made to the flexibility of common cables connecting the display to the signage box. These new cables are pliable enough to be easily embedded in a wall or other structures.

Splendid Design
LG's OLED technology unlocks the new worlds of design flexibility with unbelievably lightweight and slim display. The advantages the OLED display brings are countless from the easier installation to a sleek look.

Hide in Plain Sight
The subtle edge of the wallpaper OLED totally blends in with the wall, giving audiences the sensation that content is being played directly within the wall itself. Integrating with and adding to a luxurious interior design, the wallpaper OLED is an effective method for delivering advertisements and information.
Tech Spec
Panel

Panel spec

| | |
| --- | --- |
| Screen Size | 55" |
| Panel Technology | OLED |
| Native Resolution | 1,920 X 1,080 (FHD) |
| Brightness | 150 / 400 nit (APL 100% / 25%) |
| Contrast Ratio | 150,000 : 1 |
| Color gamut | BT709 120% |
| Viewing Angle (H x V) | 178 × 178 |
| Color Depth | 1.07 Billon Colors (10 bit (R)) |
| Response Time | 1 ms (G to G), 8 ms (MPRT) |
| Surface Treatment (Haze) | Hard Coating (2 H), Reflectance Typ. 1.2% |
| Operation Hours (Hours / Days) | 18 / 7 (Moving Content Only) |
| Portrait / Landscape | Yes / Yes |

Mechanical Specification

Mechanical Specification spec
Bezel Color
Black
Bezel Width
0.9 mm (Even Bezel) (Off Bezel)
5.3 / 5.3 / 5.3 / 11.0 mm (T/R/L/B) (On Bezel)
Weight (Head)
6.5 kg (Head)
3.4 kg (Signage Box)
Monitor Dimensions (W × H × D)
1,220.3 × 696.8 × 4.9 mm (Head)
782.8 × 238.4 × 34.7 mm (Signage Box)

Feature

Feature spec

| | |
| --- | --- |
| Key Feature | Internal Memory (16 GB), Sensor (Temperature Sensor), webOS 4.0, Embedded CMS (Local Contents Scheduling, Group Manager), USB Plug & Play, Fail Over, Sync Mode (RS-232C Sync, Local Network Sync), Video Tag (4), Rotation (Screen Rotation, External Input Rotation), Gapless Playback, Tile Mode Setting, Setting Data Cloning, SNMP, ISM Method, Auto Set ID, Status Mailing, Control Manager, 3rd Party Compatibility (Crestron Connected® (Network based control.)), Power (PM Mode, Wake on LAN), HDMI-CEC (Compatibility may differ by equipment.), SI Server Setting, Pro:Idiom |

Environment Conditions

Environment Conditions spec

| | |
| --- | --- |
| Operation Temperature | 0 to 40 |
| Operation Humidity | 10%-80% |

Power

Power spec

| | |
| --- | --- |
| Power Supply | AC 100-240 V~, 50/60 Hz |
| Power Type | Built-in Power |

Power Consumption

Power Consumption spec

| | |
| --- | --- |
| Typ./Max. | 116W (IEC 62087) / 318 W |
| BTU (British Thermal Unit) | 1,054 BTU/Hr (Typ.), 1,085 BTU/Hr (Max.) |

Standard (Certification)

Standard (Certification) spec

| | |
| --- | --- |
| Safety | IEC 60950-1 / EN 60950-1 / UL 60950-1 |
| EMC | FCC Class "A" / CE / KC |
| ErP | Yes |

Software Compatibility

Software Compatibility spec

| | |
| --- | --- |
| SuperSign CMS | Yes |
| SuperSign Control / Control+ | Yes |
| SuperSign WB | Yes |
| SuperSign Media Editor | Yes |
| LG ConnectedCare | Yes * The availability can differ by region. |

Connectivity

Connectivity spec

| | |
| --- | --- |
| Input | HDMI (HDCP 1.4), DP (HDCP 1.3), RS-232C In, RJ45 (LAN), IR In (External IR Receiver), USB 2.0 Type A (2) |
| Output | DP Out, Audio Out, RS-232C Out (w / IR Out), RJ45 (LAN) |

Language

Language spec

| | |
| --- | --- |
| OSD | English, French, German, Spanish, Italian, Korean, Chinese (Simplified), Chinese (Original), Portugues (Brazil), Swedish, Finnish, Norwegian, Danish, Russian, Japanese, Portugues (Europe), Dutch, Czech, Greek, Arabic |

Accessory

Accessory spec

| | |
| --- | --- |
| Basic | Remote Controller, Power Cord, QSG, IR Receiver, Regulation Book, Phone to RS-232C Gender, FFC Cables (1,600 mm × 4 ea for Connection between Panel and Signage Box), DP Cable (2 M), LAN Cable (1.5 M), RS-232 Cable (4P-4P, 1.5 M), LC Cable (VLC, 3 M), Wall Fixer (4 ea), Wall Fixer Install Guide, Install Guide Sheet (2 ea), Tape (10 ea for Cabling / 2 ea for Dust Proof), Screw (M4 × L25, 10 ea / M3 × L5.5, 8 ea) |
Recently Viewed