Prev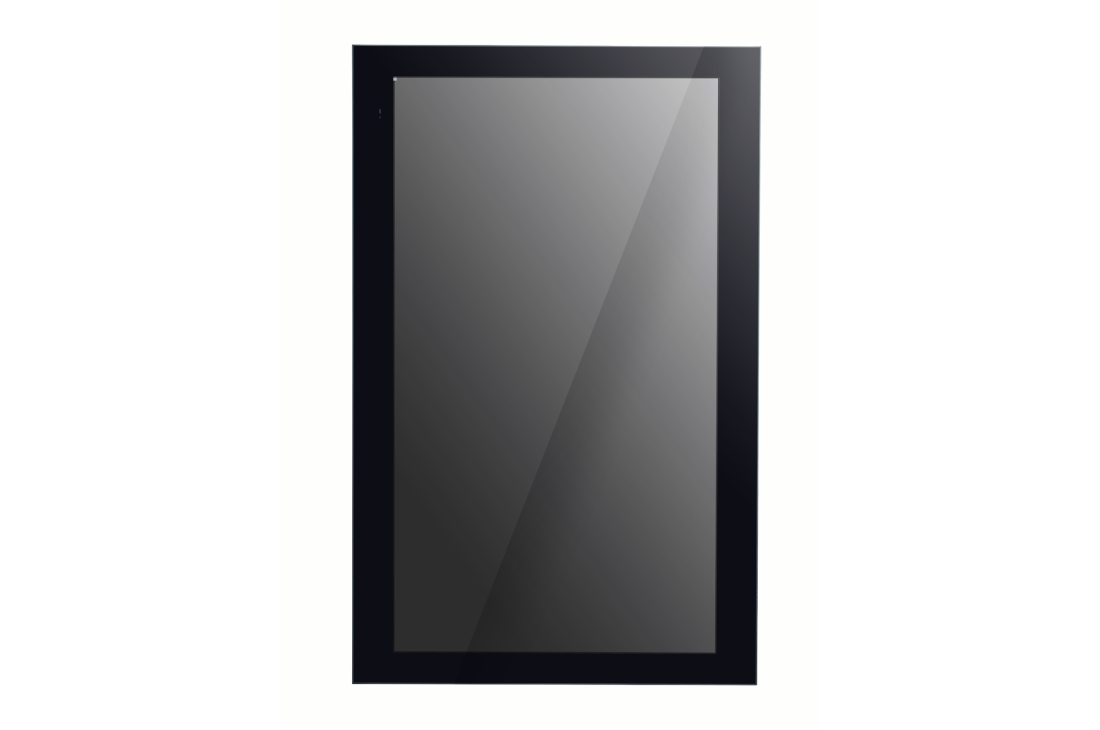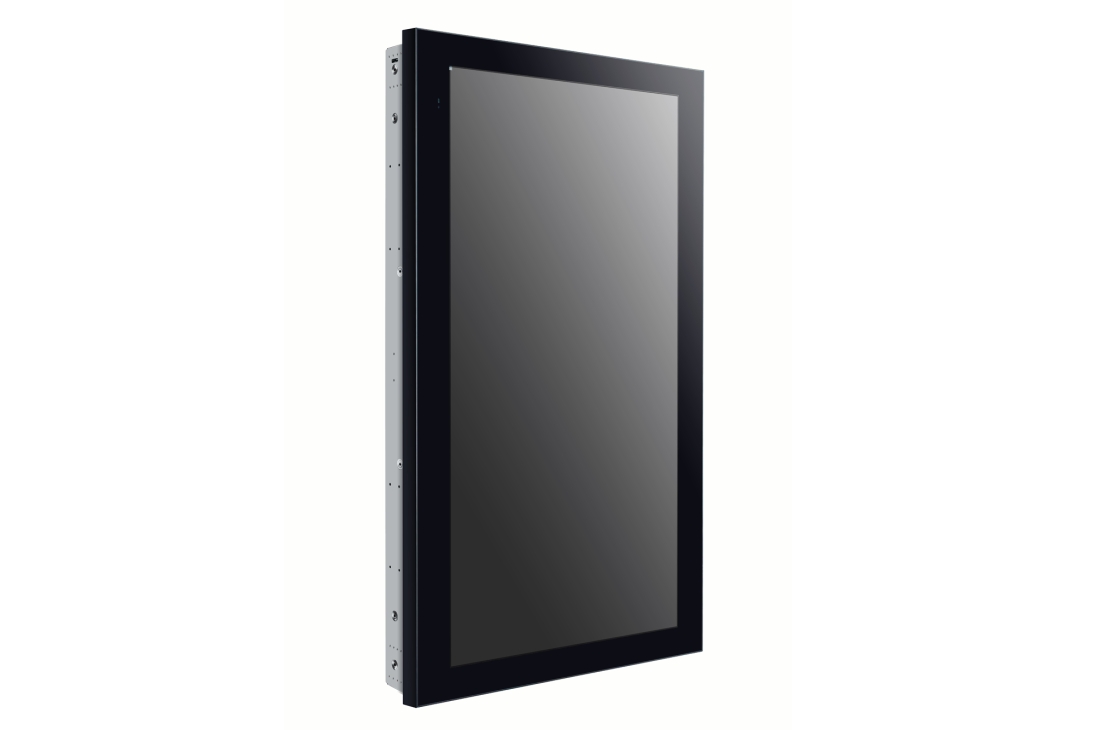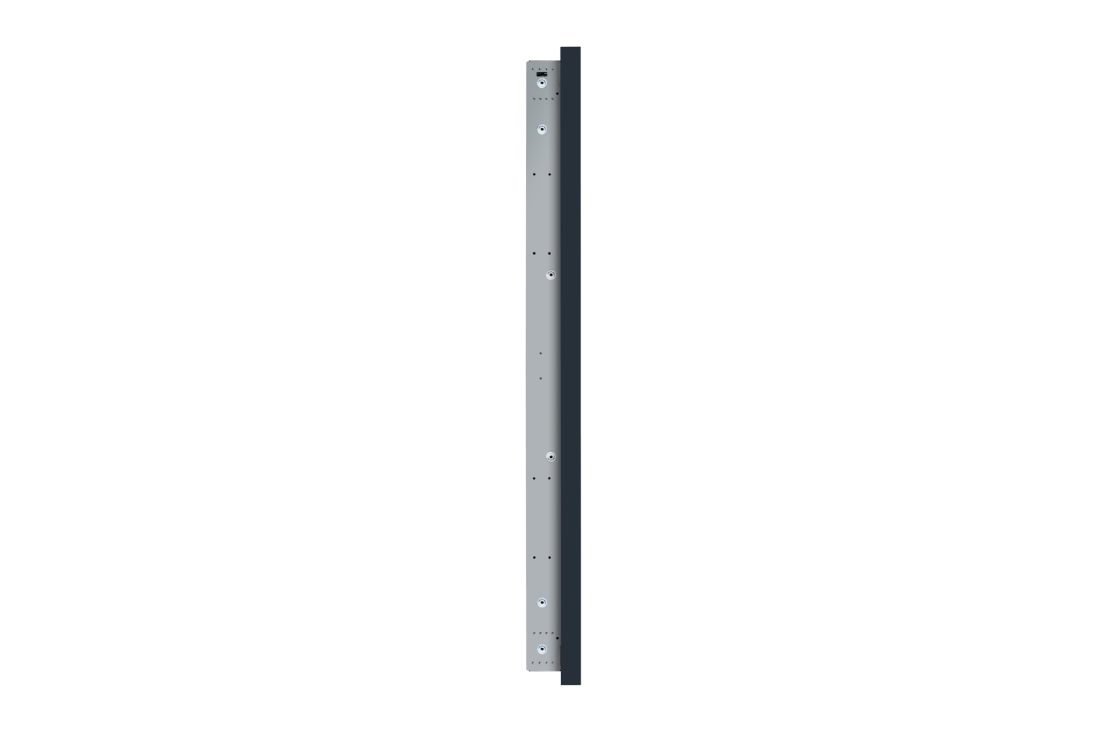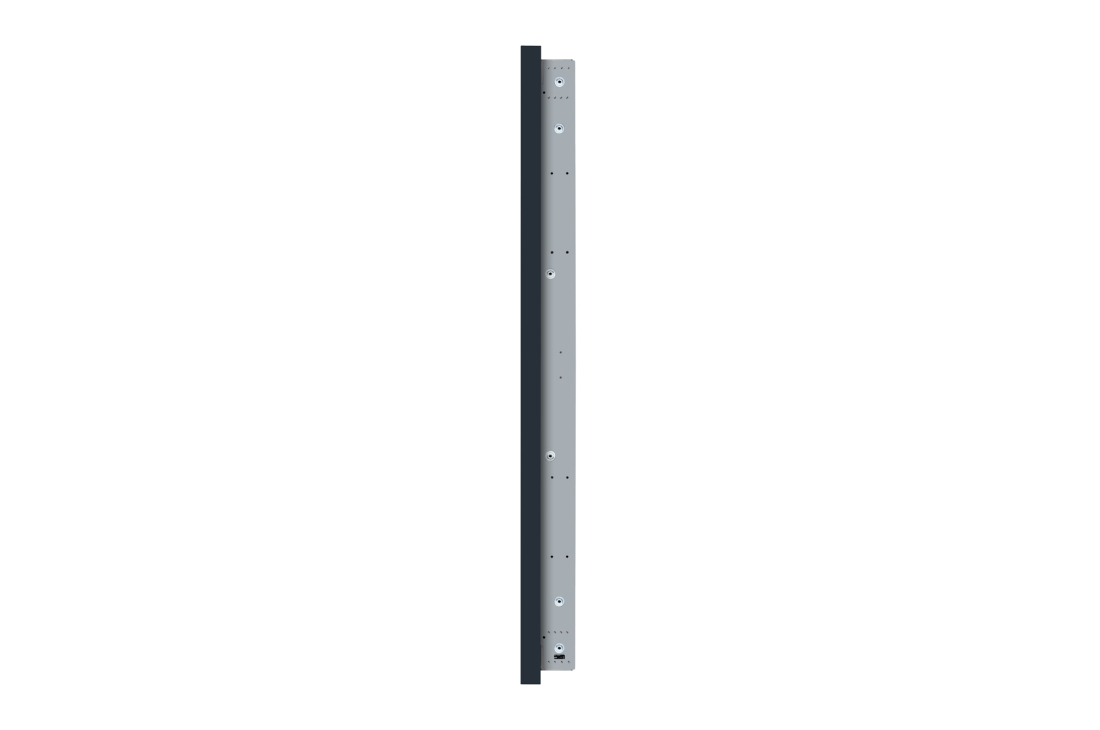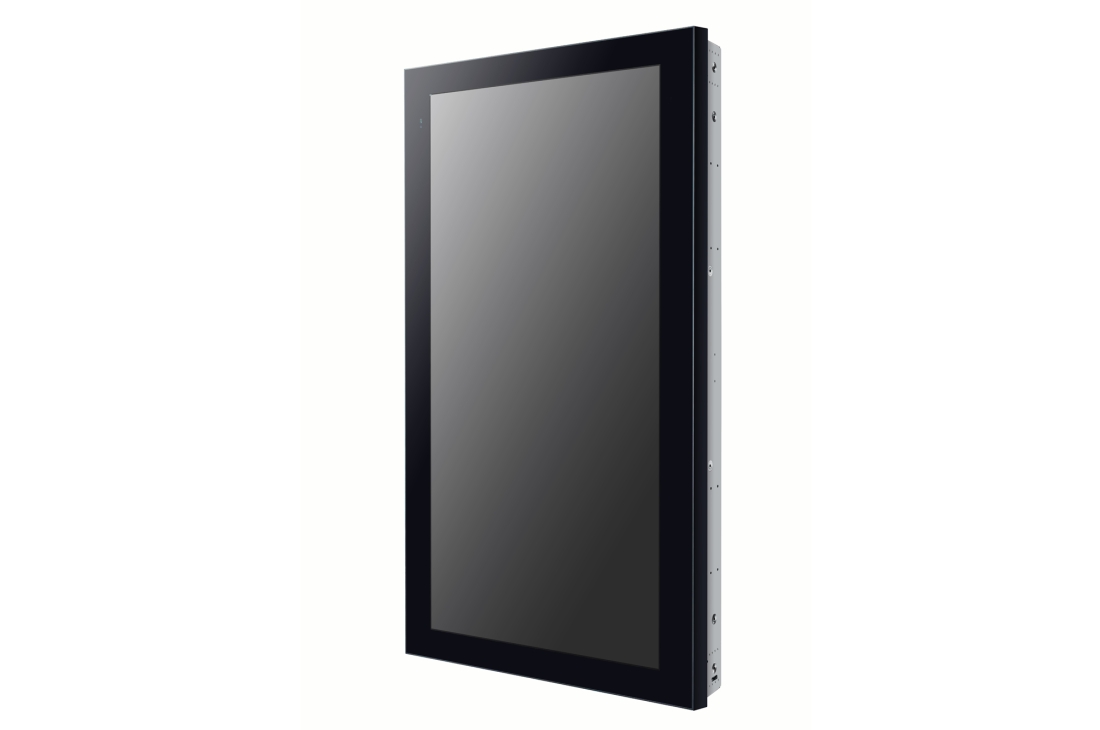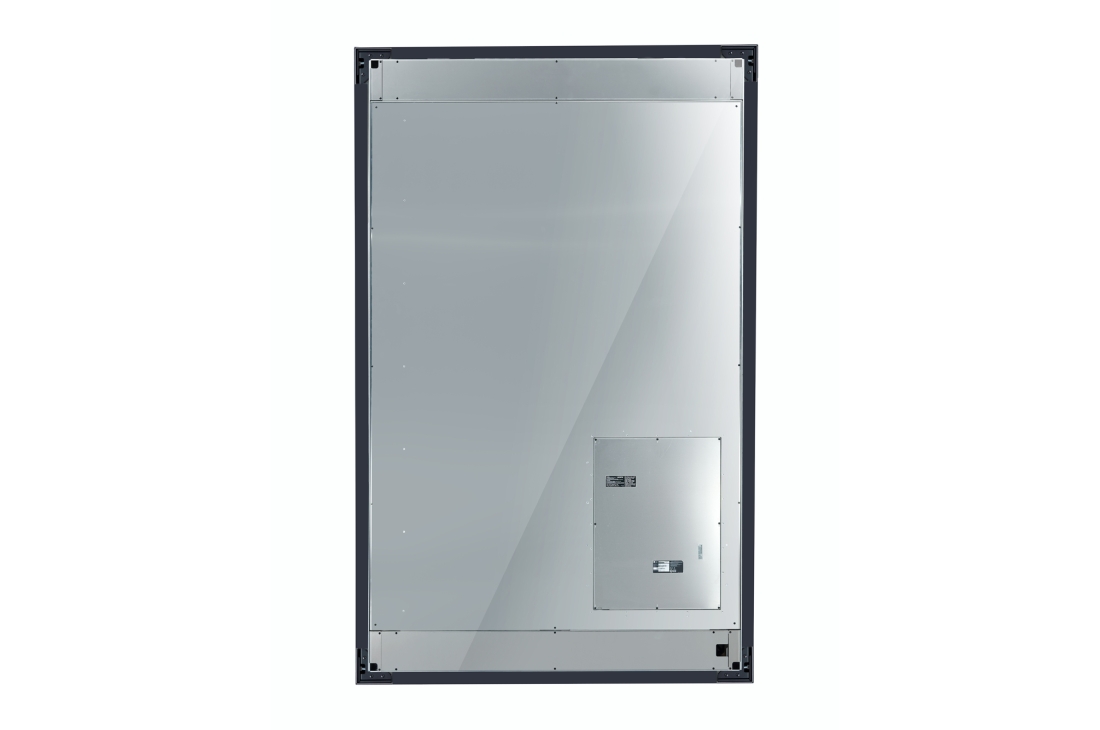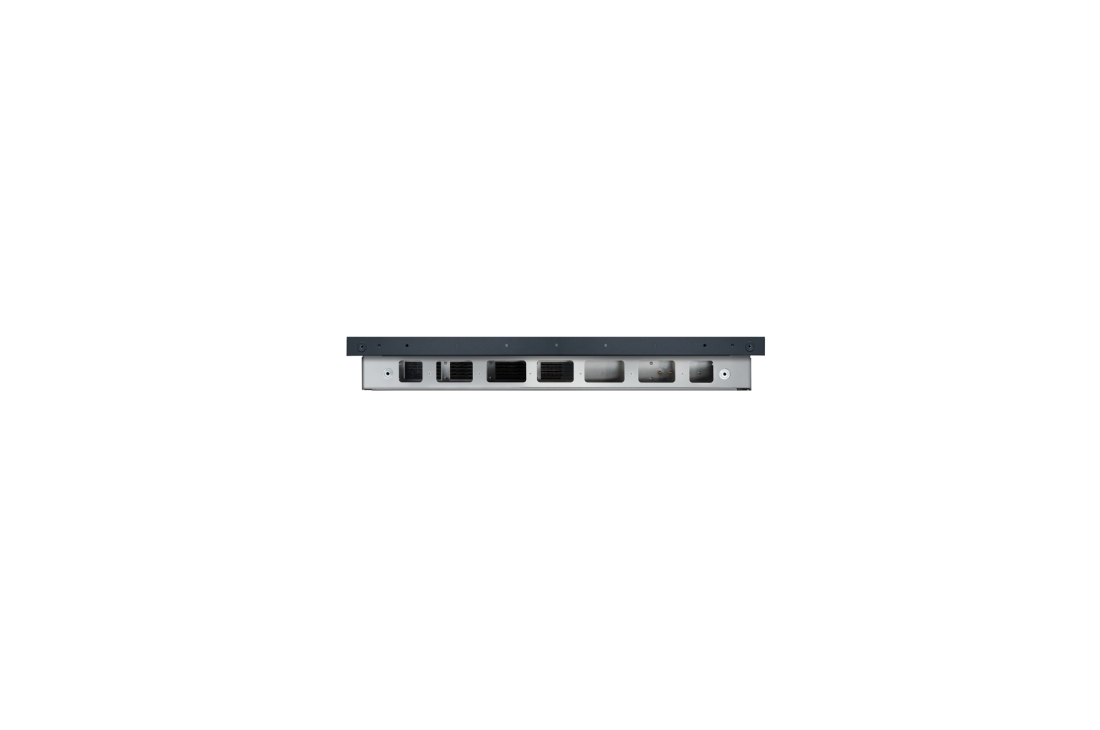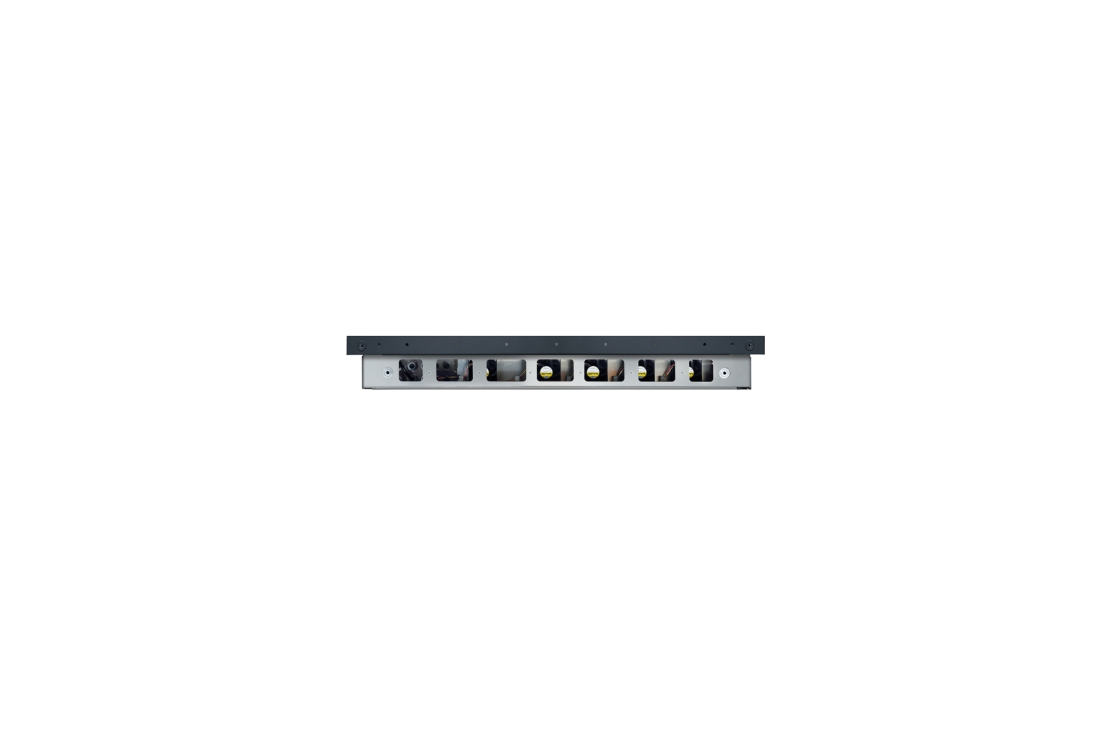 86XE3FS-B
Outdoor Display
Global
Share
Key Feature
Brightness(Typ.) : 3,000 cd/m²
Bezel : 101 mm (T/B), 135 mm (L/R)
Interface : HDMI/ DP/ DVI-D/ USB/ Audio/ RS232C/ RJ45/ External IR
Anti-Reflection Coating
IP56 Design, Protective Glass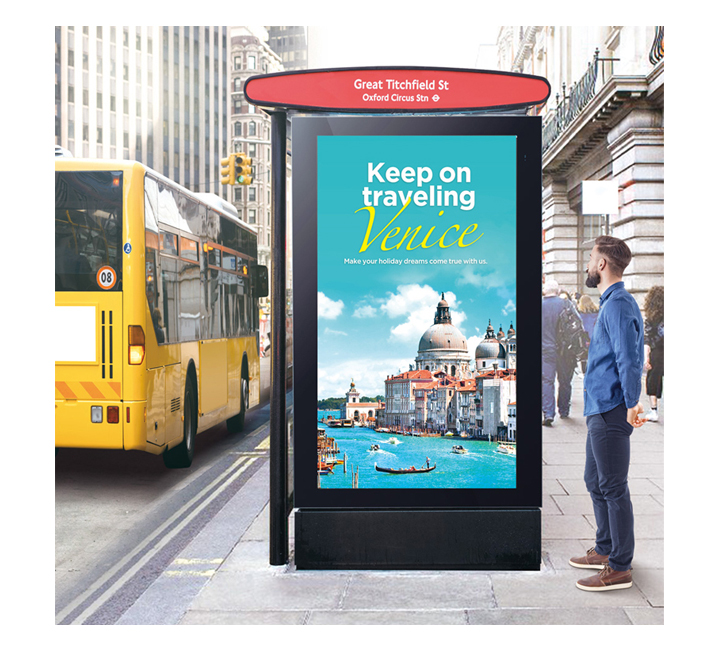 Outstanding Visibility with High Reliability
Boasting a high brightness of 3,000 nits, LG's outdoor display, 86XE3FS, captures the attention of passersby even under direct sunlight. Carefully designed to withstand a variety of extreme changes in the environment, the display will stably deliver eye-catching content for as long as you need it to.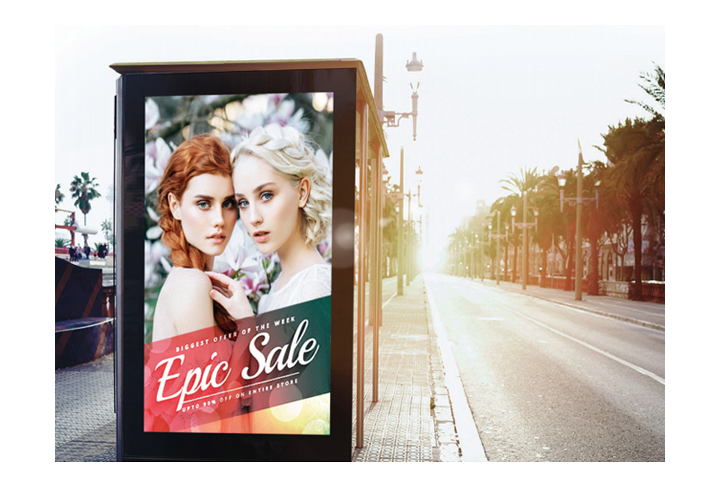 OUTSTANDING VISIBILITY
High Brightness
With incredibly high brightness at 3,000 nits (Typ.), the 86XE3FS outdoor display delivers contents clearly while captivating passersby, making it the ultimate display for outdoor visibility.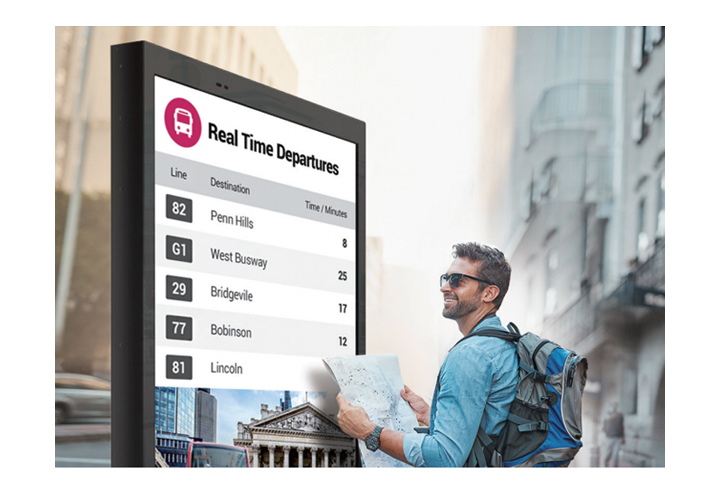 OUTSTANDING VISIBILITY
Visible with Polarized Sunglasses
QWP(Quarter Wave Plate) enables clear visibility even when the viewer is wearing polarized sunglasses.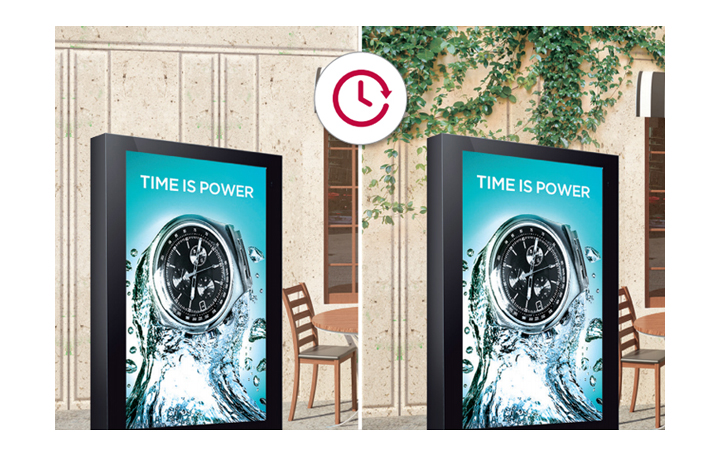 OUTSTANDING VISIBILITY
Smart Brightness Compensation
The built-in BLU sensor constantly measures the brightness of the display and automatically compensates for reduced brightness during operation.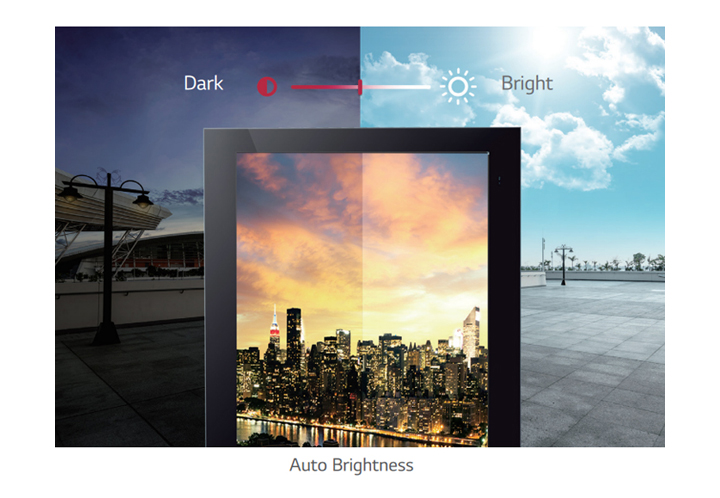 OUTSTANDING VISIBILITY
Auto Brightness Control
The screen brightness is automatically adjusted depending on the ambient light. The brightness is increased in light for better visibility, while it is decreased in darkness for efficient power management.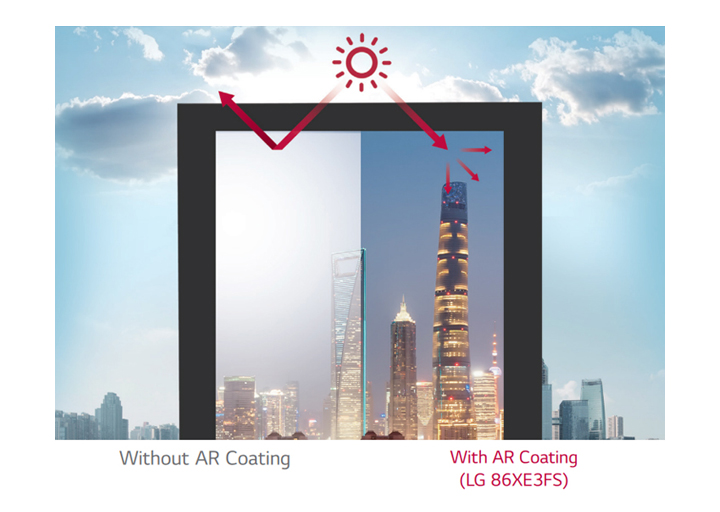 OUTSTANDING VISIBILITY
Anti-Reflection Coating
AR(Anti-Reflection) Coating has been applied to the 86XE3FS, improving readability by reducing the interference between the display's backlight and reflected external light. Even under direct sunlight or strong lighting, the content still looks clear.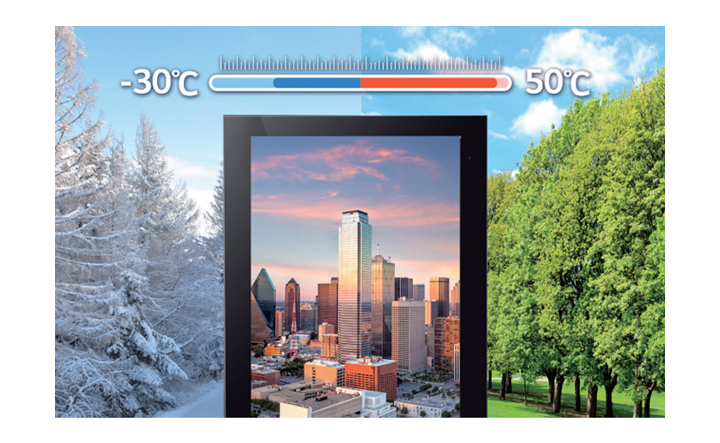 RELIABILITY FOR OUTDOOR USAGE
Wide Range of Operating Temperature
The display offers superb reliability under a wide range of operating temperatures, which also goes through LG's solar-loading test which causes a lot of thermal energy. So the 86XE3FS requires fewer constraints for outdoor installations.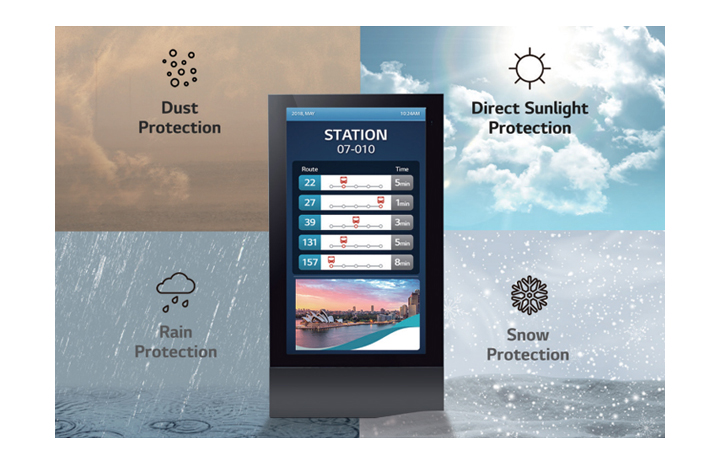 RELIABILITY FOR OUTDOOR USAGE
Secured Protection with IP56 Design
The display is sealed with IP56 design for reliable operation. It's designed to be not only waterproof but also weatherproof against the damaging effects of the sun, rain, snow, dust and wind, an essential feature for outdoor application.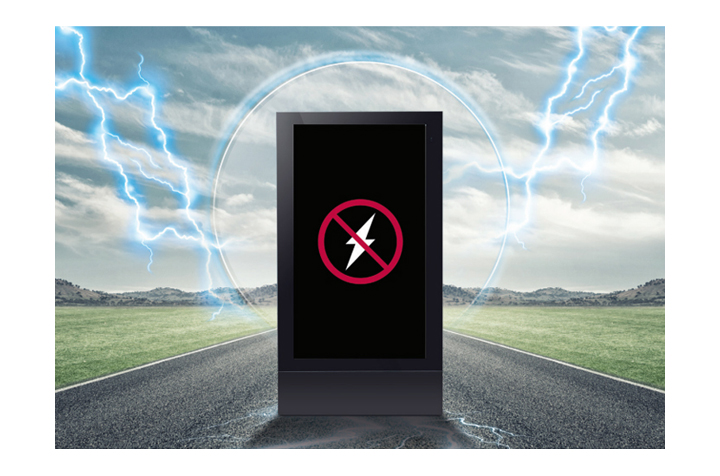 RELIABILITY FOR OUTDOOR USAGE
Electrical Safety
Circuit breaker is inside ensuring absolute protection from overcurrent short circuits, and unwanted voltages. This type of integration establishes preventative solutions for signage's from having future damages.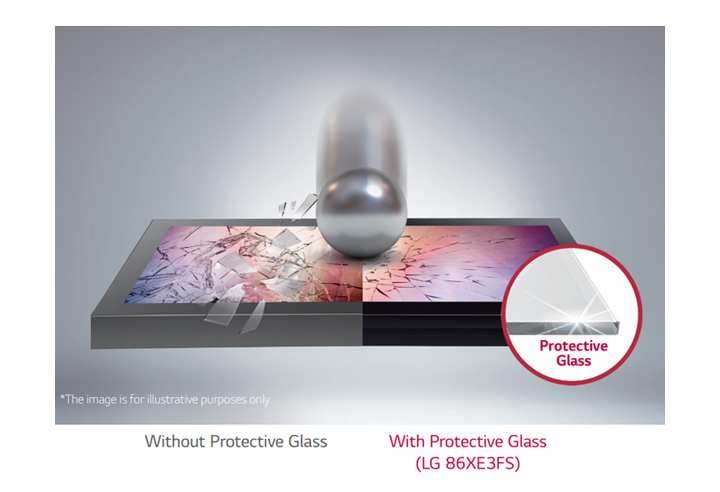 RELIABILITY FOR OUTDOOR USAGE
Protective Glass
The tempered and laminated front glass ensures optimum protection from outdoor extremities, resulting in minimal to no damage from external impacts.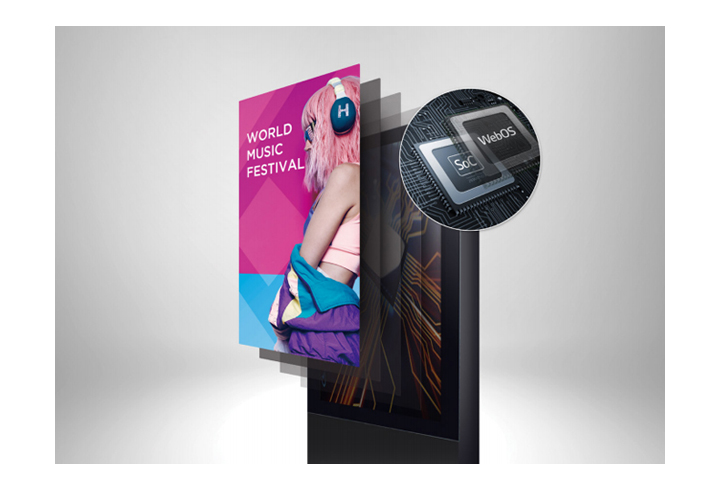 SMART PERFORMANCE
webOS Smart Platform
Quad Core SoC (System-on-Chip) can execute several tasks at the same time without a separate media player. In addition, webOS 3.0 platform enhances user convenience with intuitive UI and simple app develoment tools.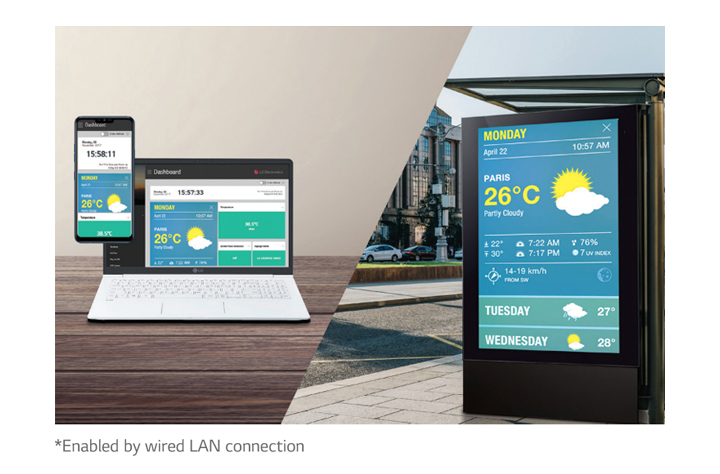 SMART PERFORMANCE
Web Monitoring
The LG Control Manager*, the embedded web monitoring program, allows a variety of parameters to be diagnosed in real time such as temperature, pixel, door, ambient light, and gyro sensors. It can be easily controlled at all times.
Tech Spec
Panel

Panel spec

| | |
| --- | --- |
| Screen Size | 86" |
| Brightness (Typ., cd/m²) | 3000 |
| Brightness (Min., cd/m²) | 2800 |

Connectivity

Connectivity spec

| | |
| --- | --- |
| Input | HDMI, DP, DVI-D, Audio, USB |
| Output | External Speaker |
| External Control | RS232C In/out, RJ45(LAN) In, RJ45(LAN) Out(4), External IR In |

Mechanical Specification

Mechanical Specification spec

| | |
| --- | --- |
| Bezel Width | 101 mm (T/B), 135 mm (L/R) |
| Weight (Head) | 276 kg |
| Packed Weight | 310 kg |
| Monitor Dimension (W × H × D) | 1,338 x 2,100 x 187 mm |

Environment Conditions

Environment Conditions spec

| | |
| --- | --- |
| Operation Temperature | -30°C to 50°C |
| Operation Humidity | 5% to 100% |

Power

Power spec

| | |
| --- | --- |
| Power Supply | 100-240 V~, 50/60 Hz |
| Power Type | Built-In Power |

Power Consumption

Power Consumption spec

| | |
| --- | --- |
| Typ./Max. | 1,450 W / 1,850 W |

Certification

Certification spec

| | |
| --- | --- |
| Safety | CB / NRTL |
| EMC | FCC Class "A" / CE / KC |
| ErP | Yes (EU Only) |

Media Player Compatibility

Media Player Compatibility spec

| | |
| --- | --- |
| OPS type compatible | No |

Software Compatibility

Software Compatibility spec

| | |
| --- | --- |
| Content Management Software | SuperSign CMS |
| Control and Monitoring Software | SuperSign Control/Control+ |

Accessory

Accessory spec

| | |
| --- | --- |
| Basic | Remote Controller, HDMI Cable, USB Cable, Manual(IG&EIG), Regulation Book, Phone to RS232C Gender, LAN Extension Cable, Cord Grip Rubbers |
Recently Viewed