Prev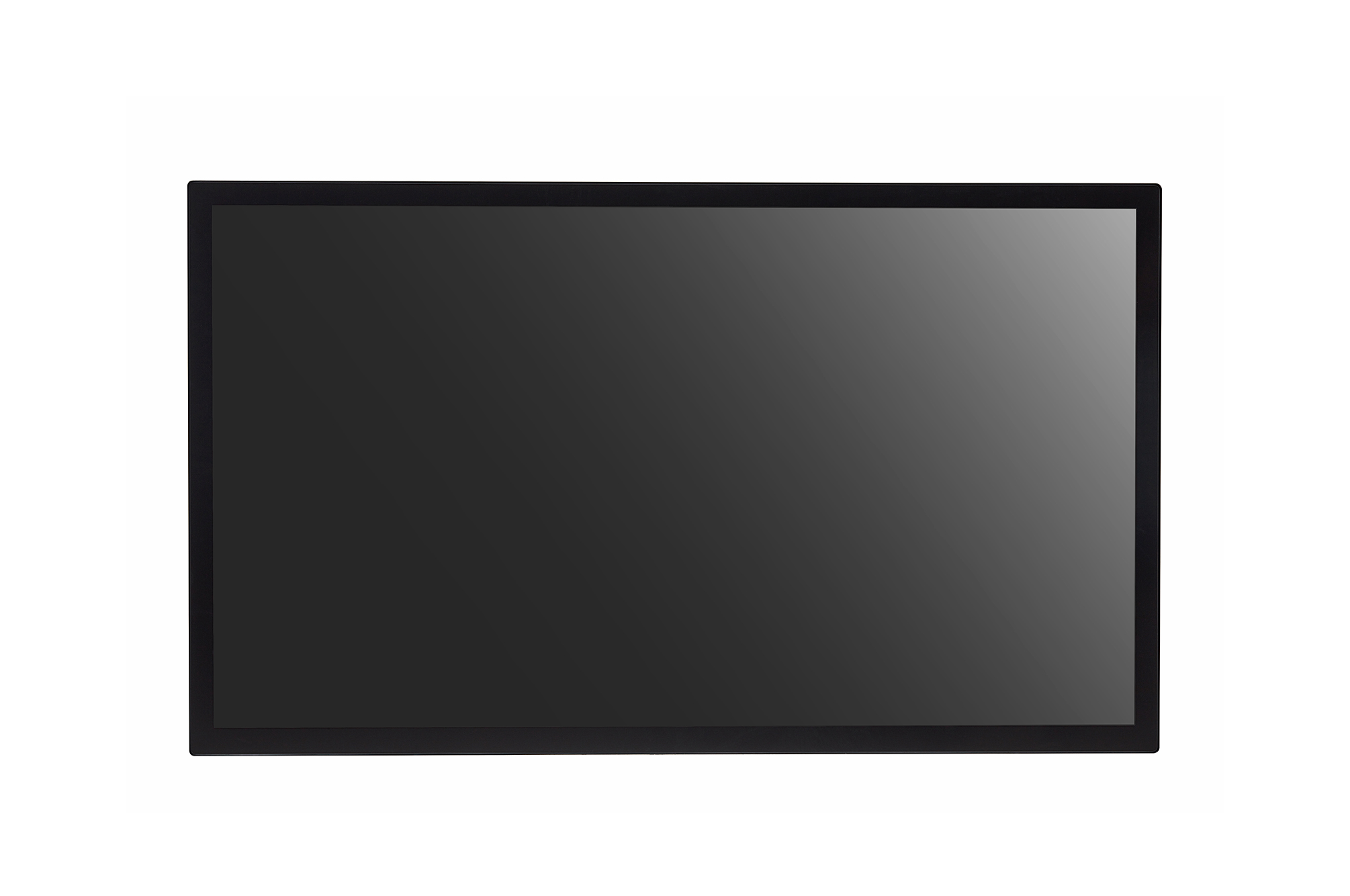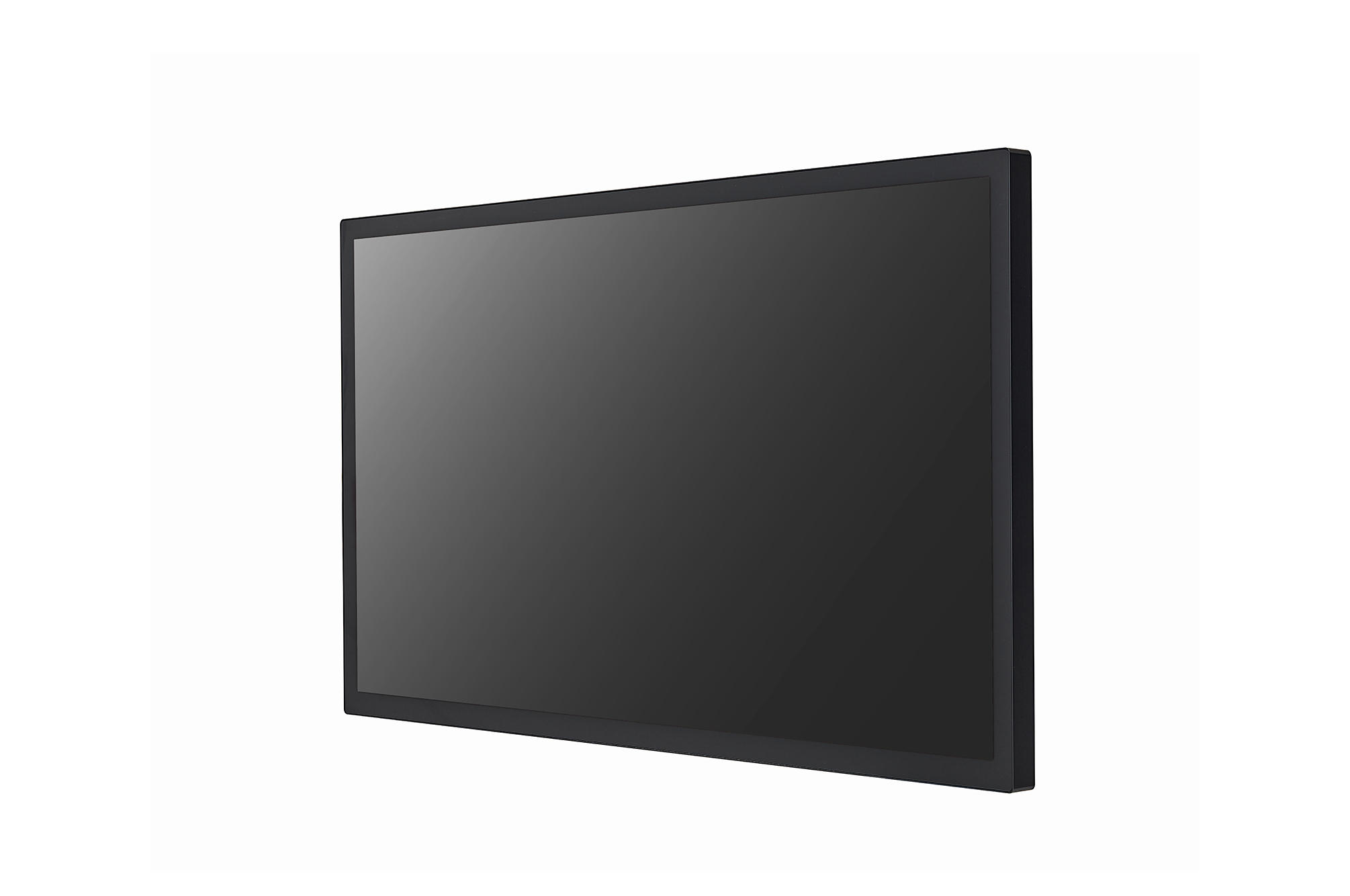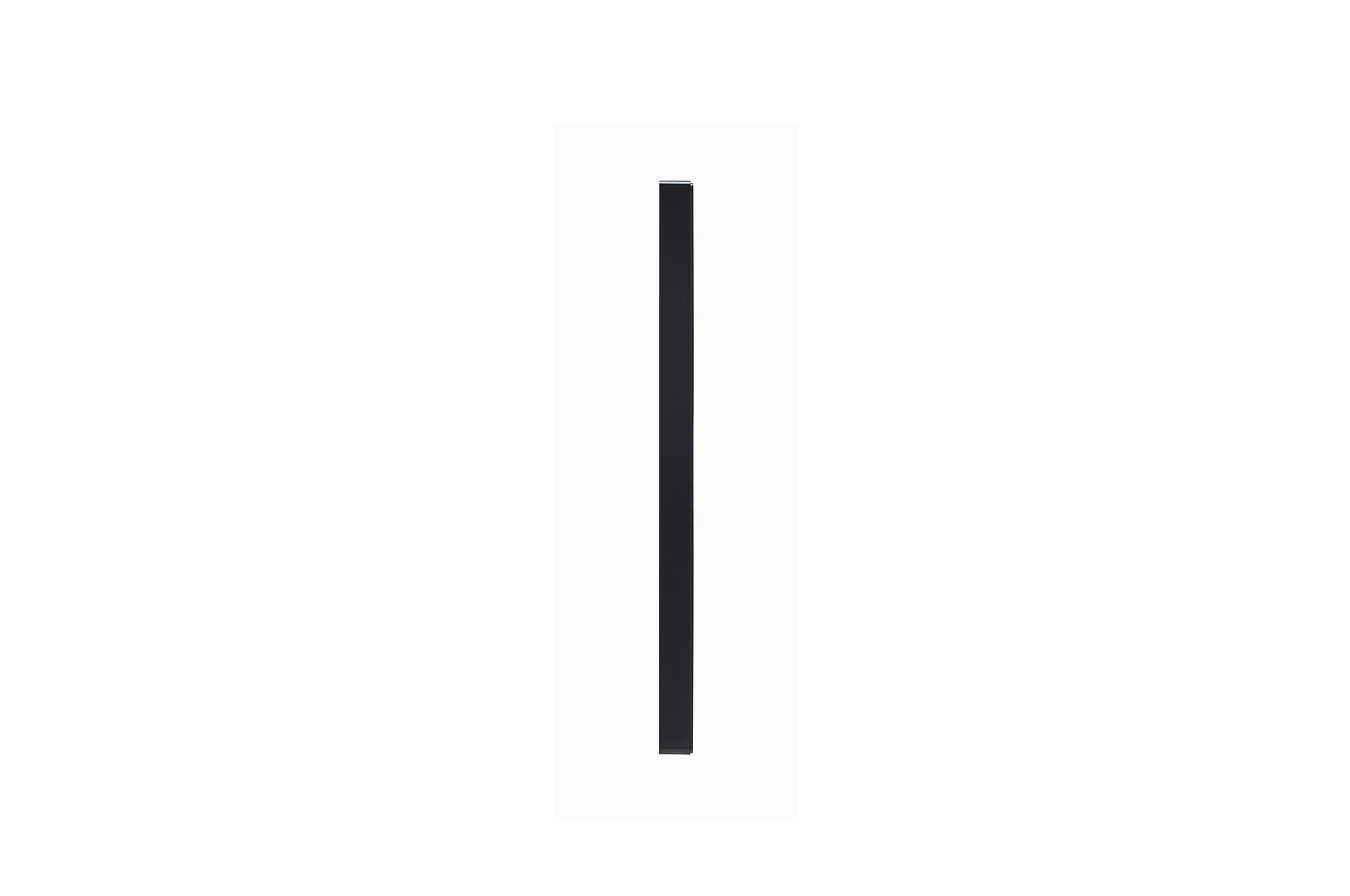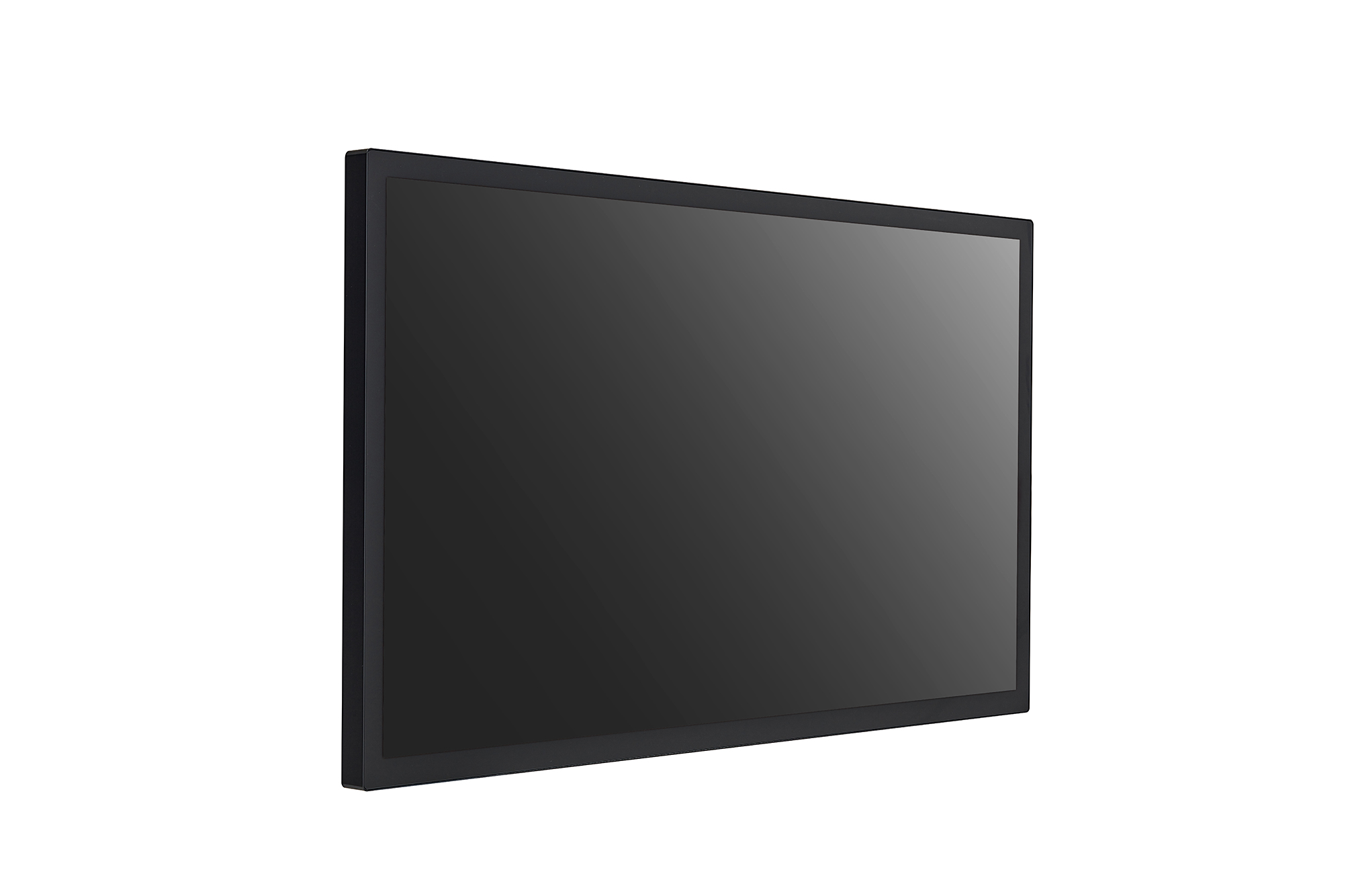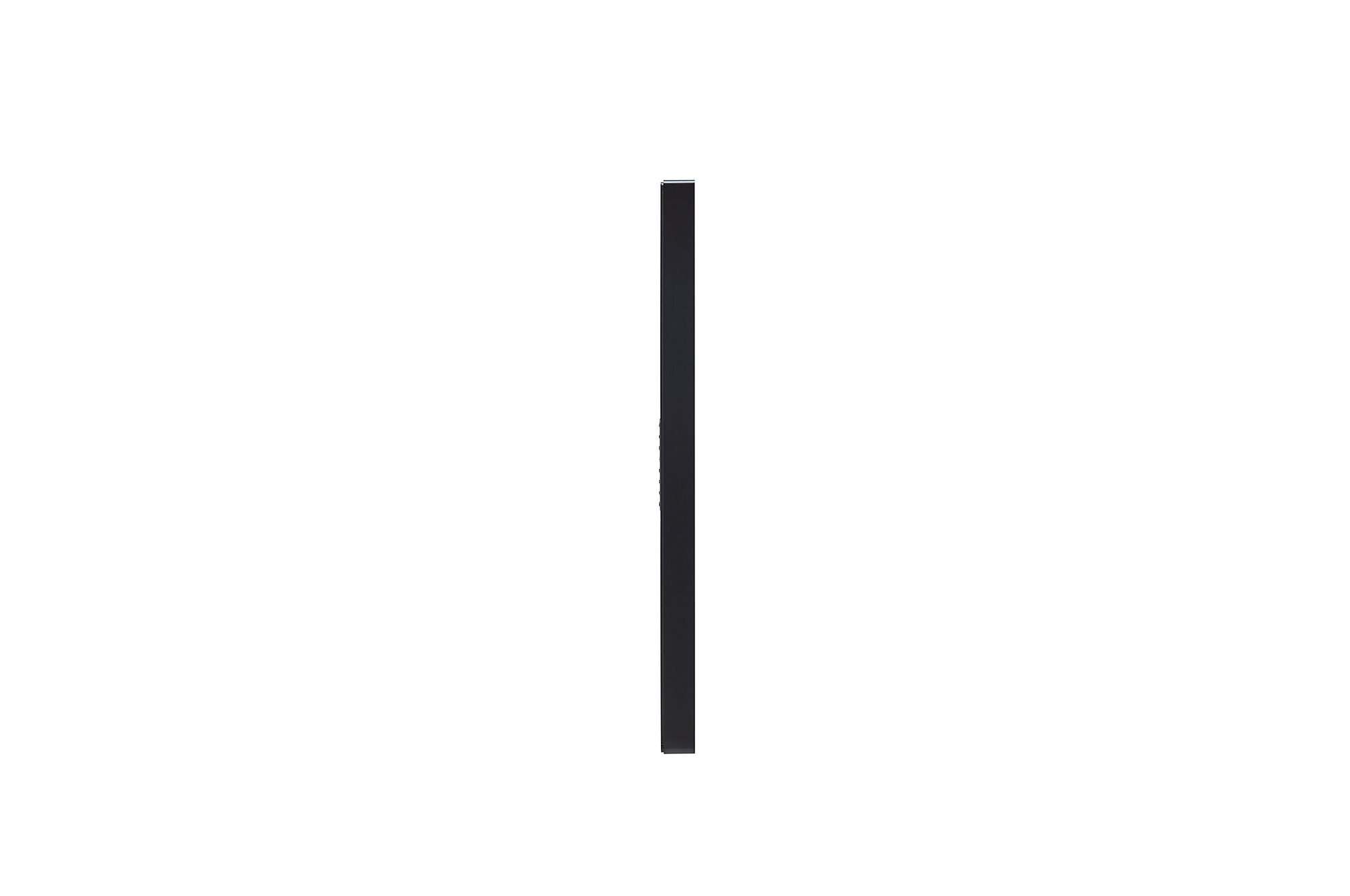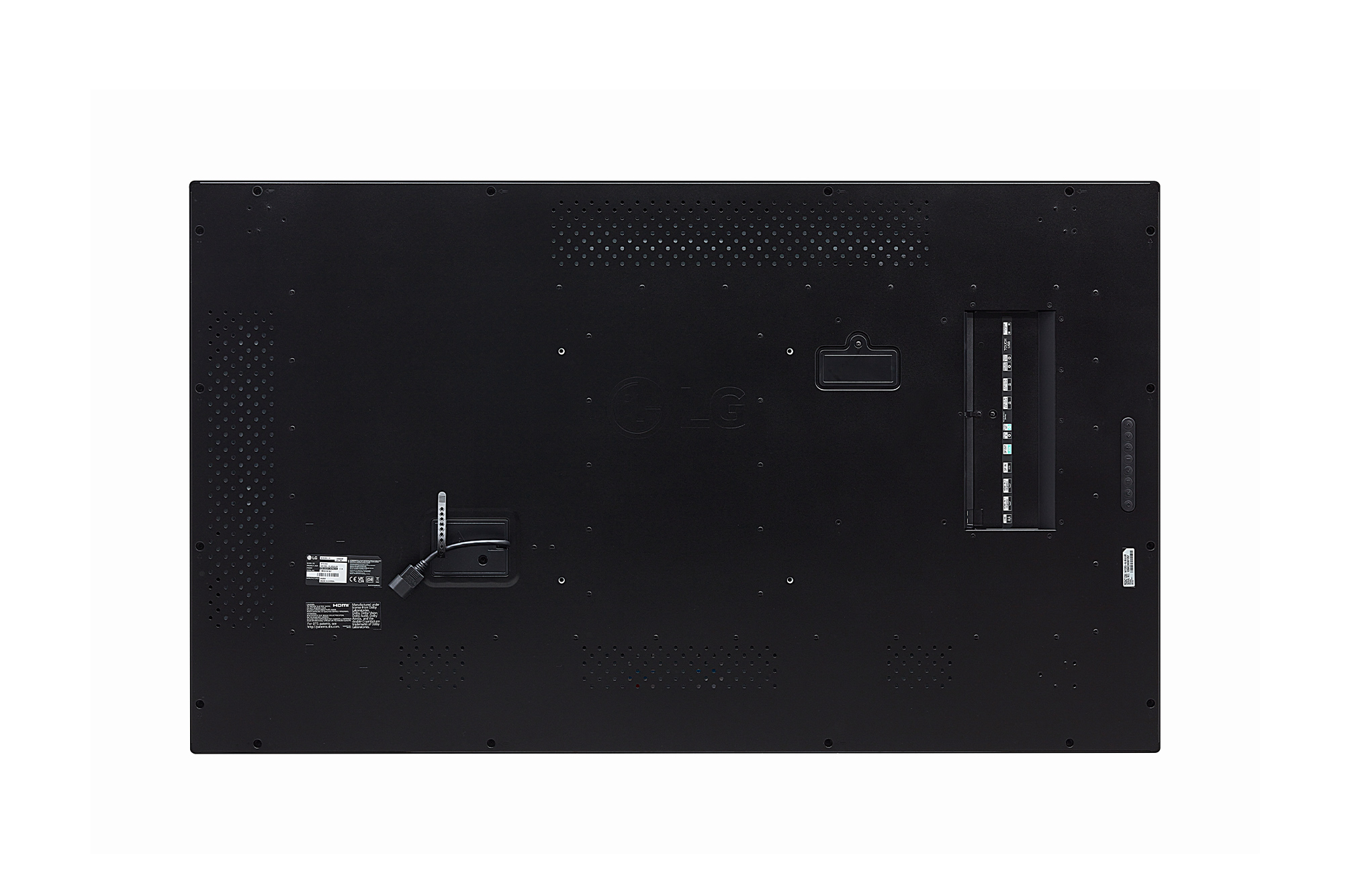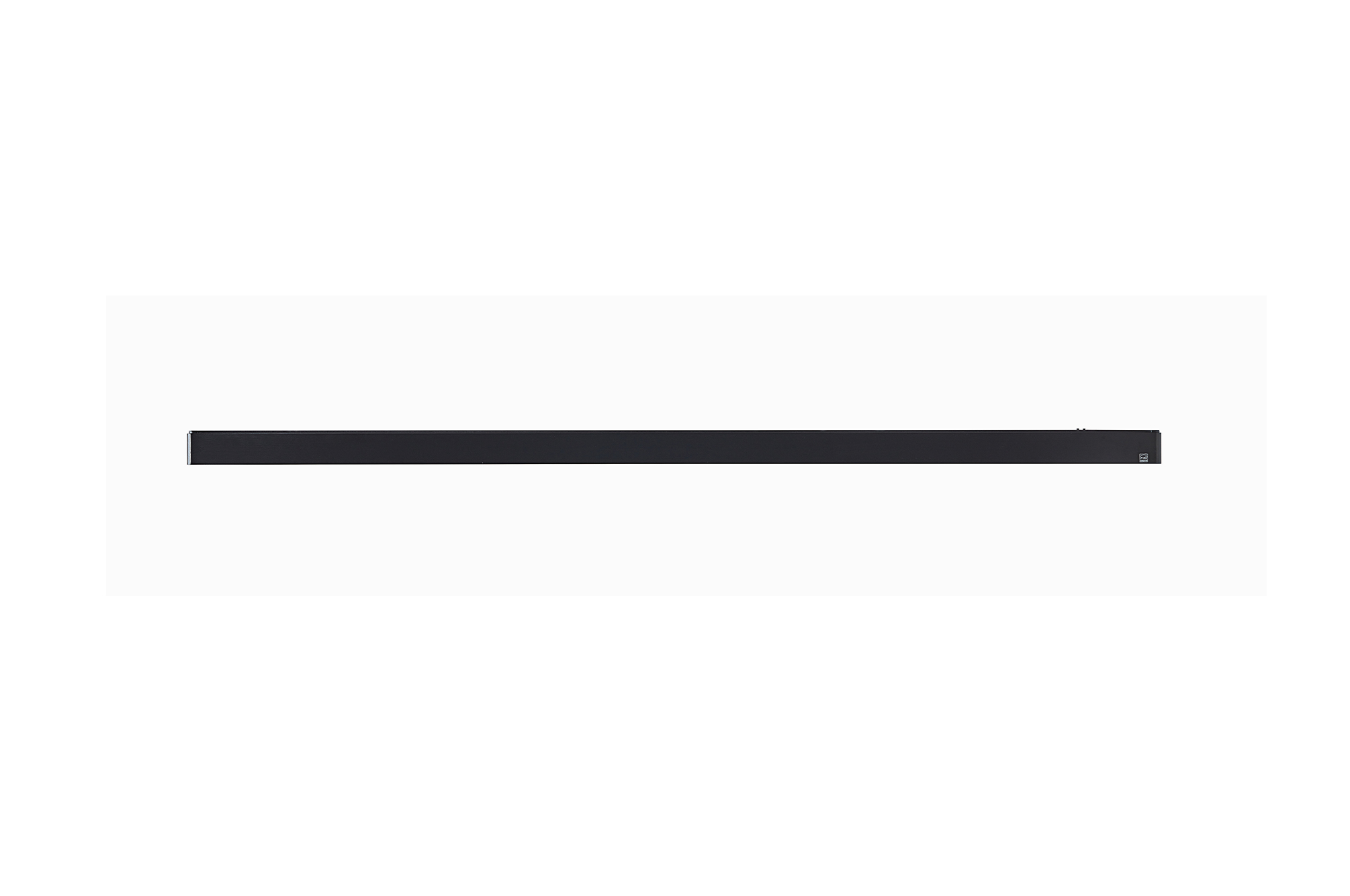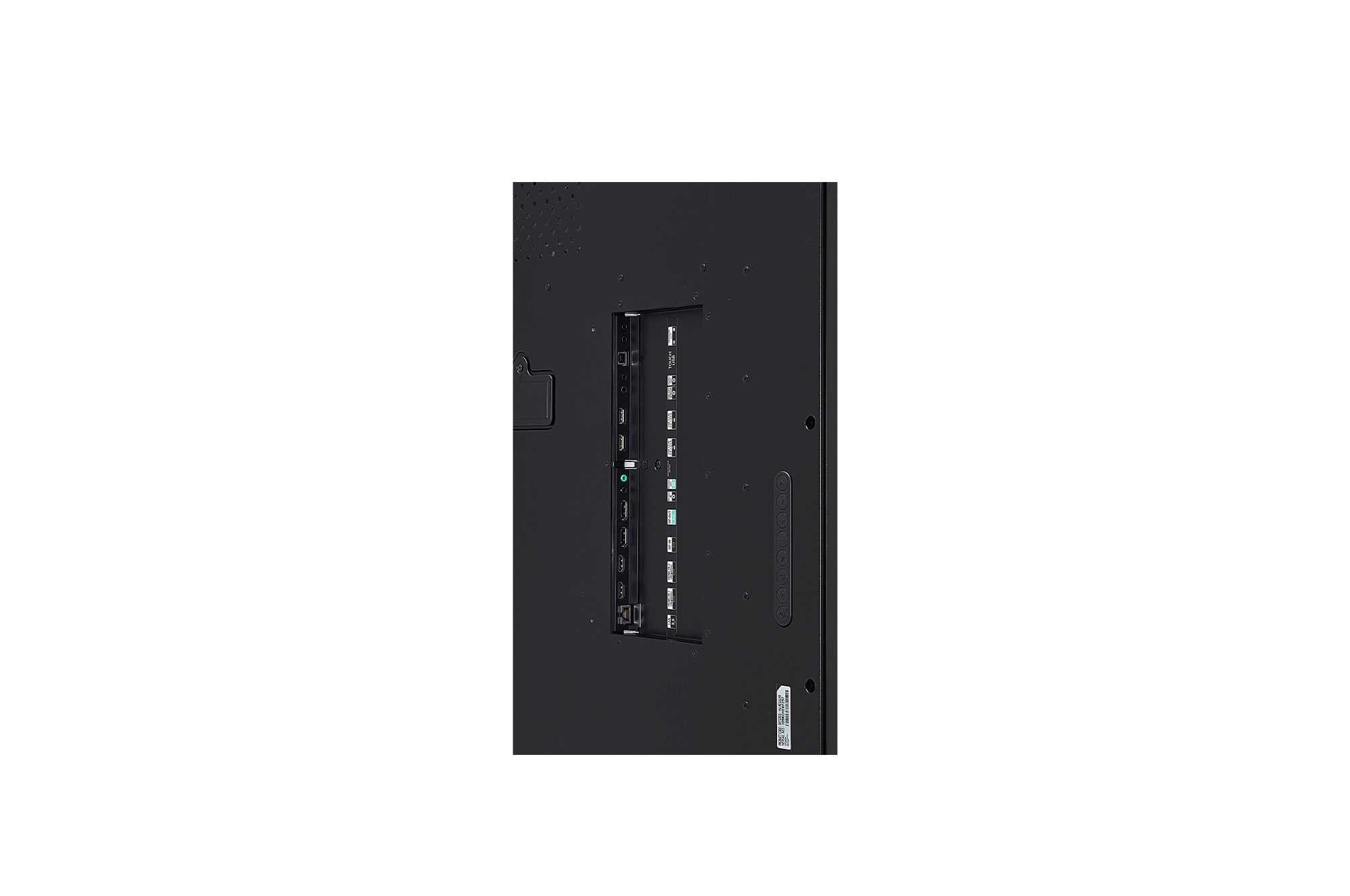 55TC3CG-H
Built-in Touch Signage
Global
Share
Key Feature
Brightness : 350nit (w Glass, typ)
Multi Touch Point : 40 Points (Max.)
Interface (Input) : HDMI (2, HDCP 2.2/1.4), DP (1, HDCP2.2/1.3), RS-232C In, RJ45 (LAN), IR In, USB2.0 Type A (2)
Interface (Output) : DP Out (1, Input HDMI1/2/DP/OPS), Audio Out, Externel Speaker Out (6 ohm), Touch USB (USB 2.0 Type B), RS-232C Out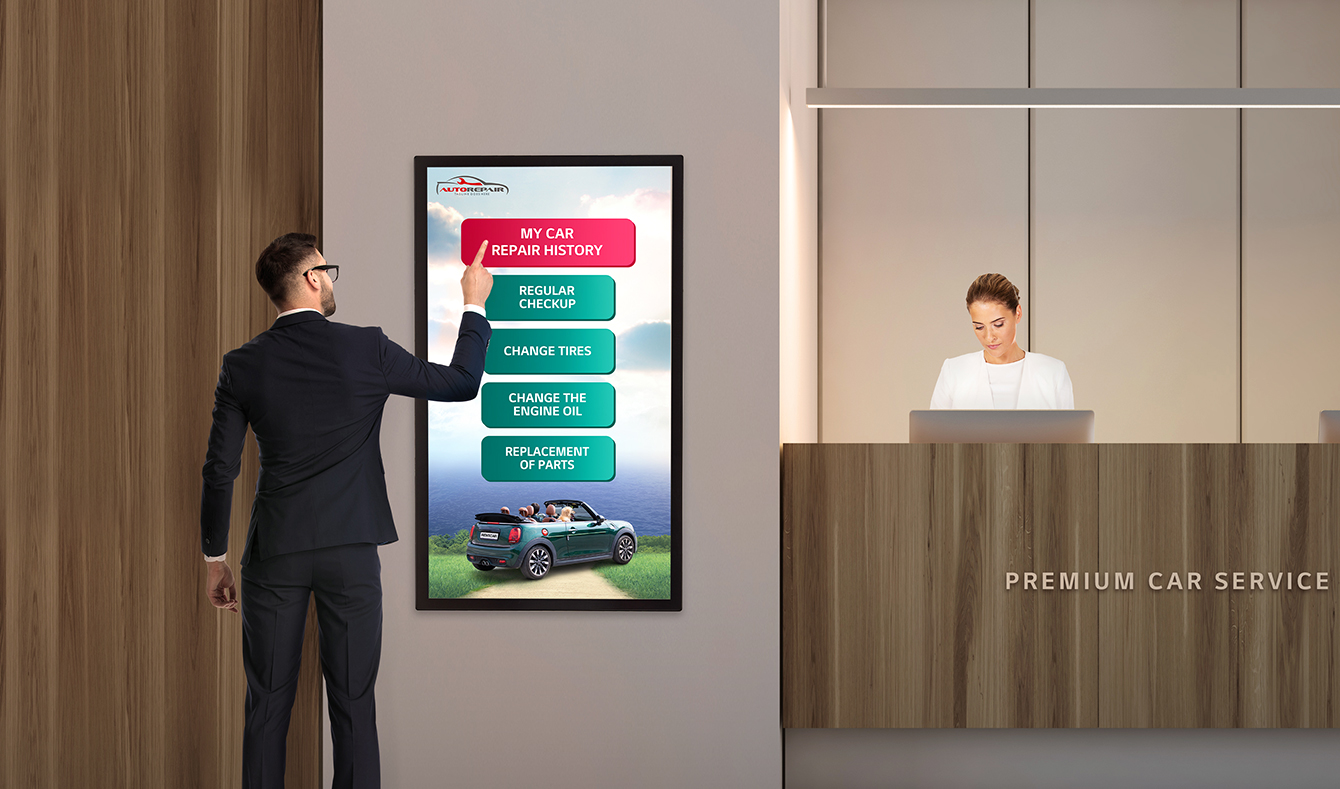 Interactive Touch Signage That Creates Engaging Experiences
* All images in this page are for illustrative purposes only.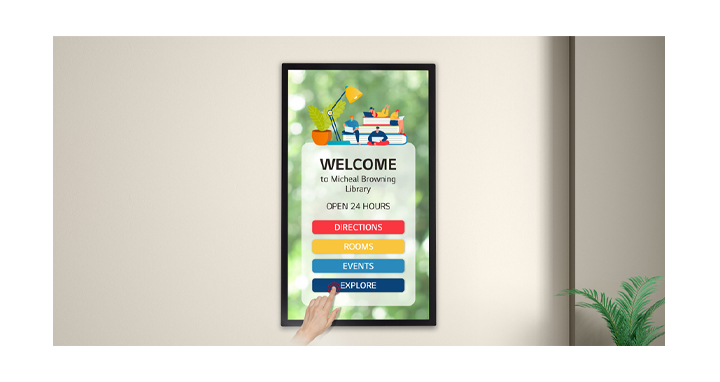 Precise Touch Response
The screen accurately recognizes extremely small touch points and instantly shows a response. This means that SIs can compose GUI icons in a variety of sizes on the 55TC3CG-H and users can fully enjoy their touch experience with no lagging.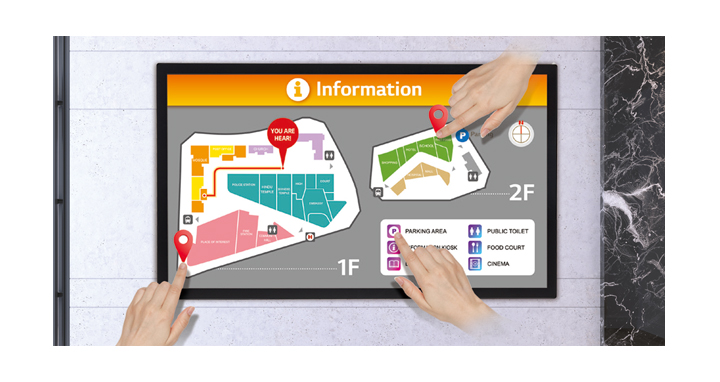 Multi Touch with No Dead Zones
Capable of recognizing up to 40 point-touches at once, the screen provides multiple users a smooth and natural sense of touch. Unlike infrared touch screens, the 55TC3CG-H accurately detects touch points even at the corners or edges of the display. This allows a variety of touch-based customer services to be provided throughout the entire screen.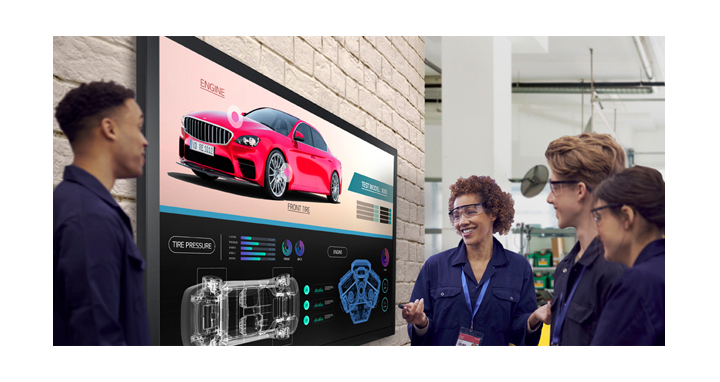 Beautiful Color, Wide View
LG IPS panel features a wide viewing angle to deliver clear content regardless of where meeting participants are seated. Each pixel in the IPS panel reproduces gorgeous image colors that people can see even at extremely wide viewing angles.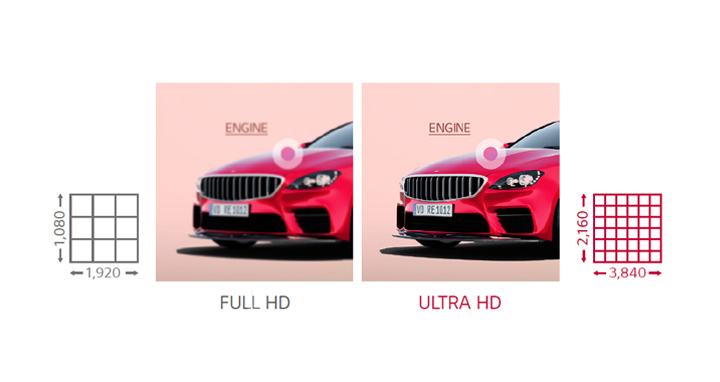 Vivid Details with Ultra HD
Ultra High Definition resolution allows users to view details even when zooming in on the display, with four times higher definition than Full HD. The 55TC3CG-H ensures stable UHD video playback with HEVC (High Efficiency Video Coding).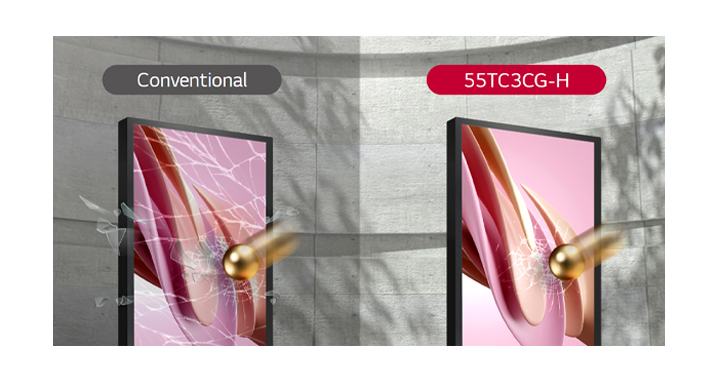 Fewer Scratch & Shatter Proof
Touch screens in public spaces can be scratched in heavy use or even abuse situations. The 55TC3CG-H has an advanced tempered screen coating to minimize scratches. In addition, its anti-shatter glass is designed to minimize harm to the user, even in the event the product being subject to abuse.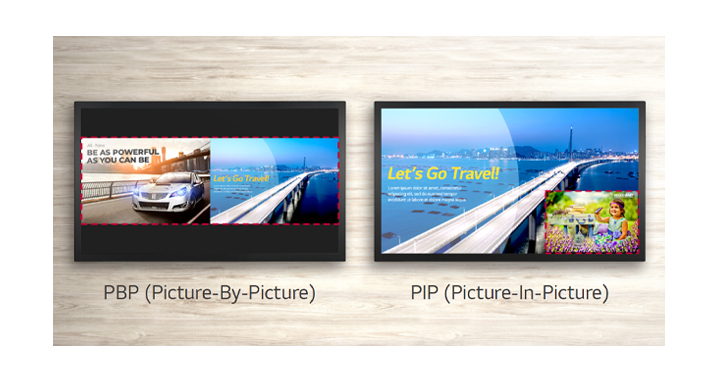 Multi Screen Mode
PBP (Picture-By-Picture) and PIP (Picture-In-Picture) enables up to two divided split screens in landscape or portrait display format enabling users to more flexibly allocate space for each content source.

Embedded Group Manager
The Group Manager allows you to edit and play content, schedule a playlist and even group and control signages via remote control, without need for a separate PC. This makes content management much easier and user-friendly.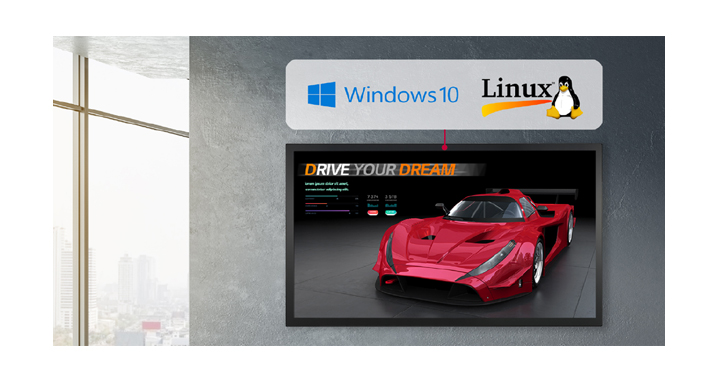 Supporting Various OS (Windows & Linux)
The 55TC3CG-H supports touch screen compatibility with Windows10 & Linux to provide touch capability to devices running either operating system.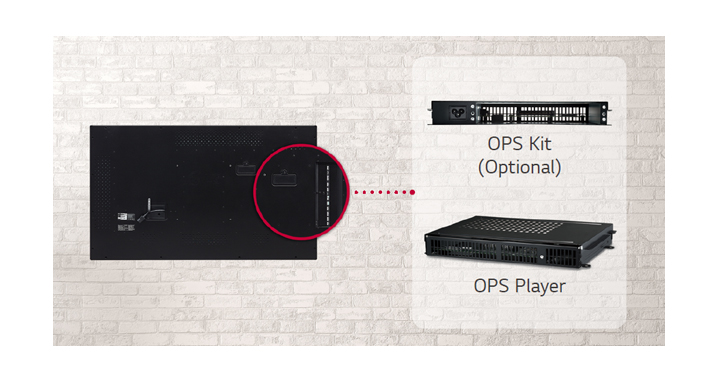 OPS Player Connectivity
The 55TC3CG-H provides an OPS (Open Pluggable Specification) Kit to connect a third-party OPS player. Users have the flexibility to choose any media player as long as it complies with the OPS.
Tech Spec
Panel

Panel spec

| | |
| --- | --- |
| Screen Size | 55" |
| Panel Technology | IPS |
| Native Resolution | 3,840 x 2,160 (UHD) |
| Brightness | 350nit (w Glass, typ), 280nit (w Glass min) |
| Contrast Ratio | 1,100:1 |
| Dynamic CR | 500,000:1 |
| Color gamut | NTSC 72% |
| Viewing Angle (H x V) | 178 x 178 |
| Color Depth | 10bit, 1.07Billion colors |
| Response Time | 8ms (G to G) |
| Surface Treatment (Haze) | Haze (28%) |
| Operation Hours (Hours / Days) | 24 / 7 |
| Portrait / Landscape | Yes / Yes |

Mechanical Specification

Mechanical Specification spec

| | |
| --- | --- |
| Bezel Color | Black |
| Bezel Width | 33.5 / 33.4 / 33.4 / 38 mm |
| Weight (Head) | 34.5 Kg |
| Packed Weight | 39.8 Kg |
| Monitor Dimensions (W × H × D) | 1,276.4 x 751.9 x 44.9 mm |
| Carton Dimensions (W × H × D) | 1,410 x 880 x 207 mm (Box outer size) |
| VESA™ Standard Mount Interface | 300 x 300 |

Key Feature (Hardware)

Key Feature (Hardware) spec

| | |
| --- | --- |
| Internal Memory | 8GB (System 4GB + Available 3.6GB) |
| Sensor | Temperature Sensor, Auto Brightness sensor |
| Local Key Operation | Yes |

Key Feature (Software)

Key Feature (Software) spec

| | |
| --- | --- |
| webOS ver. | webOS 4.1 |
| Embedded CMS | Local Contents Scheduling, Group Manager |
| USB Plug & Play | Yes |
| Fail over | Yes |
| Multi-screen | PIP, PBP |
| Background Image | Booting Logo Image, No Signal Image |
| Sync Mode | RS-232C Sync, Local Network Sync |
| Video Tag | Yes |
| Play via URL | Yes |
| Rotation | Screen Rotation, External Input Rotation |
| Gapless Playback | Yes |
| Tile Mode Setting | Yes |
| Setting Data Cloning | Yes |
| SNMP | Yes |
| ISM Method | Yes |
| Auto Set ID | Yes |
| Status Mailing | Yes |
| Control Manager | Yes |
| 3rd Party Compatibility | Crestron Inside |
| Power | Smart Energy Saving, PM mode, Wake on LAN |
| HDMI-CEC | Yes |
| SI Server Setting | Yes |
| webRTC | Yes |
| Pro:Idiom | Yes |

Environment Conditions

Environment Conditions spec

| | |
| --- | --- |
| Operation Temperature | 0 °C to 40 °C |
| Operation Humidity | 10% to 80% |

Power

Power spec

| | |
| --- | --- |
| Power Supply | AC 100-240V~, 50/60Hz |
| Power Type | Built-In Power |

Power Consumption

Power Consumption spec

| | |
| --- | --- |
| Typ. | 105 W |
| Max. | 145 W |
| Smart Energy Saving | 74 W |
| DPM | 0.5 W↓ |
| Power off | 0.5 W↓ |
| BTU (British Thermal Unit) | 358 BTU/Hr (Typ.), 495 BTU/Hr (Max.) |

Standard (Certification)

Standard (Certification) spec

| | |
| --- | --- |
| Safety | NRTL |
| EMC | FCC Class "A" |
| ErP | EPA 8.0 |

OPS Compatibility

OPS Compatibility spec

| | |
| --- | --- |
| OPS Type Compatible | Yes (Piggyback) |

Software Compatibility

Software Compatibility spec

| | |
| --- | --- |
| SuperSign CMS | Yes |
| SuperSign Control / Control+ | Yes |
| LG ConnectedCare | Yes |

Connectivity

Connectivity spec

| | |
| --- | --- |
| Input | HDMI (2, HDCP 2.2/1.4), DP (1, HDCP2.2/1.3), RS-232C In, RJ45 (LAN), IR In, USB2.0 Type A (2) |
| Output | DP Out (1, Input HDMI1/2/DP/OPS), Audio Out, Externel Speaker Out (6 ohm), Touch USB (USB 2.0 Type B), RS-232C Out |

Accessory

Accessory spec

| | |
| --- | --- |
| Basic | Power Cord 1.55 M*1, USB Cable (Type A-Type B) 1.8 M*1, HDMI Cable 3 M*1, User Manual, QSG, Remote Controller (include battery 2ea), RS232C cable (Phone jack), IR Receiver , Magnet Sheet (3ea) |
| Optional | Wall bracket (LSW350B), VESA Adapter (AM-B330S), OPS Kit (KT-OPSF), SP-5200 |

Touch

Touch spec

| | |
| --- | --- |
| Available Object Size for Touch | Ø6mm ↑ |
| Reponse Time (Based on 'Paint' app on Windows 10 PC) | Scan time :10 ms |
| Accuracy | 2 mm±0.2 mm |
| Interface | USB 2.0 |
| Protection Glass Thickness | 3.2 T (Anti-Glare) |
| Protection Glass Transmission | 83% |
| Operating System Support | Win 8.1 / 10, Linux (Kernel v3.0 above) |
| Multi Touch Point | Max. 40 Points |
Recently Viewed