Prev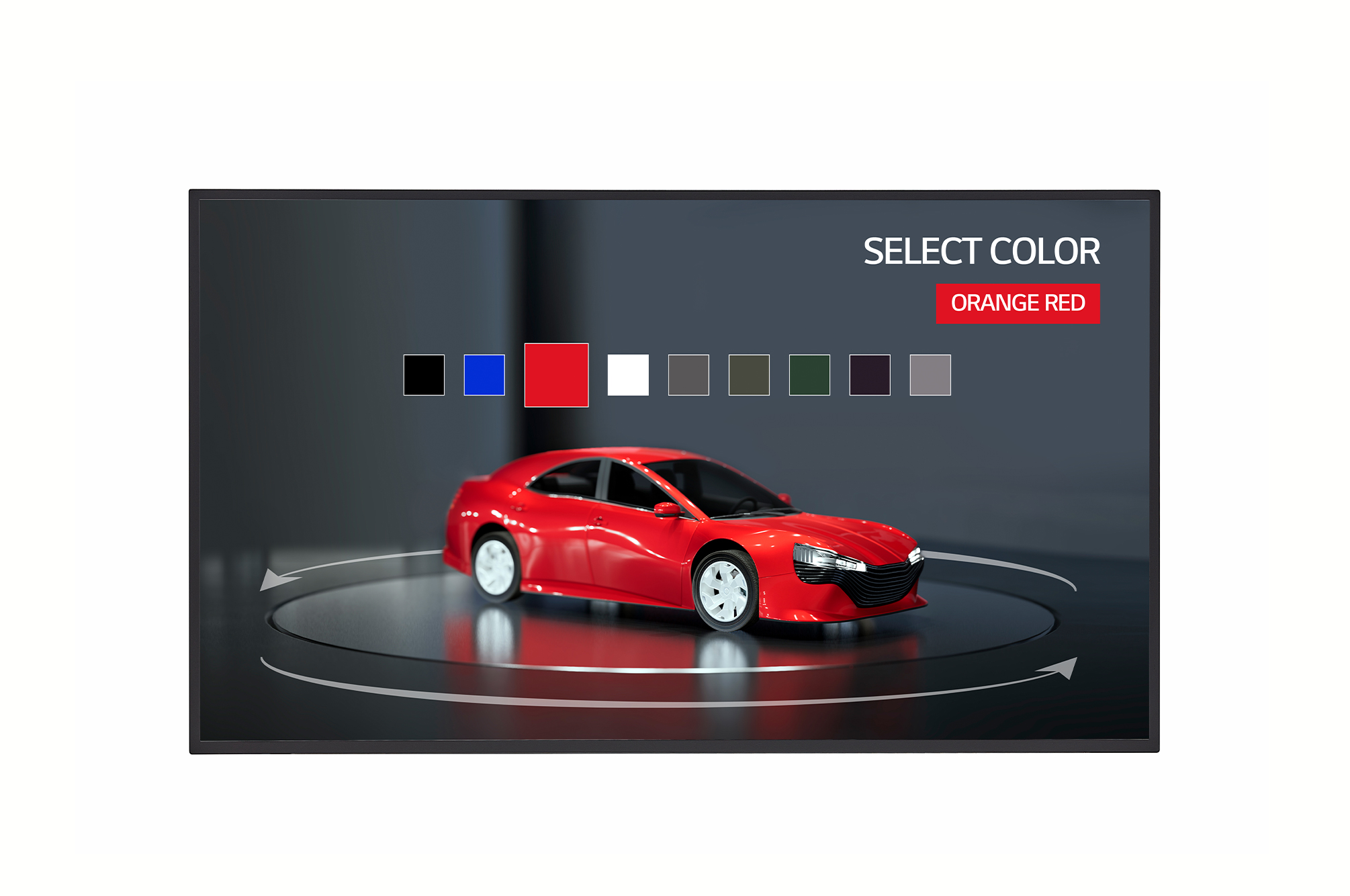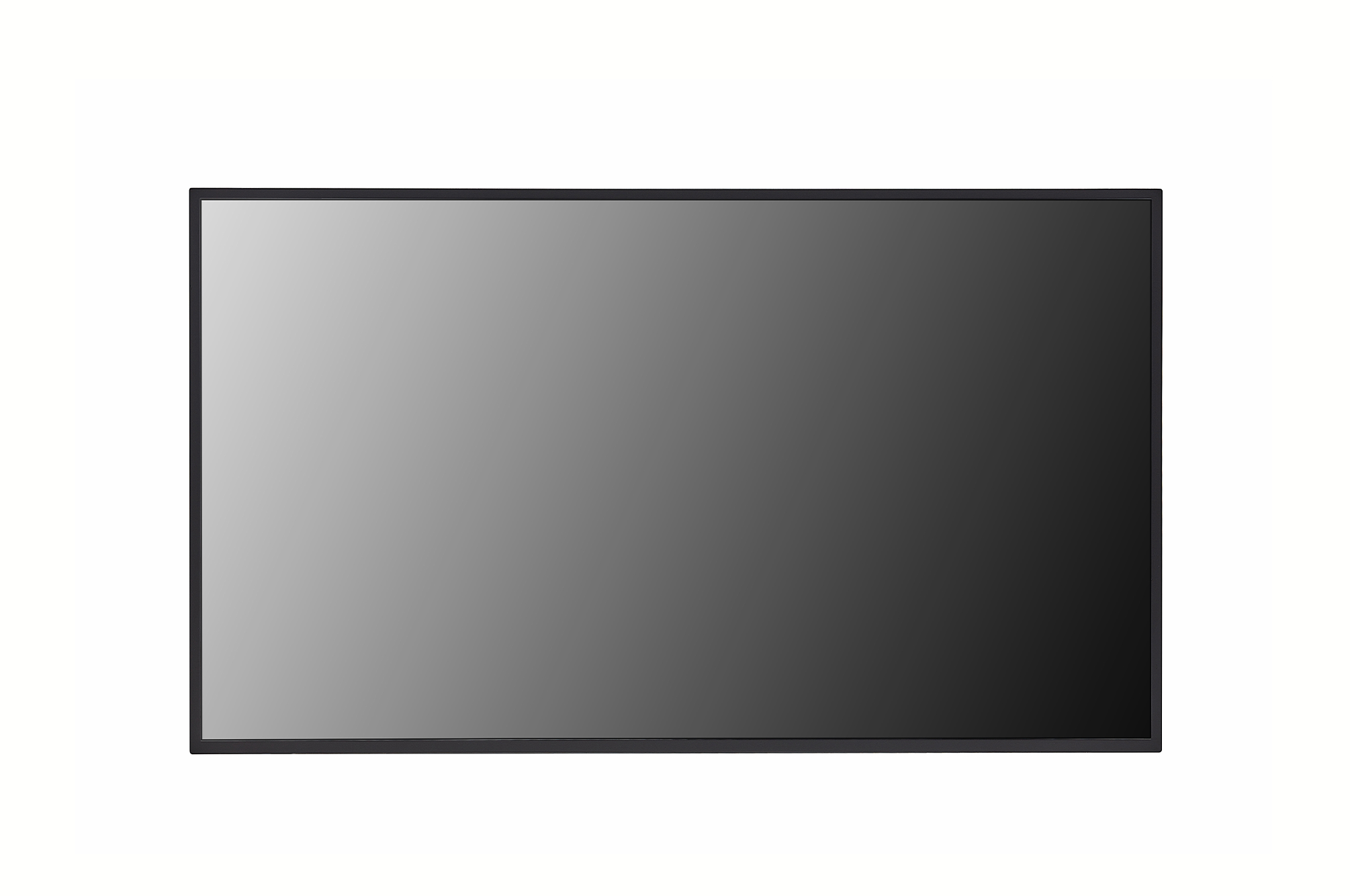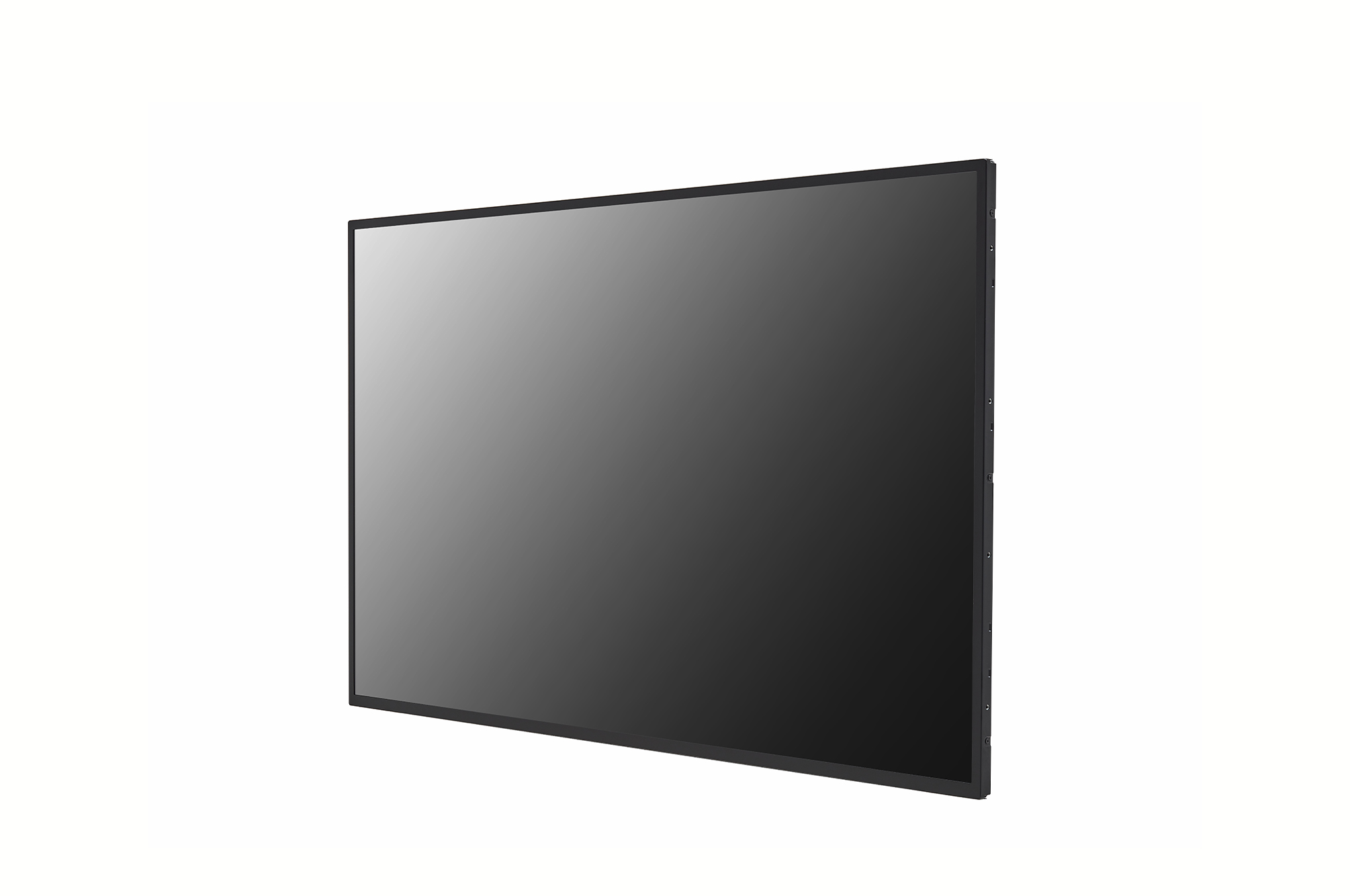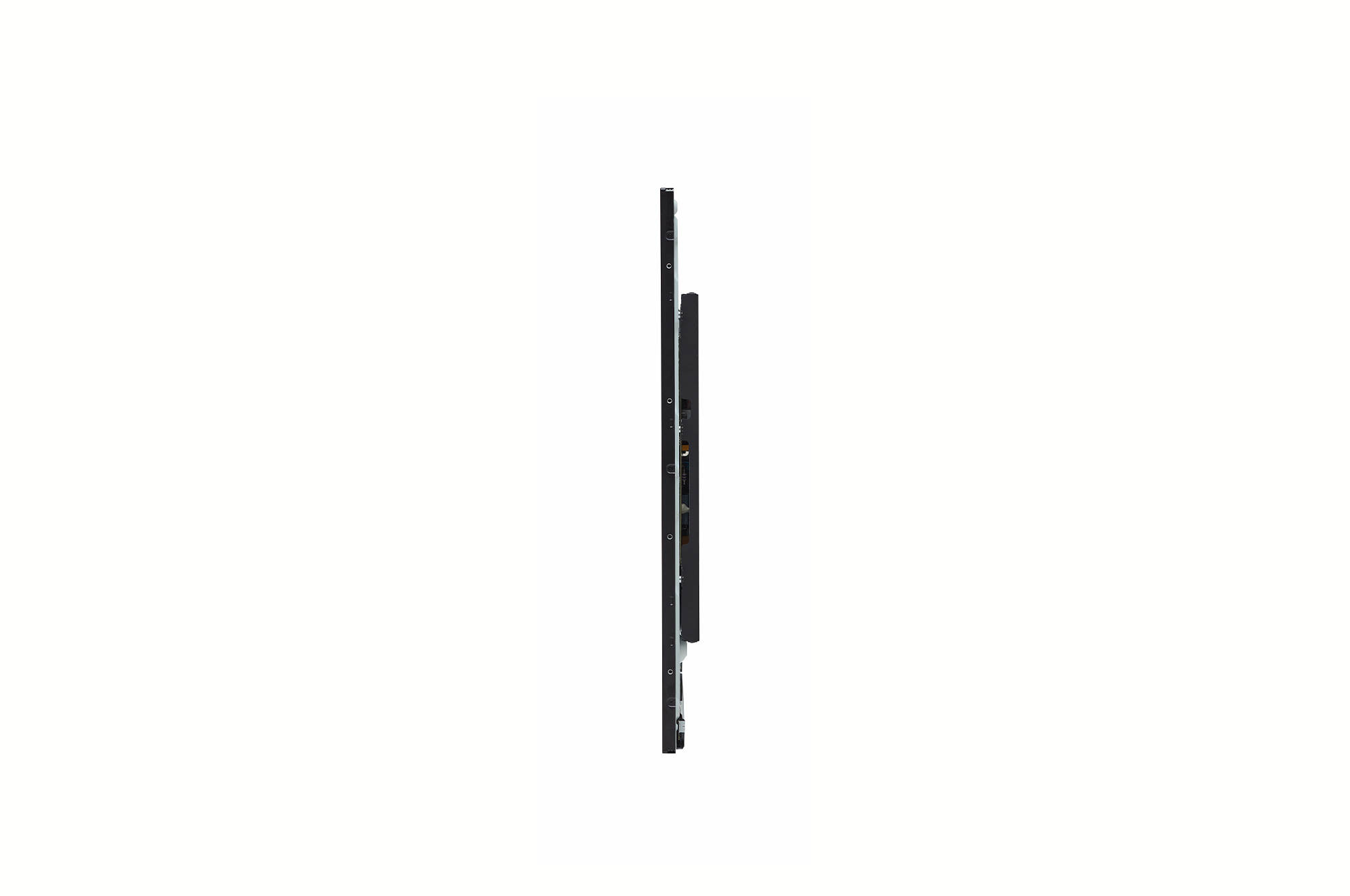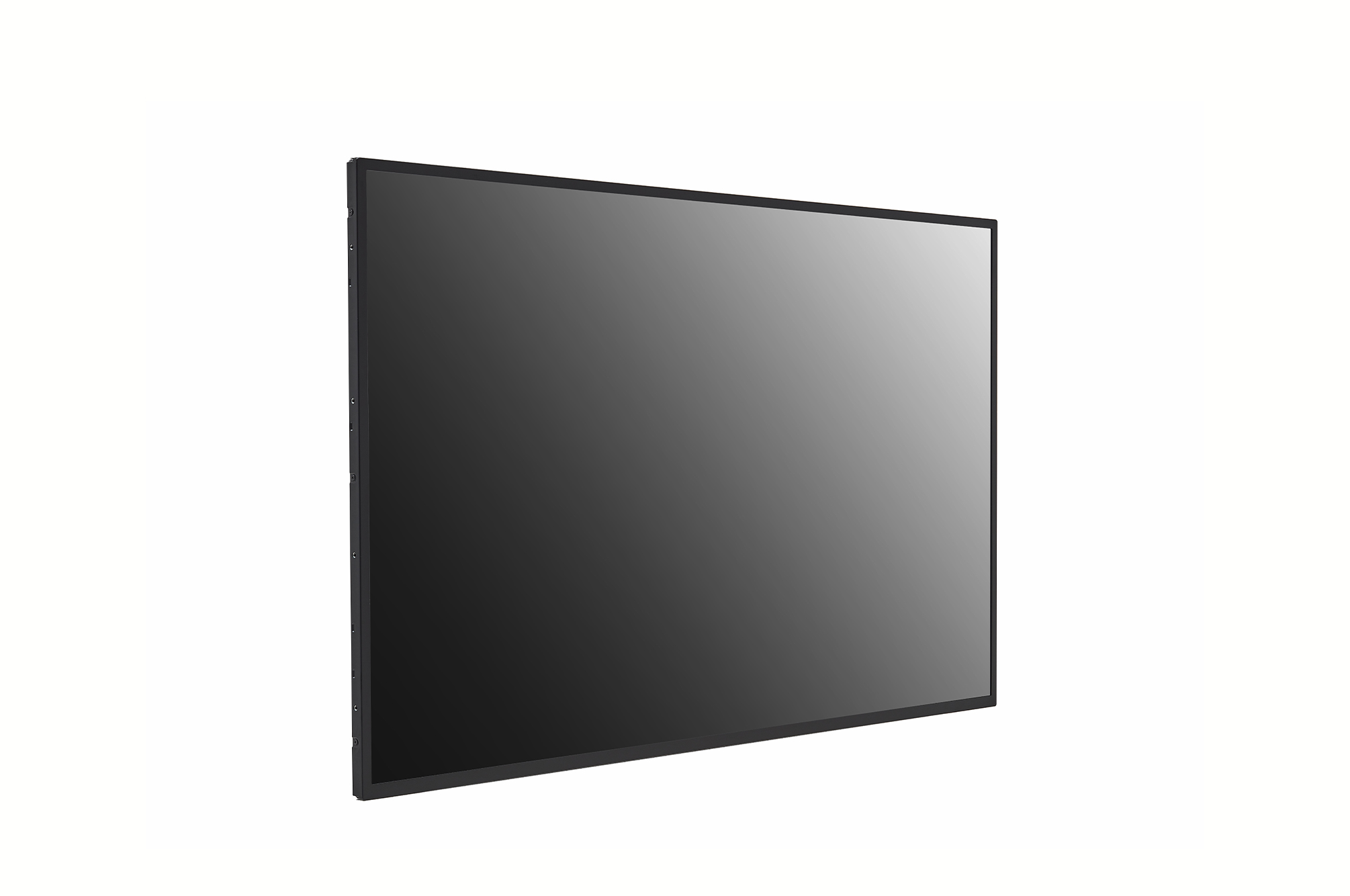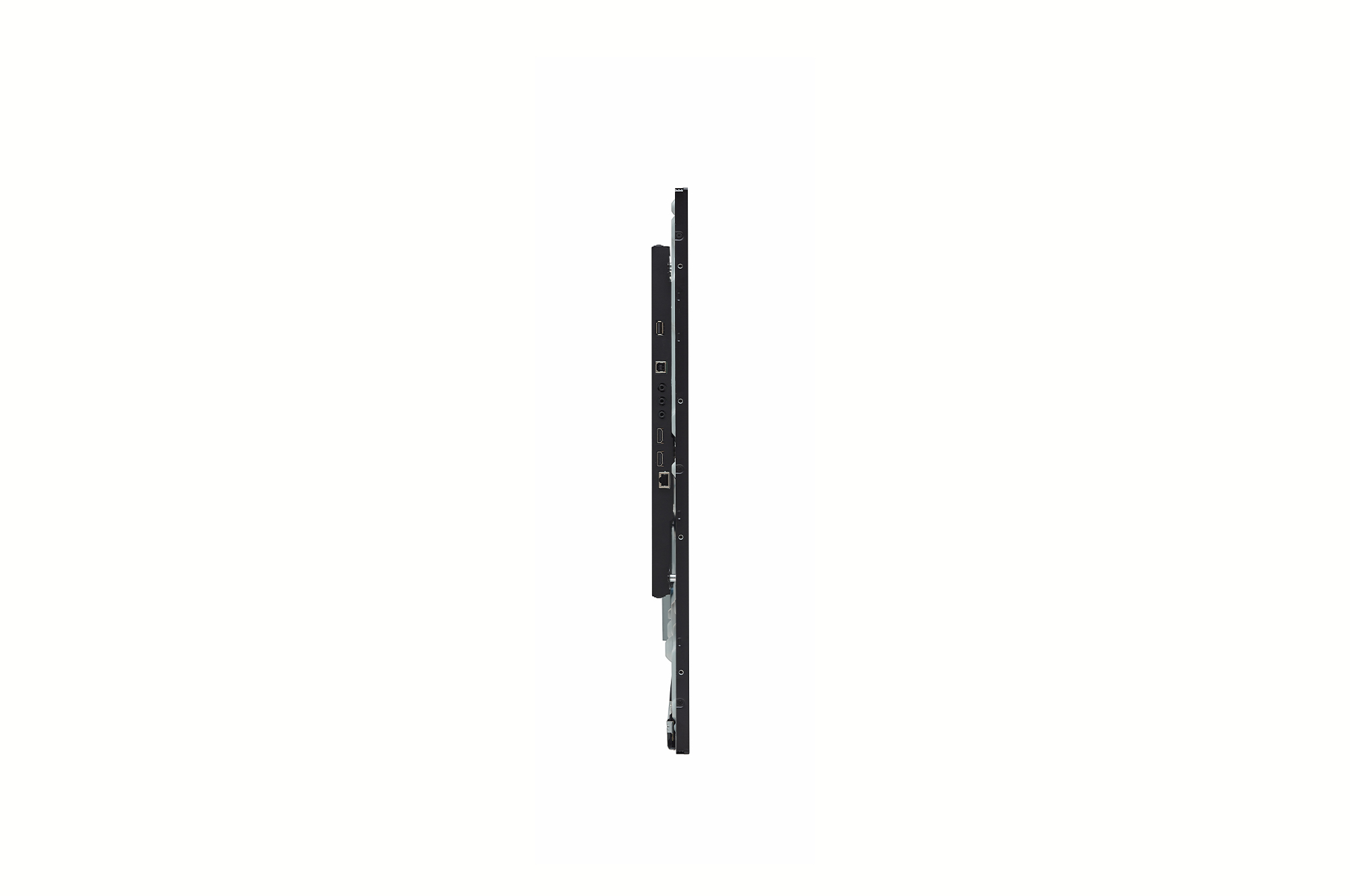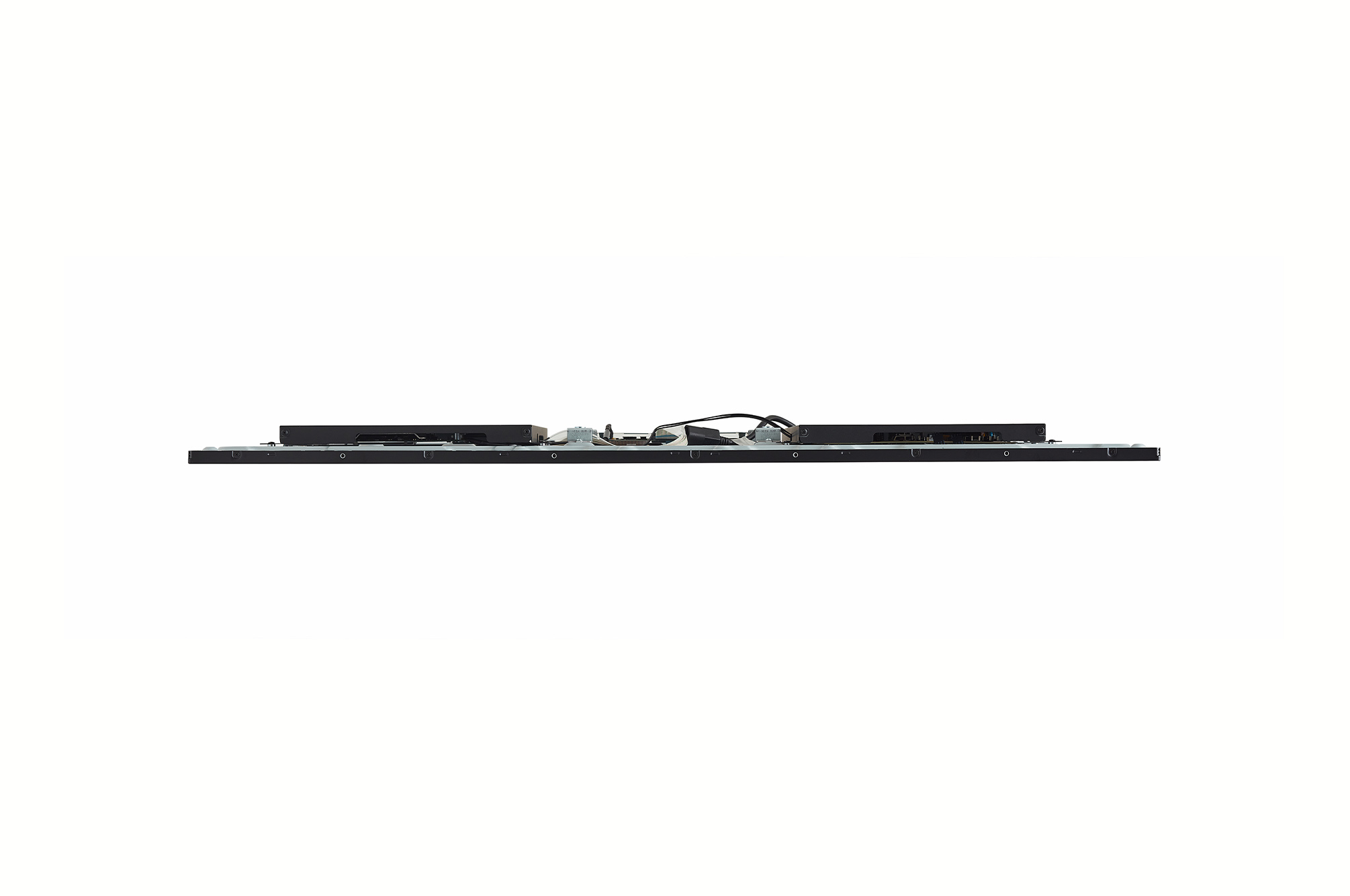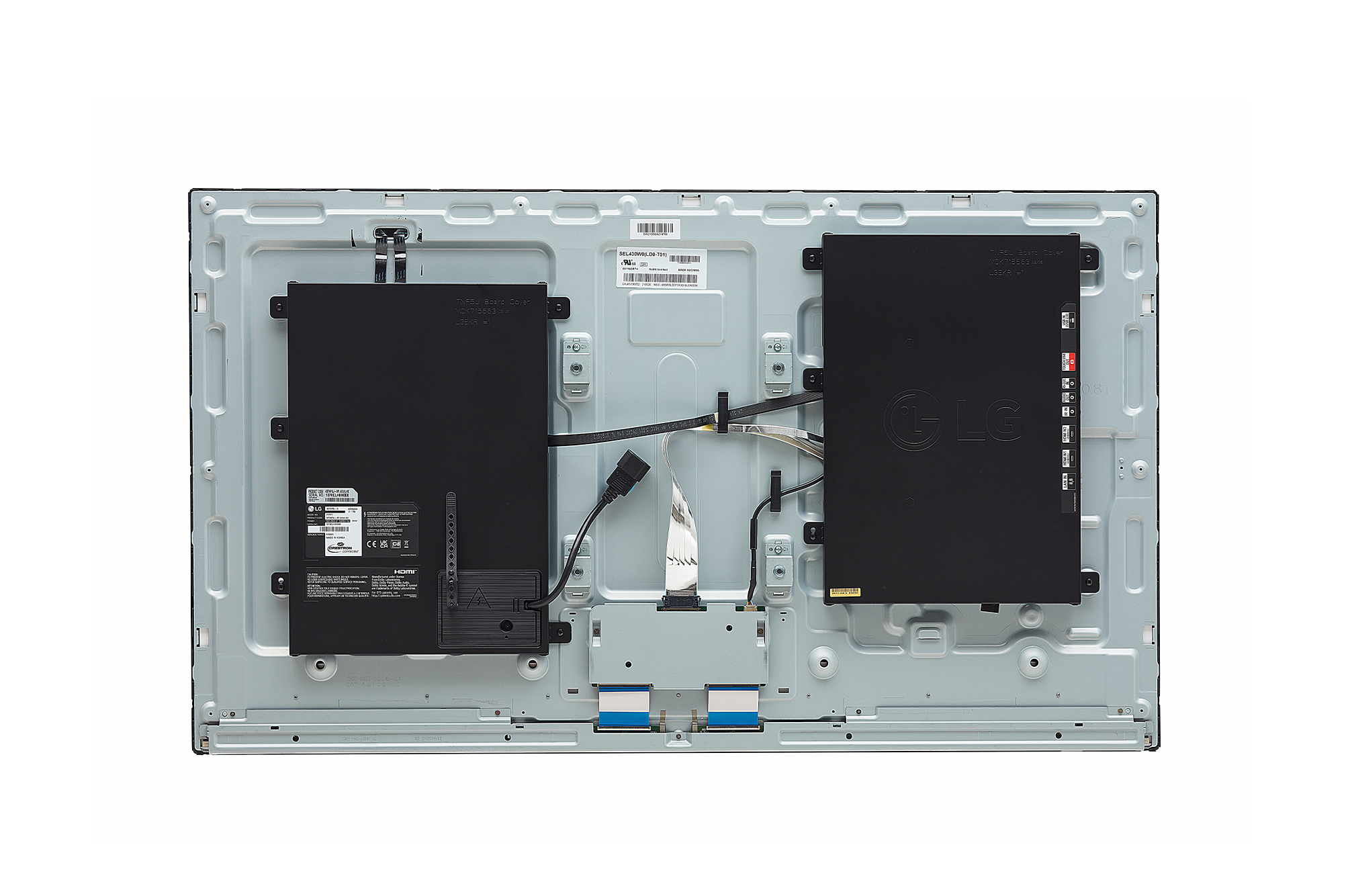 55TNF5J
Touch Open Frame
Global
Share
Key Feature
Brightness : 450 nit
Multi Touch Point : 10 Points (Max.)
Interface : HDMI (2, HDCP 2.2/1.4), RS-232C In, RJ45(LAN), IR In, USB2.0 Type A, Audio Out, Touch USB (USB 2.0 Type B)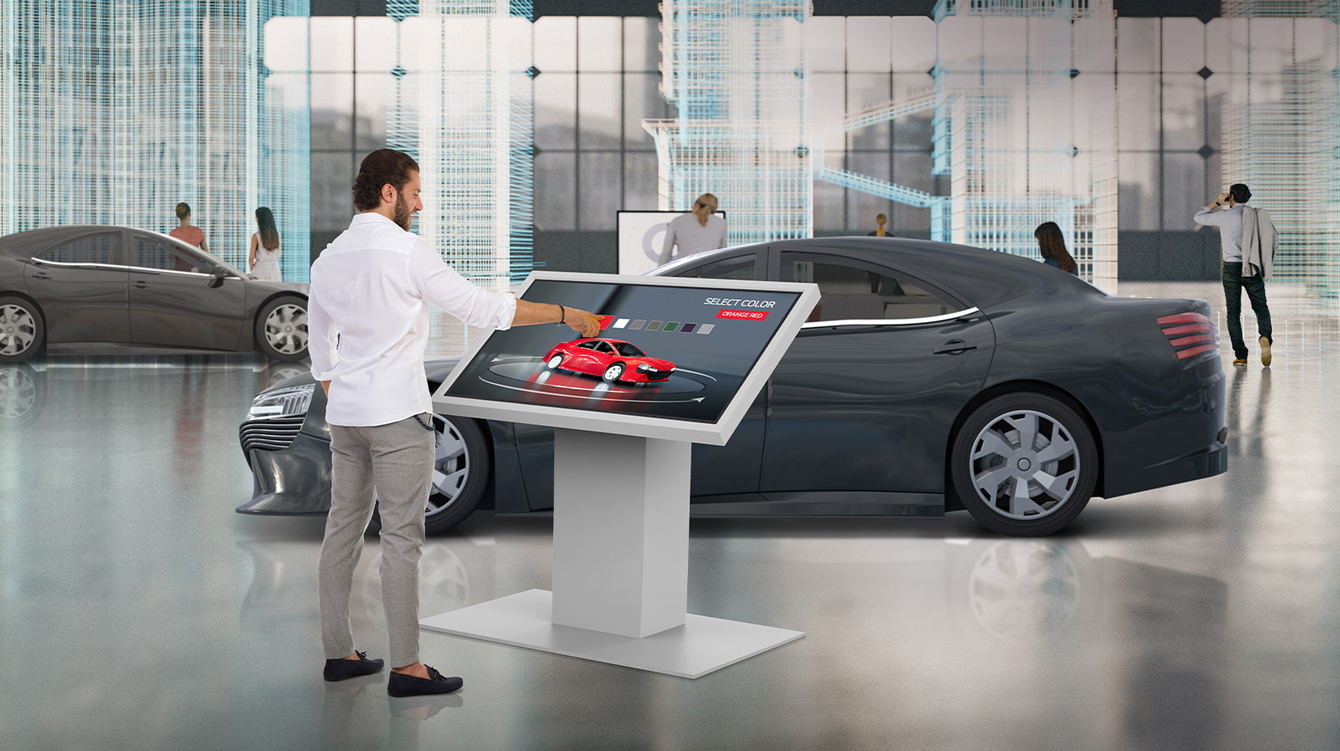 New In-Cell Touch Open Frame
for Optimal Customization
* All images in this page are for illustrative purposes only.

Slim & Light
The In-Cell Touch Open Frame has a touch function built into the display, allowing for the implementation of a slim design and a narrow bezel compared to general touch products that require additional touch parts (Film).

Clear Picture Quality
Compared to general touch products, TNF5J implements clear picture quality without distortion and milk effects caused by additional touch sensor film parts.

Design Flexibility
By providing integrated parts such as touchscreen, display, and webOS, users can realize free design for their own needs.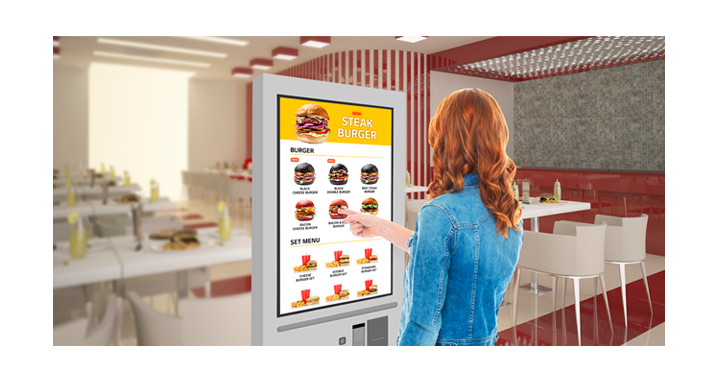 24hrs / 7days
TNF5J's excellent durability allows for use in kiosks that require a full day of operation.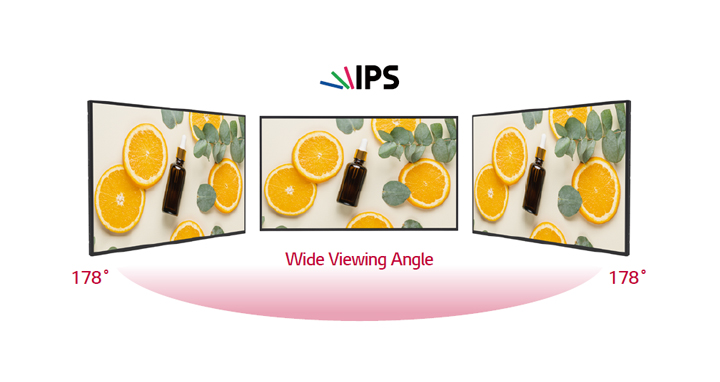 Wide Viewing Angle
IPS panel technology provides better control of the liquid crystals, which in turn allows the screen to be viewed at virtually any angle.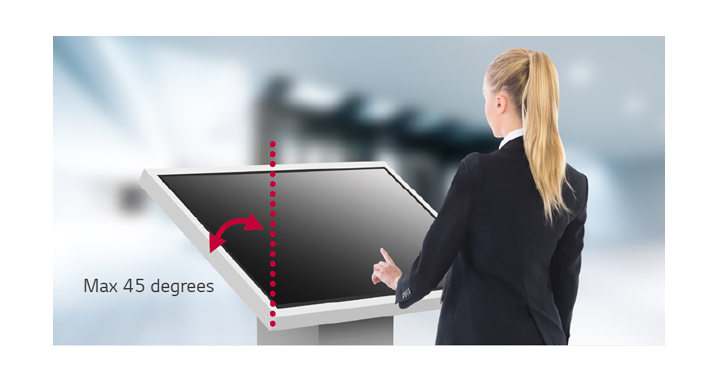 45-degree Tilt (Face up) Installation Possible
When a display is installed at low places, it is usually tilted for the user's viewing comfort. Considering this, the installation with a max tilt of 45 degrees is supported.
10 Points of Multi-Touch
The TNF5J provides a more realistic touch sensation since it can recognize up to 10 points of multi-touch at once, and various touchbased user services can be provided through the screen.

High-Performance with webOS 6.0
webOS 6.0, upgraded in SoC* and web engine, is available on TNF5J for a smooth execution of several tasks. LG webOS smart signage platform enhances user convenience with intuitive GUI** and provides to SI or/and developers simple app development tools such as SDK (Software Development Kit), SCAP, sample applications.

* SoC : System On Chip
** GUI : Graphical User Interface
Tech Spec
Panel

Panel spec

| | |
| --- | --- |
| Screen Size | 55" |
| Panel Technology | IPS |
| Native Resolution | 3,840 x 2,160 (UHD) |
| Brightness | 450 nit |
| Contrast Ratio | 1,000:1 |
| Color gamut | NTSC 72% |
| Viewing Angle (H x V) | 178 x 178 |
| Color Depth | 10bit, 1.07Billion colors |
| Response Time | 9ms (G to G) |
| Surface Treatment (Haze) | Haze 12% |
| Operation Hours (Hours / Days) | 24 / 7 |
| Portrait / Landscape | Yes / Yes |

Mechanical Specification

Mechanical Specification spec

| | |
| --- | --- |
| Bezel Color | Black |
| Bezel Width | 9.1 / 9.1 / 9.1 / 16.1 mm |
| Weight (Head) | 16.8 kg |
| Monitor Dimensions (W × H × D) | 1,231.8 x 709.6 x 39.2 mm |
| VESA™ Standard Mount Interface | 300 x 300 |

Key Feature (Hardware)

Key Feature (Hardware) spec

| | |
| --- | --- |
| Internal Memory | 8GB (System 5GB + Available 2.48GB) |
| Temperature Sensor | Yes |

Key Feature (Software)

Key Feature (Software) spec

| | |
| --- | --- |
| webOS ver. | webOS 6.0 |
| Embedded CMS | Local Contents Scheduling, Group Manager |
| USB Plug & Play | Yes |
| Fail over | Yes |
| Background Image | Booting Logo Image, No Signal Image |
| Video Tag | Yes |
| Play via URL | Yes |
| Screen Rotation | Yes |
| Gapless Playback | Yes |
| Setting Data Cloning | Yes |
| SNMP | Yes |
| ISM Method | Yes |
| Status Mailing | Yes |
| Control Manager | Yes |
| 3rd Party Compatibility | Crestron Inside |
| Power | Smart Energy Saving, PM mode, Wake on LAN, Network Ready |
| HDMI-CEC | Yes |
| SI Server Setting | Yes |
| webRTC | Yes |
| Pro:Idiom | Yes |

Environment Conditions

Environment Conditions spec

| | |
| --- | --- |
| Operation Temperature | 0 °C to 40 °C |
| Operation Humidity | 10% to 80% |

Power

Power spec

| | |
| --- | --- |
| Power Supply | AC 100-240V~, 50/60Hz |
| Power Type | Built-In Power |

Power Consumption

Power Consumption spec

| | |
| --- | --- |
| Typ. | 127 W |
| Max. | 170 W |
| BTU (British Thermal Unit) | 433 BTU/Hr (Typ.), 580 BTU/Hr (Max.) |

Standard (Certification)

Standard (Certification) spec

| | |
| --- | --- |
| Safety | CB / NTRL |
| EMC | FCC Class "A"/ CE / KC |
| ErP | Yes |

Software Compatibility

Software Compatibility spec

| | |
| --- | --- |
| SuperSign CMS | Yes |
| SuperSign Control / Control+ | Yes |
| LG ConnectedCare | Yes |

Connectivity

Connectivity spec

| | |
| --- | --- |
| Input | Digital (HDMI(2), HDCP 2.2/1.4), RS232C IN, RJ45(LAN), IR IN, USB2.0 Type A(1) |
| Output | Audio Out, USB2.0 Type B(1) |

Accessory

Accessory spec

| | |
| --- | --- |
| Basic | Power Cord 1.55m, USB Cable (Type A-Type B) 1.8m, User Manual, QSG, Remote Controller(include battery 2ea), RS232C Gender, IR Receiver |

Touch

Touch spec

| | |
| --- | --- |
| Available Object Size for Touch | Ø6mm ↑ |
| Reponse Time (Based on 'Paint' app on Windows 10 PC) | 90ms ↓ |
| Accuracy | 3.5mm±0.5mm |
| Interface | USB 2.0 |
| Operating System Support | Windows 10 |
| Multi Touch Point | Max. 10 Points |
Recently Viewed