Prev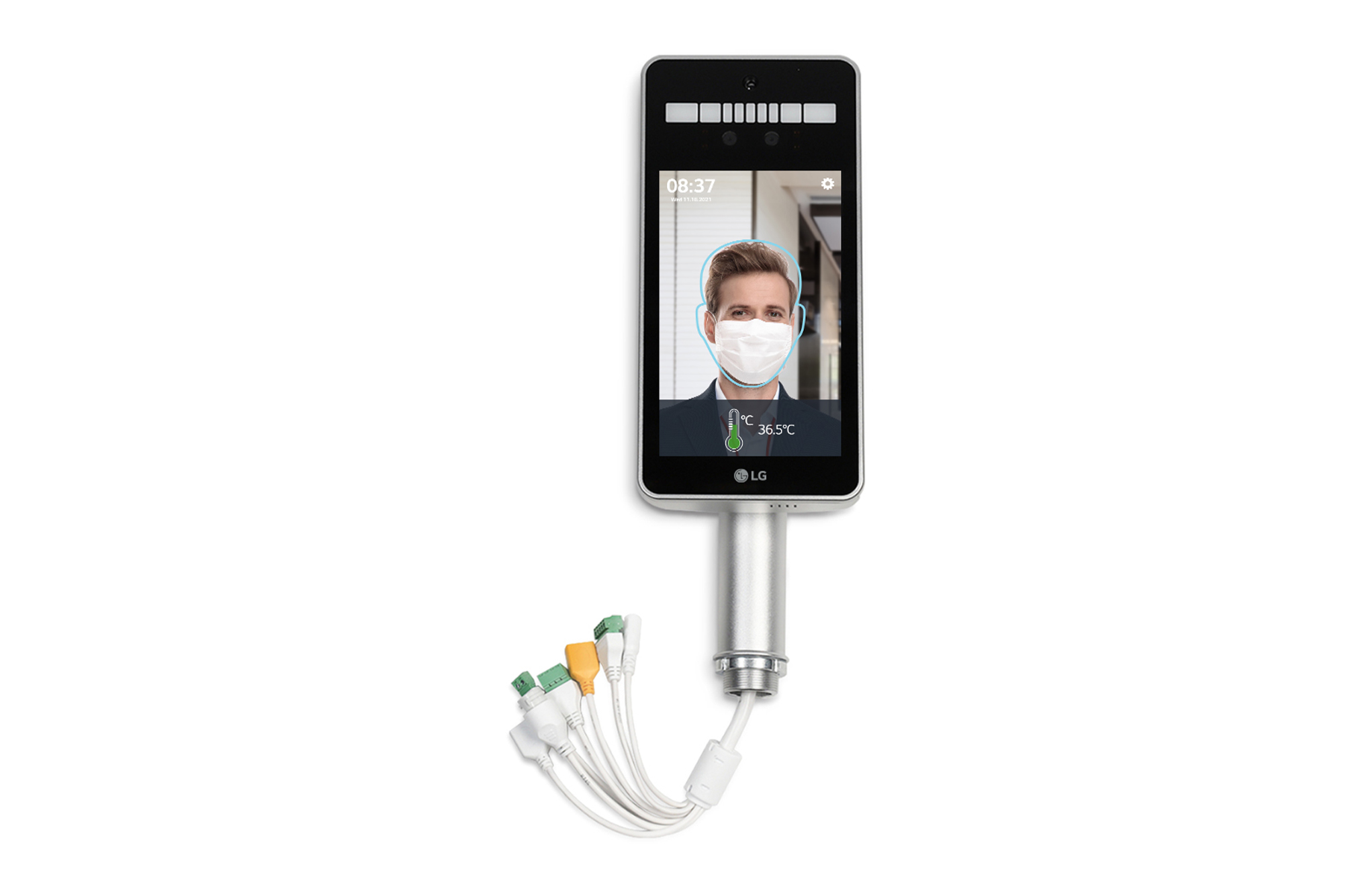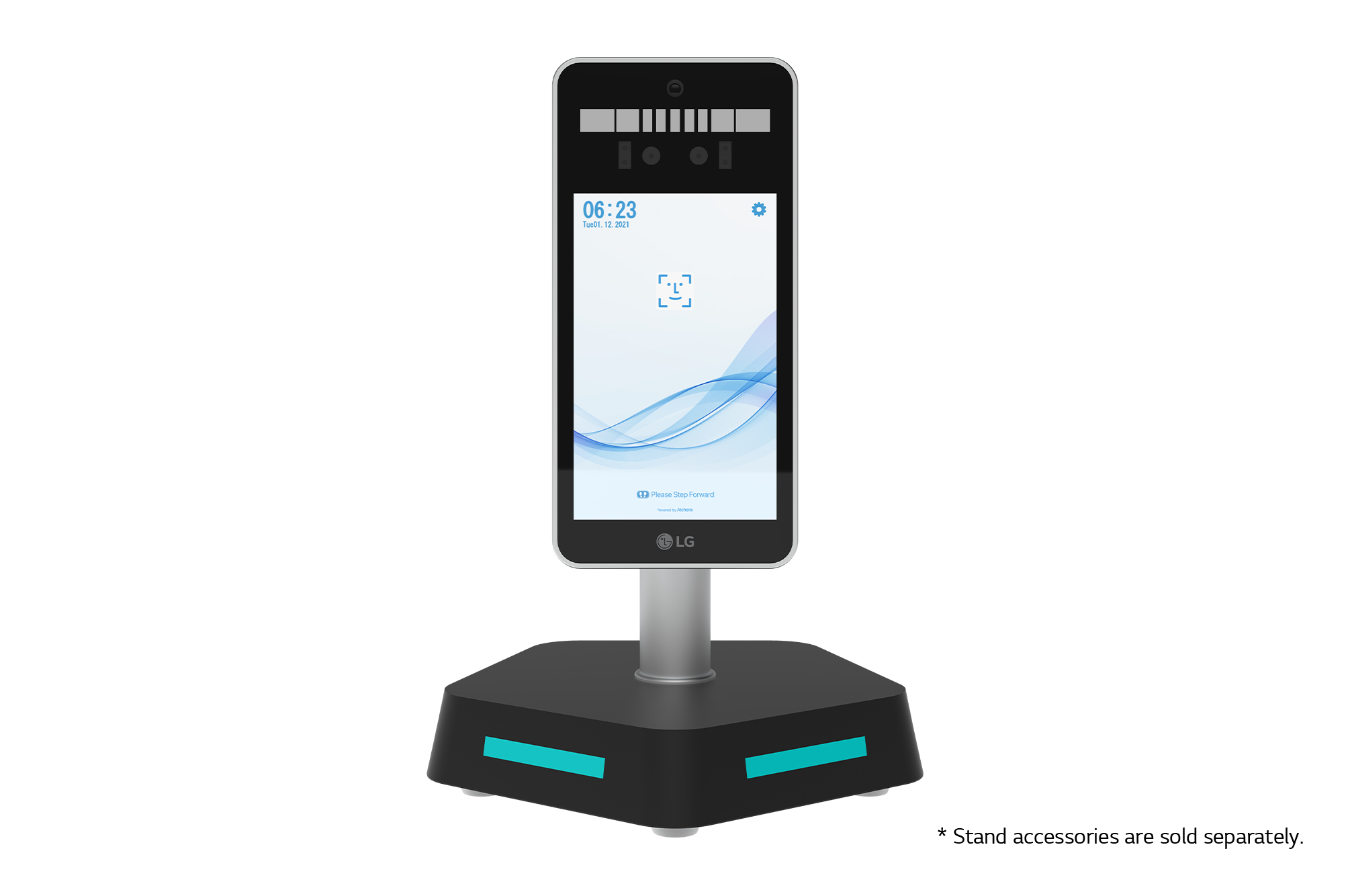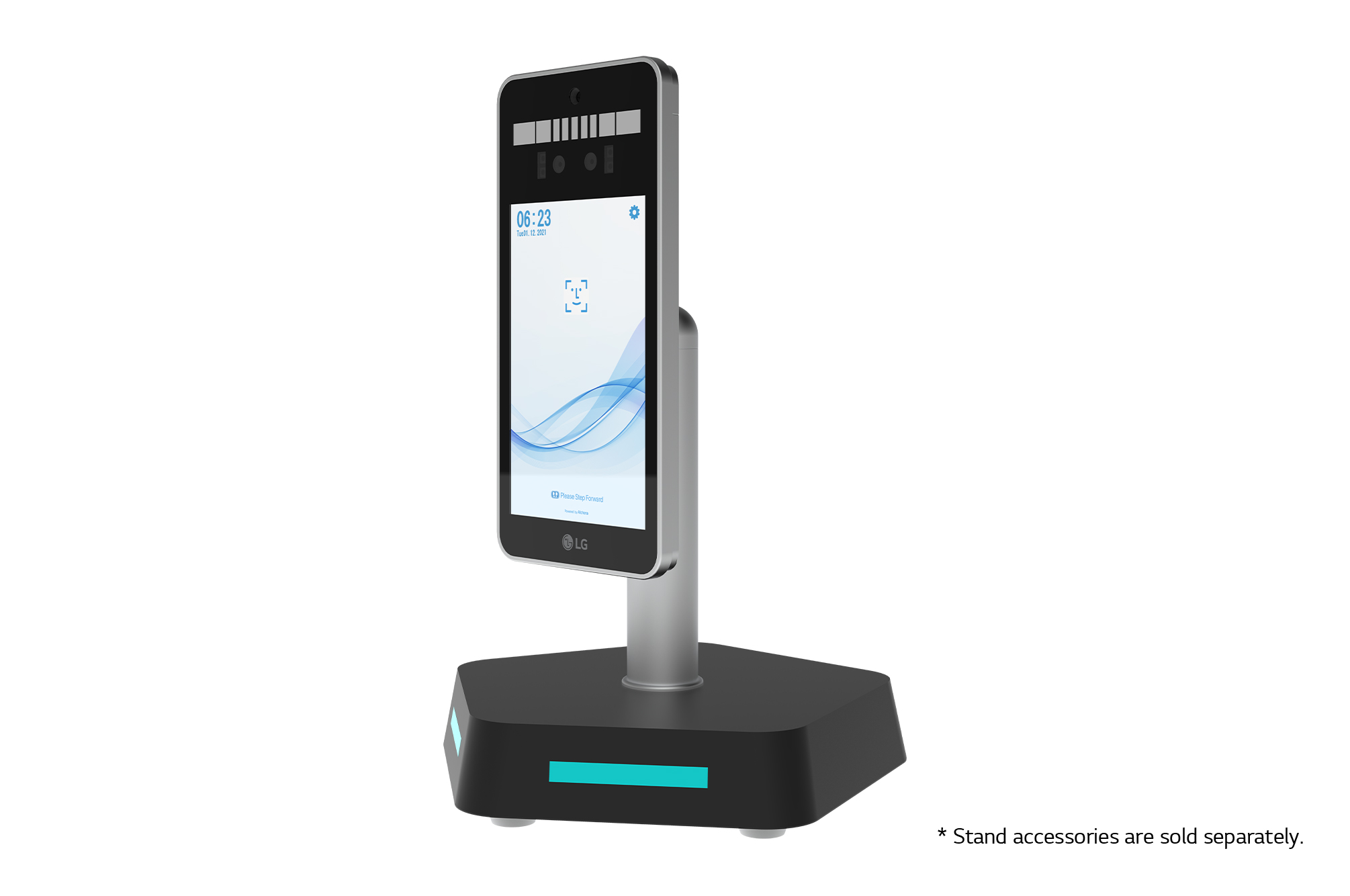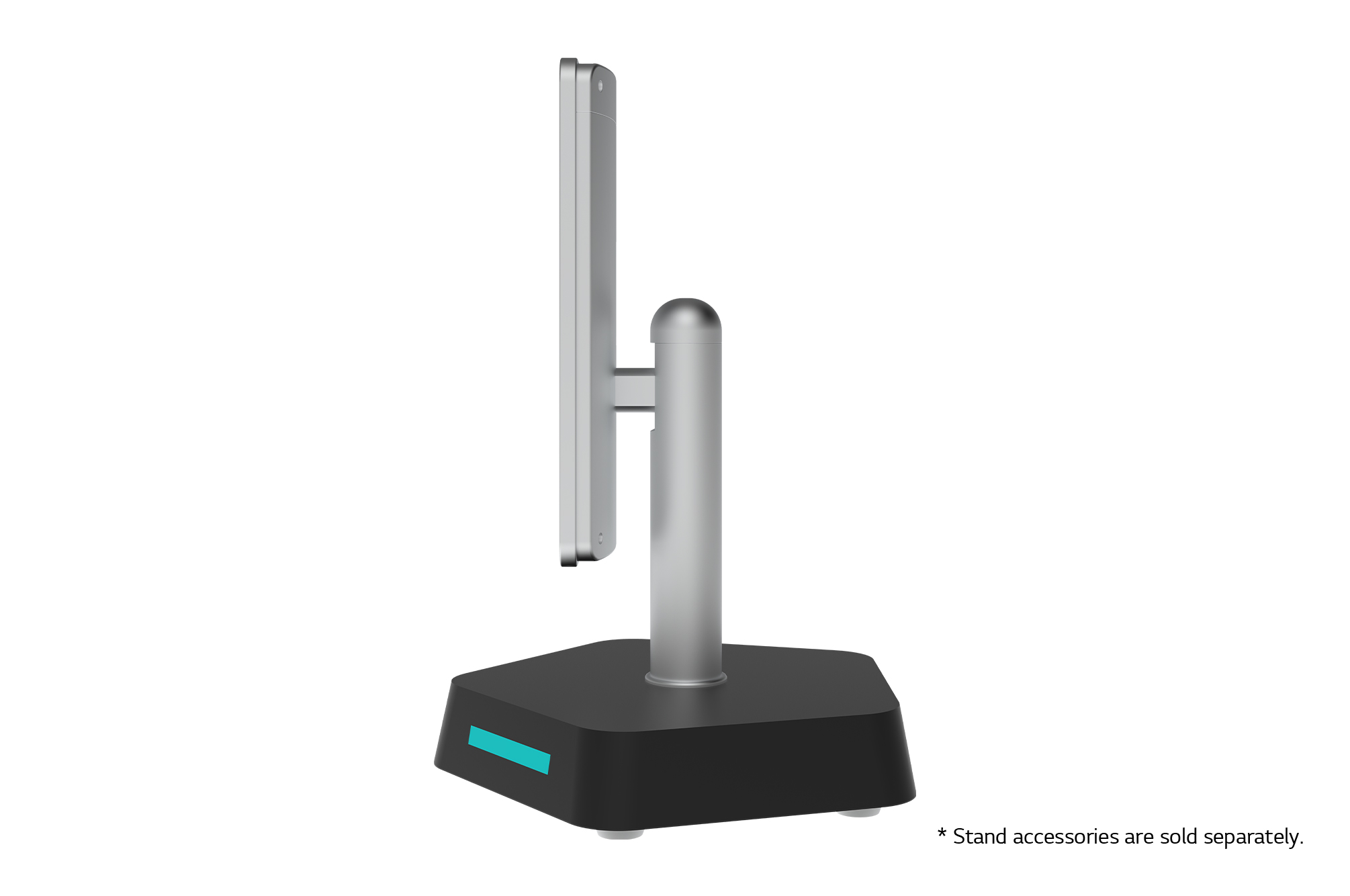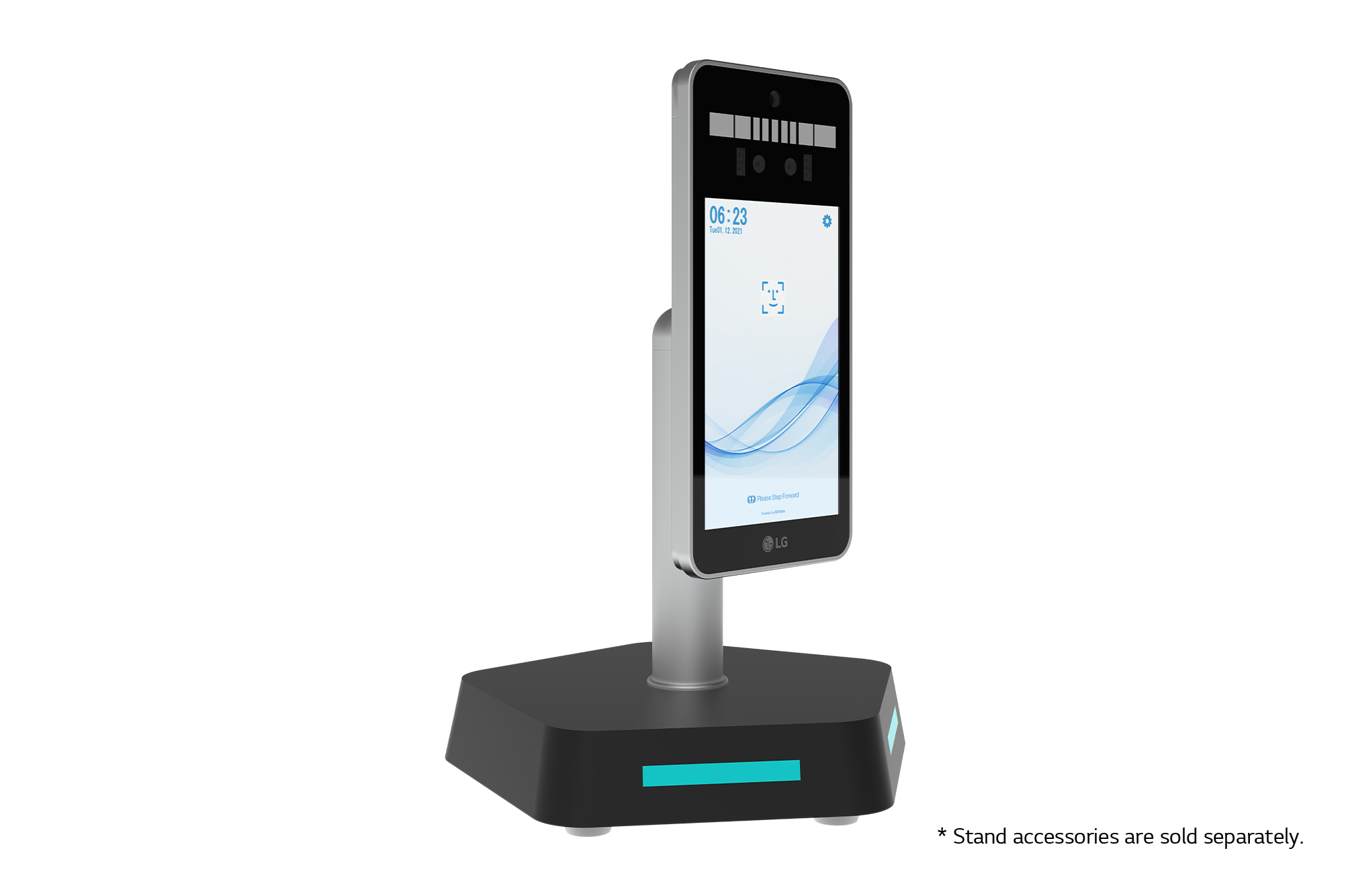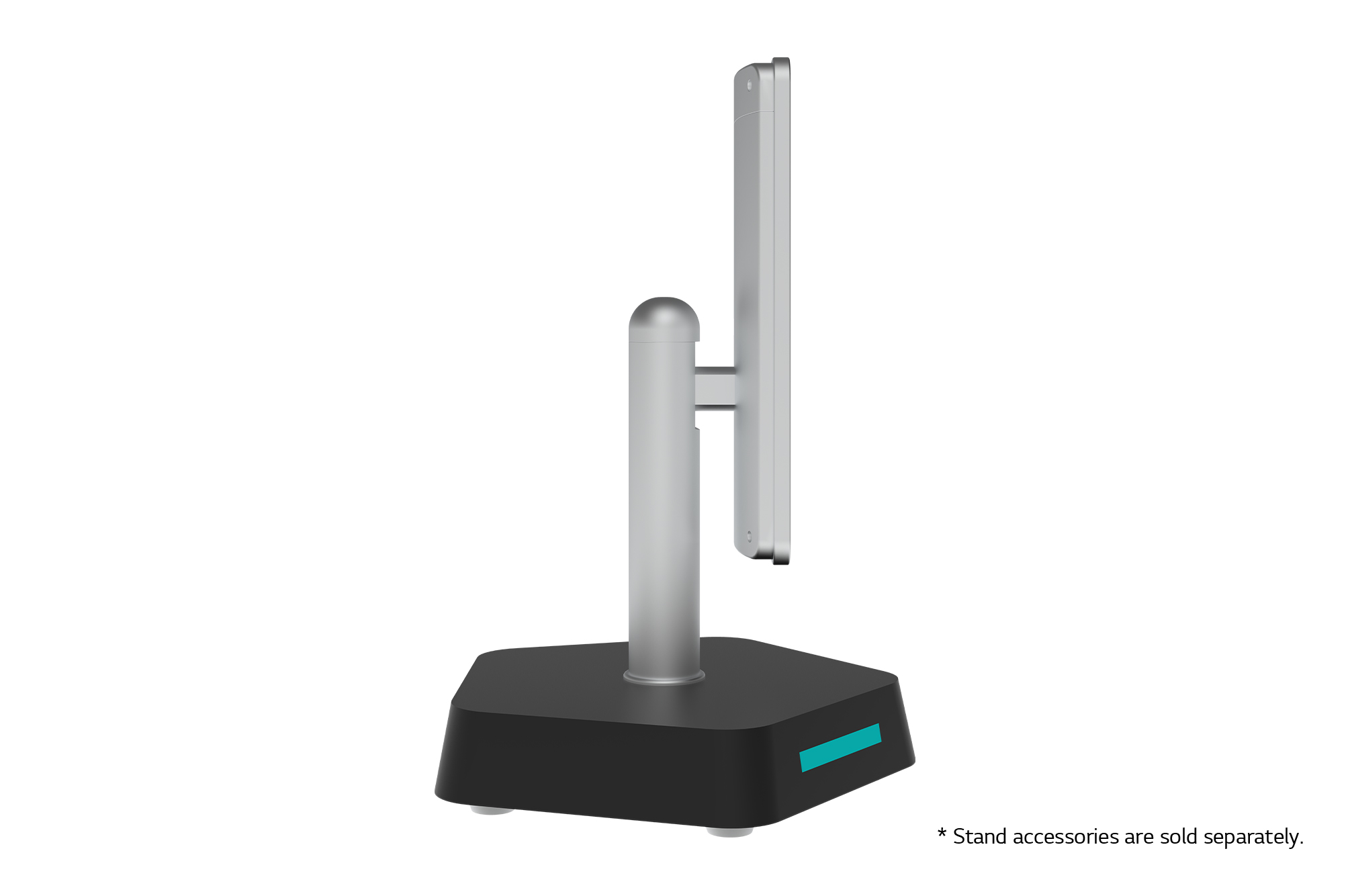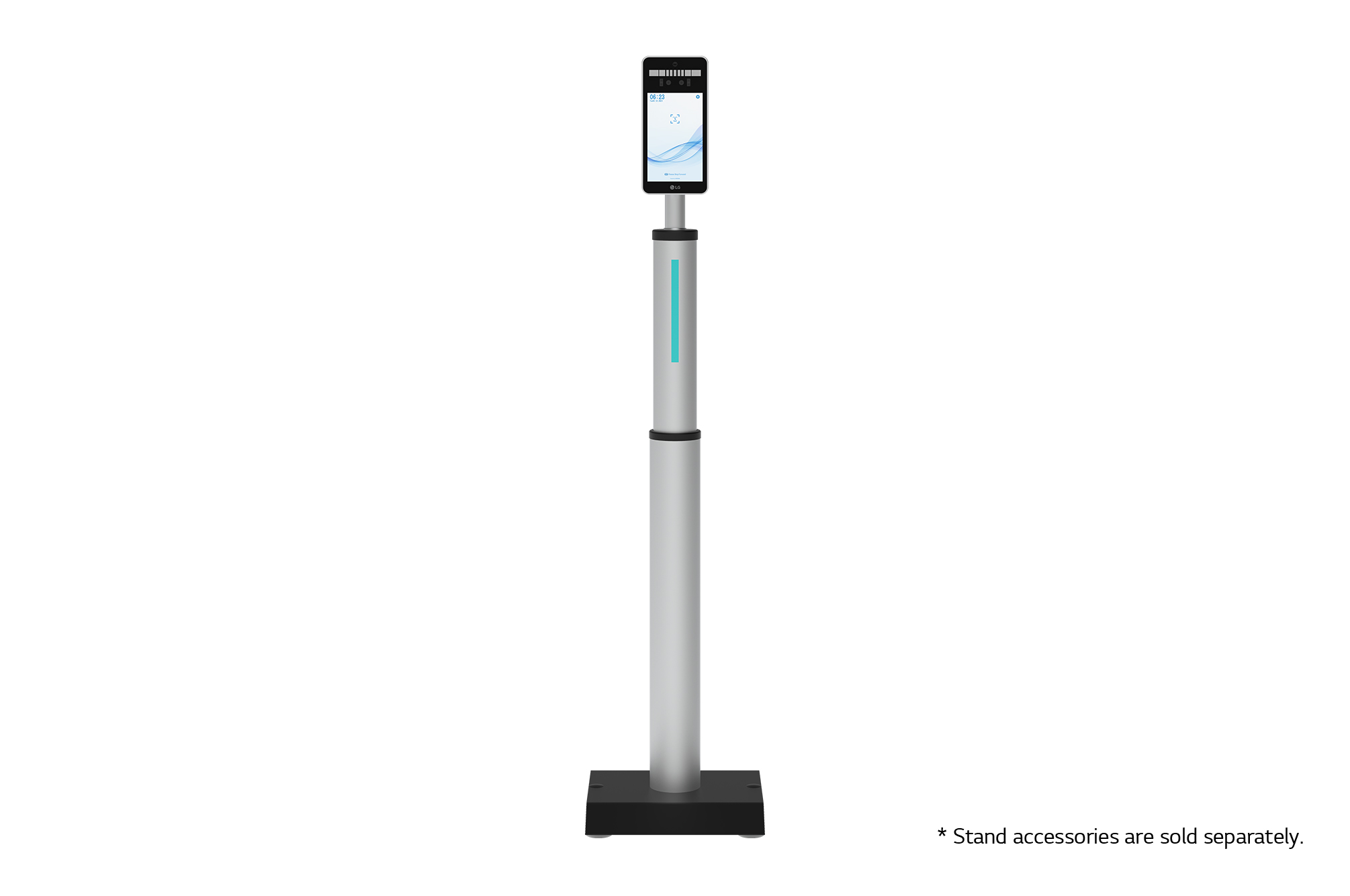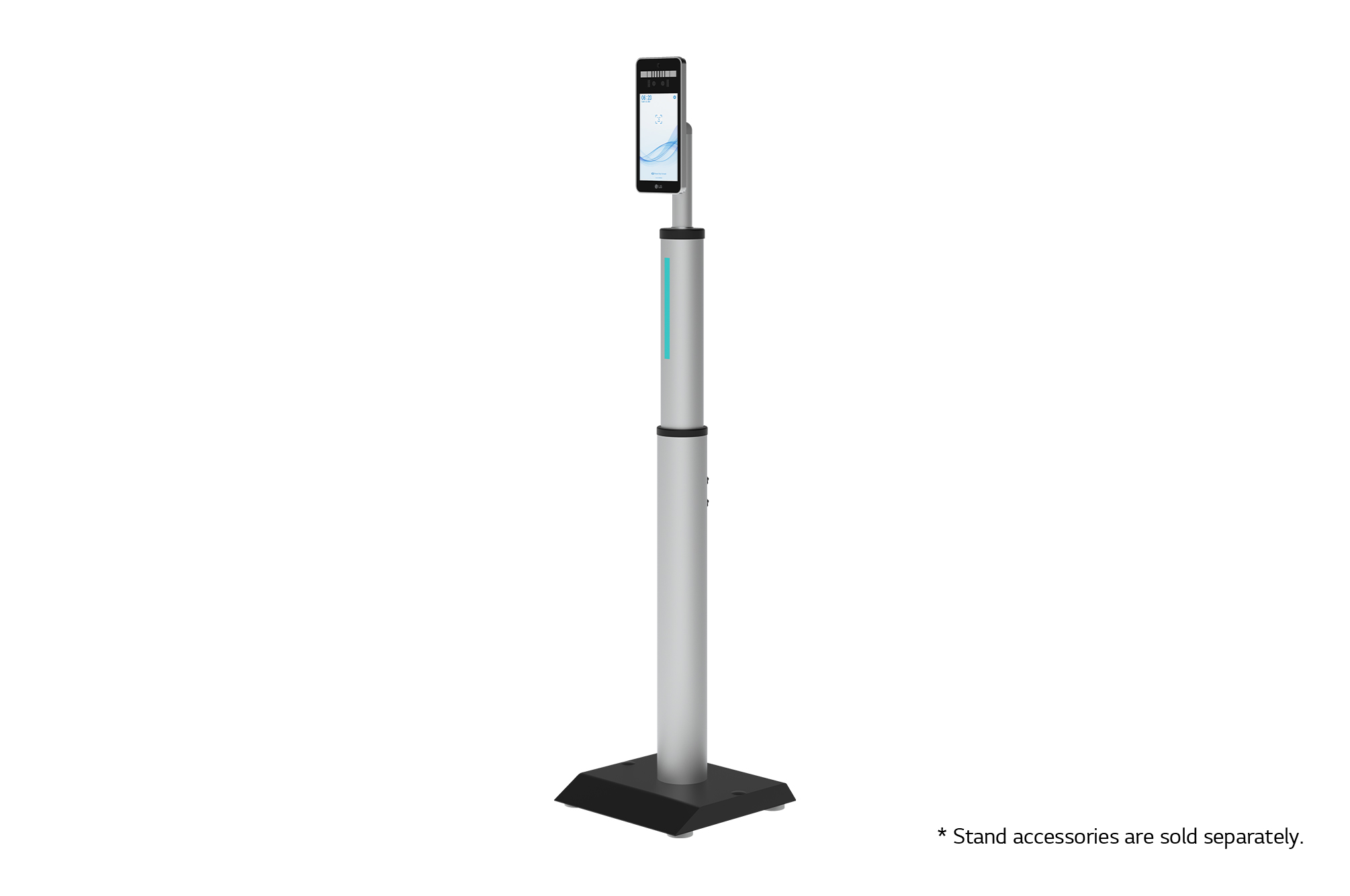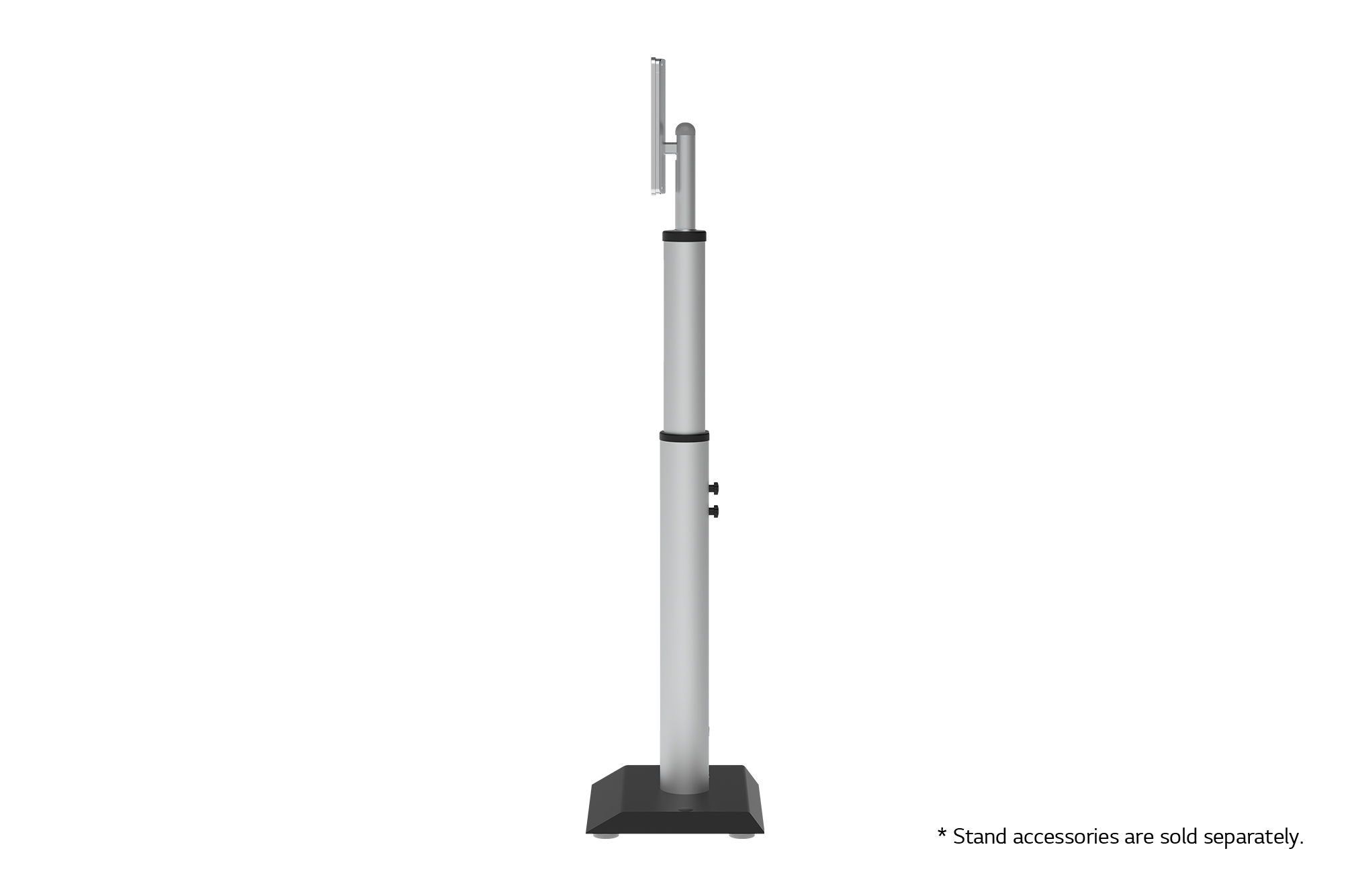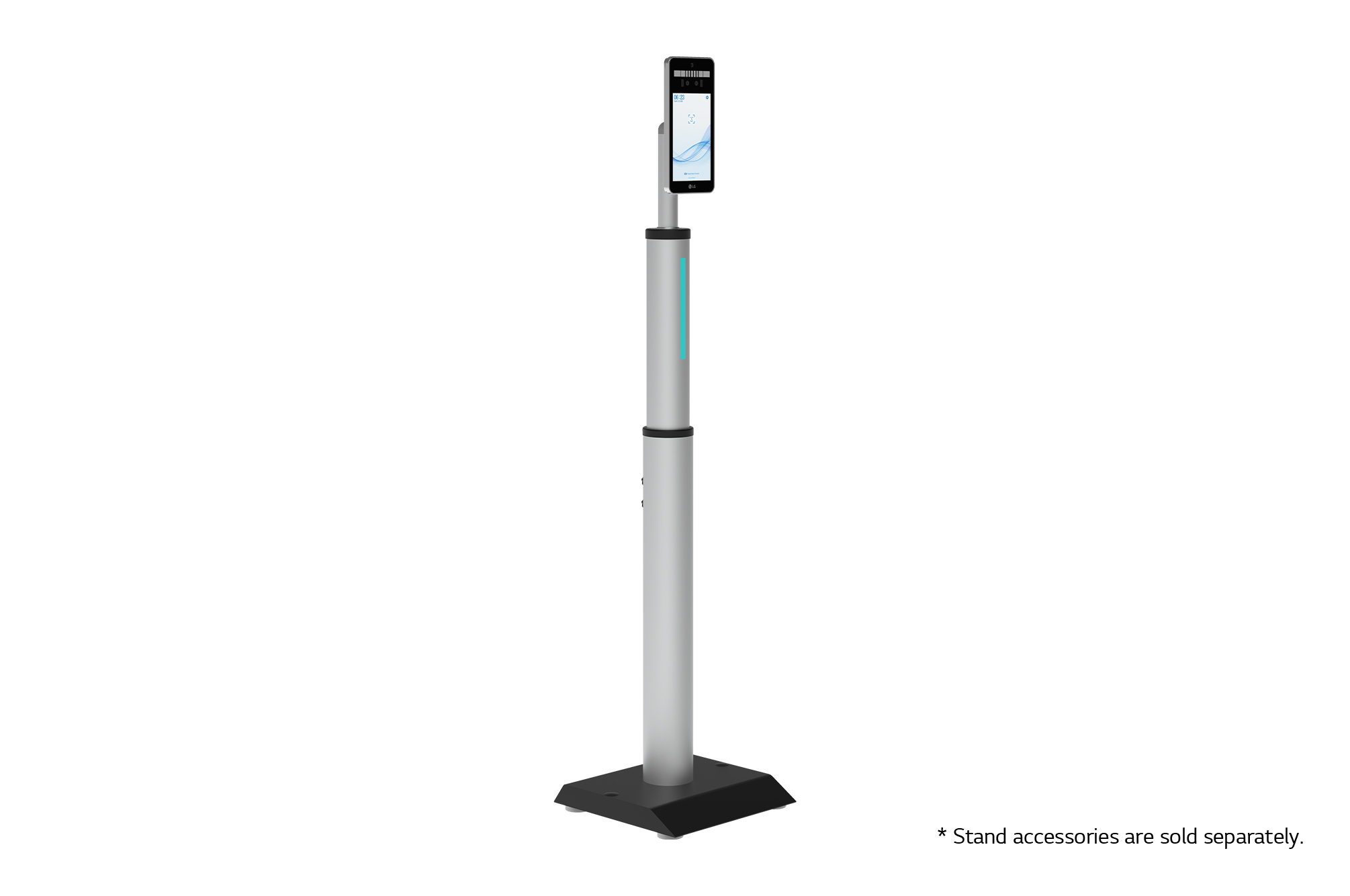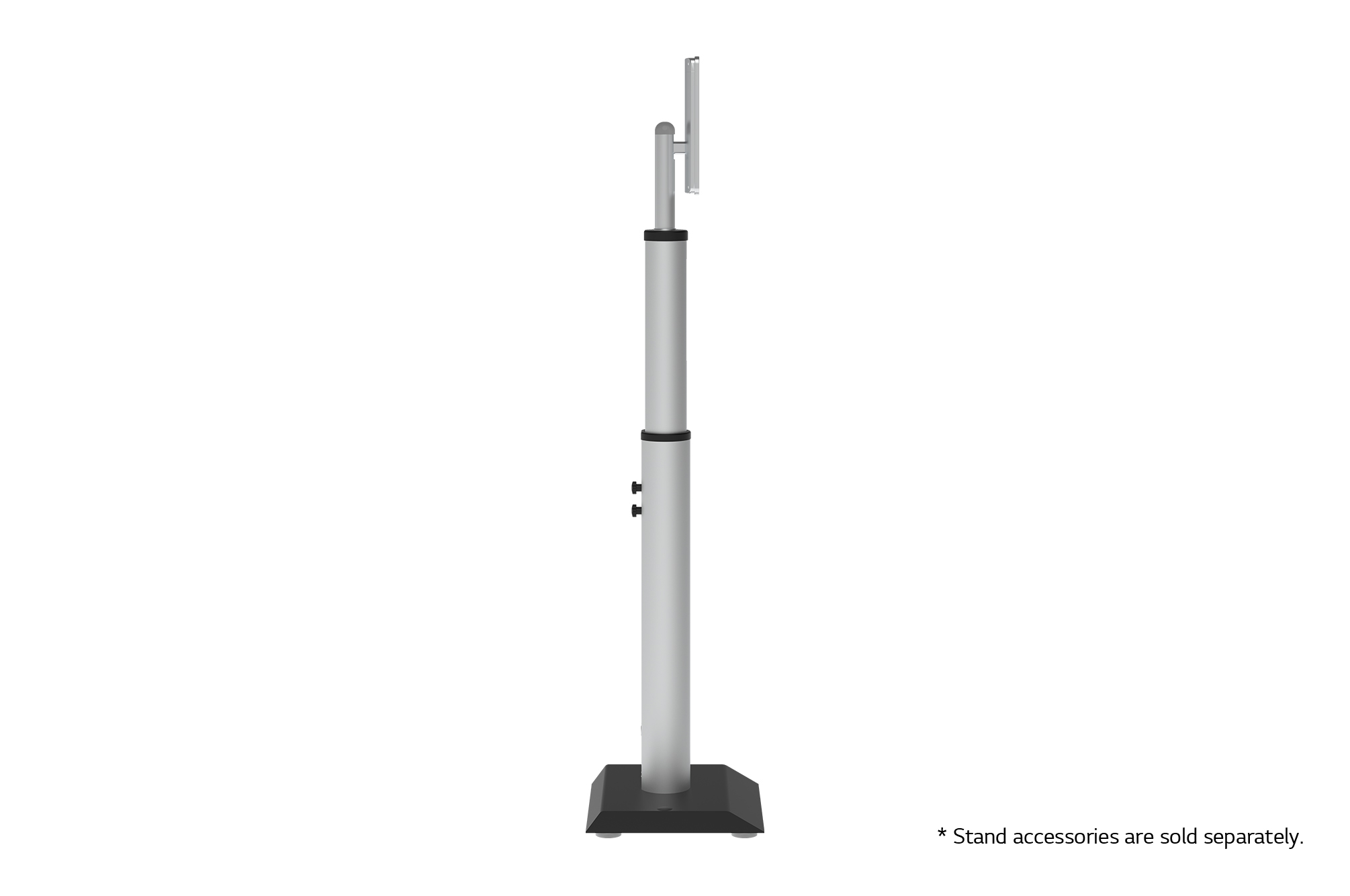 8KC5PJ
LG Thermal Sensing Terminal
Asia
Share
Key Feature
IR Touch Display ( Resolution : 800x 1,280)
RGB & Infrared Camera (2 Megapixels)
Hexa Core RK3399 Chipset (Android OS base)
Supports Wi-Fi 2.4 G
Ethernet (RJ45), USB (2, Type A 1ea / OTG 1ea), Relay
*For ASIA (except Australia, New Zealand, Thailand) Regions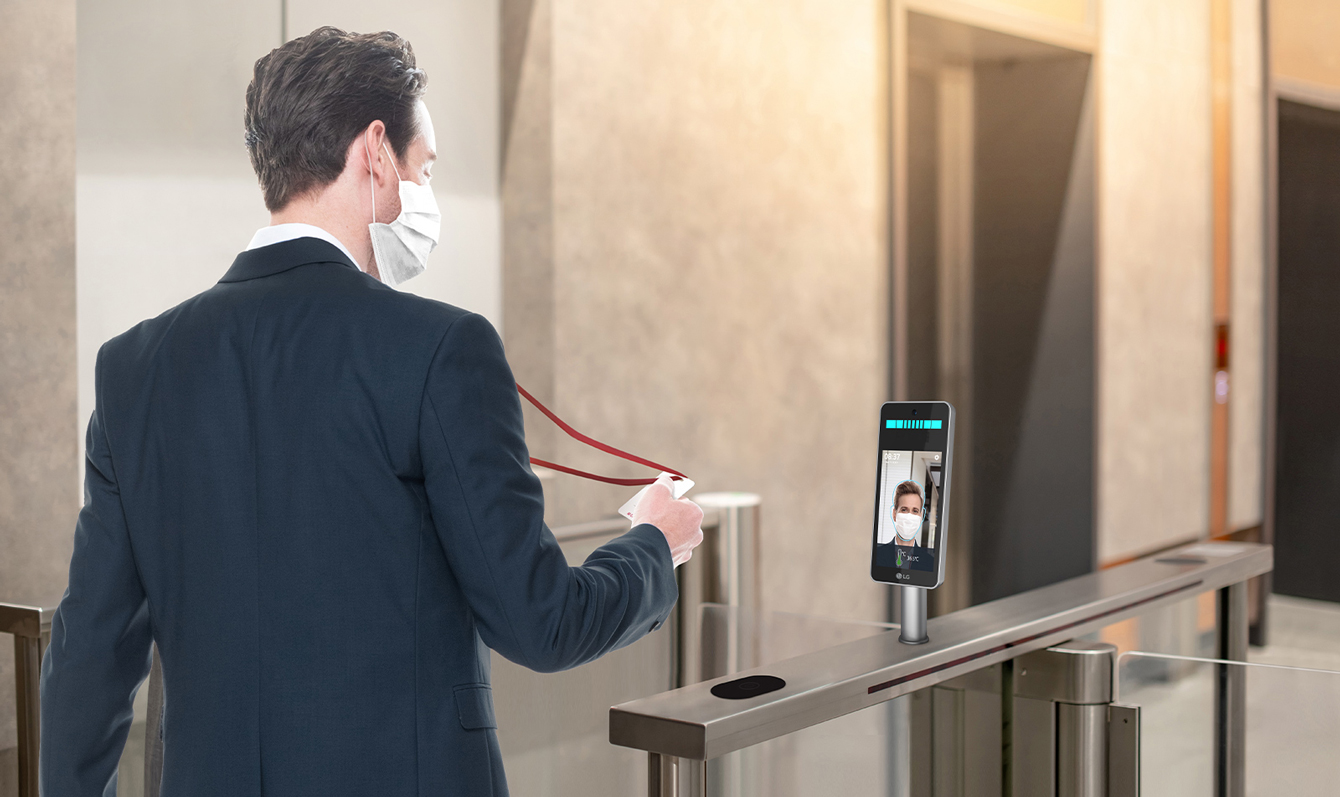 Smart Thermal Scanner
That Secures Your Space
*For ASIA (except Australia, New Zealand, Thailand) Regions

* All images in this web page are for illustrative purposes only and may differ from the actual product.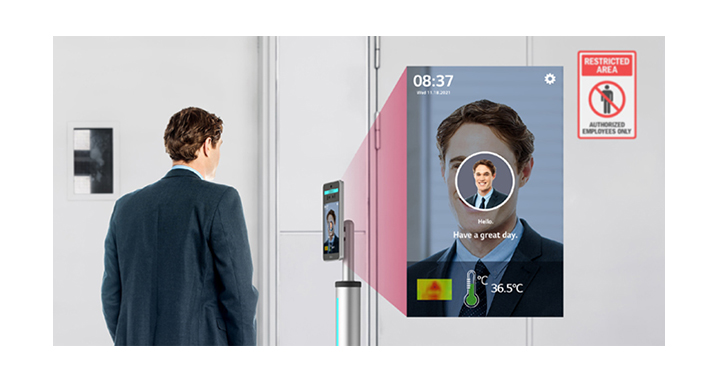 Precise and Qualified Face Recognition
Alchera is a superior facial recognition technology applied to LG Thermal Sensing Terminal and ranked high in the face mask effects results of the Face Recognition Vendor Test (FRVT) conducted by the US National Institute of Standards and Technology (NIST). Its qualified facial recognition system helps to identify and track an individual's entry and exit, suitable for various places such as front building entrances, technology development centers, or VIP facilities requiring access controls.

* Tested at June, 2021 and based on Alchera-003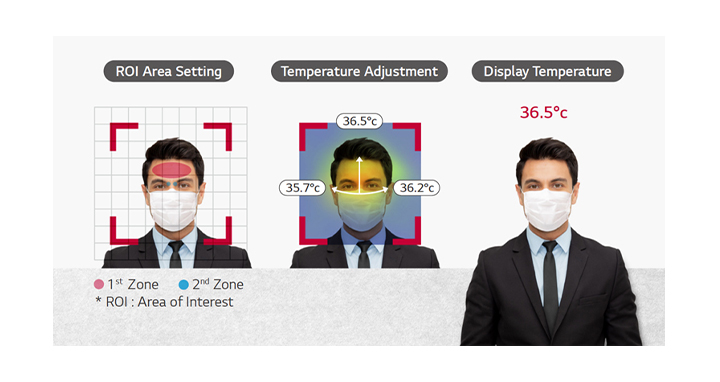 Accurate Heat Detection Sensor
LG Thermal Sensing Terminal with Alchera software detects fever accurately by Heimann thermopile sensor. It sets ROI (Region of Interest) on the face by dividing into 1,024 cells and displays the estimated temperature near the area with the maximum value.

* Heat measurement and face recognition available distance : 0.3m ~ 0.8m (Recommendation 0.5m)
* Need to avoid direct sunlight
* Error range for temperature measurement (Ambient temperature for testing: 25°C): within ±0.3°C for repeated measurements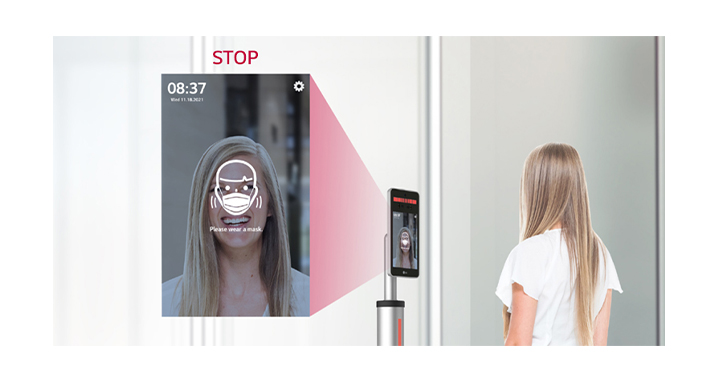 Mask-on Facial Recognition
It is able to perform quick and accurate mask-on facial recognition, by detecting heat and determining whether the subject is wearing a mask or not before sending out an alarm. This strengthens the necessary measurements for mask-wearing protocol as well as security, within contactless settings.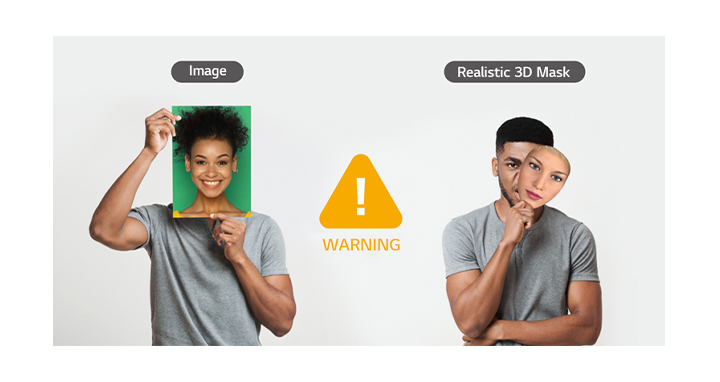 Liveness Detection for Security
A deep-learning algorithm and infrared camera utilizing Anti-Spoofing technology is applied on the 8KC5PJ model. It helps tell the difference between 2D images/videos, 3D masks, or even mannequins from an authorized, live person for supporting crime prevention with strengthened security.

Versatile Installation with Dedicated Accessories
Users can install 8KC5PJ series in various places by either using the terminal itself or two types of dedicated stand accessories. Basically, the device itself can be integrated with either new or existing gate control devices or facilities. Also, for stand-alone use, you can combine it with a table type short stand accessory or a long stand type accessory that is height adjustable up to 1,539mm.

* Floor stand and table stand accessories are sold separately.

Entry Control with
Data Verification
LG Thermal Sensing Terminal provides the interface for integration with existing NFC/RFID-based Speed Gate (security) control system, which already installed on the site. This integration helps to enable the management of entry into the building effectively through verifying the identity of a person, while the 8KC5PJ measuring passengers' temperature and detecting people whether they are wearing a mask.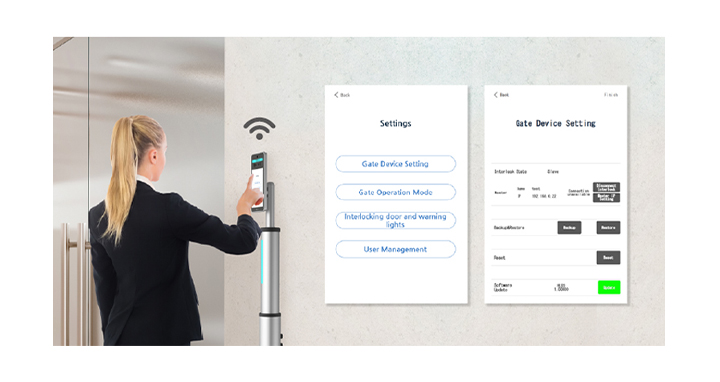 Easy Software Update
Easily download the newest version of the software via Wi-Fi, and touch the screen for consistent software updates. The 8KC5PJ series with user-friendly Android based UI will help you no longer prepare a USB stick or other connected devices for the update.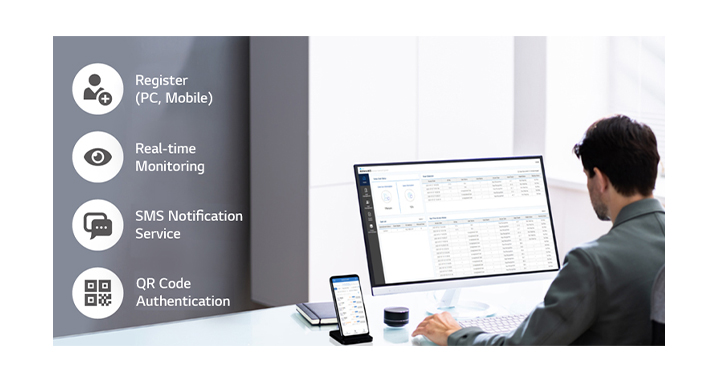 Mobile and PC Administrator Tools
In a Mobile and PC monitoring system, you can register users, set the access authority based on controlled zones, and check the real-time access status.
Tech Spec
Display

Display spec
Inch
8 Inch
Resolution
800 × 1,280
Operating System
Android 7.1
CPU
RK3399 (2 × A72 + 4 A53)
RAM
4 GB
eMMC
16 GB
RGB/IR Camera
RGB Camera : Resolution 2 M Pixels (1,920 ×1,080)
IR Camera with IR LED : Resolution 2 M Pixels
LED Lighting (Status Lighting)
Front (OK-Green, Alarm-Red, Standby-White)
Speaker
Support Voice Prompt (2.5 W , 4R Speakers)

Mechanical Specification

Mechanical Specification spec

| | |
| --- | --- |
| Weight | About 1.7 Kg |
| Dimension (W × H × D) | 129.6 × 88.1 × 369.0 mm |

Power

Power spec
Power Supply (Adapter)
Input : AC 220 V, 60 Hz, 1A
Output : DC 12V / 2A
Power Consumption (Typ.)
12W

Face Recognition

Face Recognition spec

| | |
| --- | --- |
| Mask Check | Support |
| Detection Speed | Under 2 sec |
| Face Recognition Distance | 0.3 m-0.8 m |
| Data Encryption | Support |
| Anti-Spoofing | Deep Learning + IR |

SW

SW spec

| | |
| --- | --- |
| Online Update | Support |
| Admin Tools | PC / Mobile |

Thermal Sensing

Thermal Sensing spec

| | |
| --- | --- |
| Body Temperature | Support |
| Fever Alarm | Support |
| Thermal Sensor | Heimman Sensor 32 × 32 (1,024 Pixels) |
| Thermal Detection Distance | 0.3 m-0.8 m (Recommendation 0.5 m) |
| Thermal Detection Range | 32-42℃ |

Network / Interface

Network / Interface spec

| | |
| --- | --- |
| Wi-Fi | Wi-Fi 2.4 G |
| Ethernet (RJ45) | 1 (10m / 100m Adaptive Ethernet) |
| USB | 2 (Type-A 1ea, OTG 1ea / Format : FAT32, NTFS) |
| Relay | 1 (Output Port ) |
| DC Power Jack | 1 |
| Wiegand Input | Disabled |
| RS232 / Wiegand Output | Disabled |

Optional Accessory

Optional Accessory spec
Type
Floor Stand (Pole : ST-8KC5PJFL, Plate : ST-8KC5PJFP), Table Stand (ST-8KC5PJT)
Size (W × D × H)
Floor Stand Pole (Min.) : 100 × 100 × 795 mm
Floor Stand Pole (Max.) : 100 × 100 × 1,145 mm
Floor Stand Plate : 340 × 340 × 42 mm
Table Stand : 304.56 × 293.57 × 45 mm
Recently Viewed